240 Hz gaming monitors can help you play at speed you need when it comes to competitive gaming. If your standard gaming monitor can't keep up, a 240Hz gaming monitor will do the trick. Monitors with fast refresh rates let you see smooth animations play out in every frame, and every individual detail is fully rendered.
At first, you might think it is easy if you want a 240 Hz refresh rate monitor, you will just go and pick one.
But as soon as you reach between hundreds of 240-hertz monitors, you will wonder which monitor size will be suitable for a 240-hertz refresh rate monitor, what resolution would be the right one, or which panel type will go with a monitor with 240 hertz of refresh rate?… This may result in you taking home the wrong monitor.
In order to avoid this mess, we have created this article, so you can first be aware of the features you need and then pick a monitor that suits your needs.
With the buying guide given below, you can be acknowledged of how certain features would help you.
4 Best 240-Hertz monitor
1. SAMSUNG 49-inch Odyssey LC49G95TSSNXZA Model
Best Pick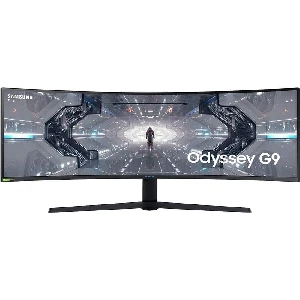 WHY DO WE LOVE IT?
The massive and curved display size of the monitor ensures an immersive view.
With NVIDIA G-SYNC and FreeSync Premium Pro support for the smoothest gaming possible.
With Quantum Dot Technology delivering accurate colors.
The SAMSUNG 49-inch Odyssey LC49G95TSSNXZA Model is a massive monitor with 49 inches (approx.) and that too with a curved display of 1000R( which matches the curvature of the human eye) which altogether delivers an immersive and realistic gaming experience.
What makes the experience immersive is its curve that matches the human eye shape; also, with the curved display, you will not face any eye fatigue.
As you won't be stressing out your eyes by moving very fast to see every detail on the screen.
Moreover, it has QLED (Quantum Dot Technology) that ensures images have high quality and clarity with every frame.
Also, with 125% more range of colors as compared to sRGB, it creates more vibrant and vivid colors, which ensure high color reproduction and results in delivering accuracy of the images.
Additionally, with HDR 1000, you will experience insane levels of detail in every scenario. Plus, it has an SVA (type of a VA panel) panel type, which is best known for its wide viewing angles.
Further, with 1ms of response time, you will be receiving the information as fast as possible without any tearing or stuttering of images.
And lastly, with NVIDIA G-SYNC and FreeSync Premium support together with a 240 refresh rate, you will experience the smoothest gaming experience without any blurring of images. You will be able to enjoy every detail in the game.
PROS
Massive curved screen.
G-SYNC and FreeSync support.
QLED technology ensuring the accuracy of colors
In our opinion, if you are looking for a 240-hertz monitor with a very wide display screen, then this monitor is just right for you.
You will get an immersive gaming experience with this monitor and wide images with accuracy in colors. Overall this monitor will be a great addition to your complete setup.
2. SAMSUNG Odyssey G7 Series 32-Inch LC32G75TQSNXZA
Staff Pick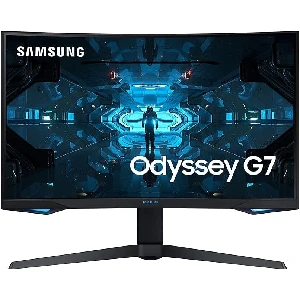 WHY DO WE LOVE IT?
Amazingly designed frameless curved monitor providing an immersive view.
Great monitor for fast gameplay with a high refresh rate and very less response time.
Built-in G-SYNC and FreeSync technology to improve the pace of gaming and prevent the flickering of the screen.
The SAMSUNG Odyssey G7 Series 32-Inch LC32G75TQSNXZA is an amazing curved monitor of 32 inches (approx.) and 1000R curvature, which is similar to the human eye.
Its display delivers an excellent immersive view for the gamers, which is also beneficial for the prevention of eye strain
Moreover, the 1440p (2k) resolution of the monitor ensures that you get sharp and clear images with detail while playing.
Also, 2k resolution with a 32-inch screen is the best combination as images on the screen will not at all be pixelated or blurred, and even the smallest thing would be visible.
Further, it has QLED technology which provides vivid and vibrant colors with 125% more reproduction of colors range than sRGB. Plus, it's HDR 600 that helps you to be able to see the deepest blacks and brightest whites.
Together with QLED technology and HDR 600, you will get a realistic experience in gaming. Furthermore, its 240 hertz of refresh rate and G-SYNC and FreeSync Technology ensure that you get clear images in fast-paced videos and gaming without getting blurred or flickering of the screen.
Lastly, the response time of 1ms allows the transitions of colors to take place very smoothly and displays the received information as fast as technologically it is possible.
PROS
Sharp and crisp images.
High refresh rate and less response time.
Accuracy in color/ realistic images.
Good ergonomics.
CONS
VRR option causing mild stuttering.
In our opinion, this is the best 240-hertz monitor with a 32-inch curved screen with 2K resolution. With this monitor, you will get sharp and very realistic images, which will enhance your gameplay. And overall, with this monitor, you will be getting a stunning viewing experience which makes this monitor worth buying!
3. LG Electronics UltraGear 27GN750-B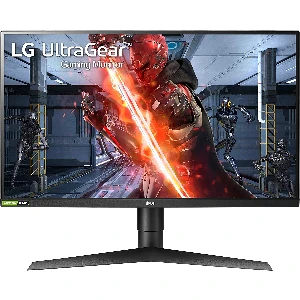 WHY DO WE LOVE IT?
The amazing picture quality of the monitor delivers clear and vibrant images.
NVIDIA G-SYNC compatibility to prevent stuttering and flickering of images.
Good ergonomic built for comfort and flexibility while playing.
Without a doubt, LG Electronics UltraGear 27GN750-B is the best 250-hertz gaming monitor! Therefore it has a 27-inch screen which is adequate for good gameplay.
And 1080 pixels of resolution is great with such screen size as there would be no blurry or pixelated images; you will see sharp and crisp details on the screen.
Moreover, with the In-plane switching panel (IPS), you will get accuracy in colors which makes images look more vibrant and life-like.
And it also allows wider viewing angles so that you can look at the screen from any angle you want, which will make you more comfortable while gaming.
HDR10 enables realisticity in visuals by creating more immersion with its high contrast and rich colors.
Further, it has NVIDIA G-SYNC compatibility, which reduces the tearing or breaking of the screen and also minimizes stuttering, which results in smooth, fluid, and faster gameplay.
Also, it has 1 ms of response time, with which the transitions from one color to another take place very smoothly and at a very fast speed.
And lastly, this monitor has the most flexible stand. You can tilt, adjust the height and pivot it into portrait mode, as with such a flexible stand, you can be comfortable even in very long and intense gameplay.
PROS
Amazing clarity of images.
Very high refresh rate.
Good ergonomics.
In our opinion, this is the best 240-hertz monitor in the range of 27-inch size of the monitor. You will get amazing picture quality (vibrance and clarity in the images) for a next-level gaming experience.
Overall, with this monitor, you can achieve a professional level of gaming, as this monitor has all the features that are suitable for a 240-hertz gaming monitor.
4. Alienware AW2518Hf
Budget Pick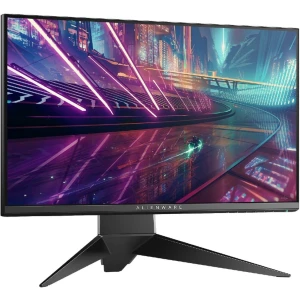 WHY DO WE LOVE IT?
The very convenient size of the monitor doesn't require very much space.
With full HD you will experience clarity in images.
Fully ergonomic, allowing you to be as comfortable as you want.
The Alienware AW2518Hf is a great convenient-sized monitor with a 25-inch screen size and 1080 pixels of resolution, which delivers sharp images with great clarity so you can play games without any blurring or pixelation of images in the game.
Moreover, this monitor has FreeSync technology in it, so with 240 frames per second, you will also be ensured of no motion-blur and flicker-free images in the gameplay. You will experience smooth and consistent gaming with detailed (sharp) images.
Further, the 1ms of response time will allow you to receive the information as fast as possible. Also, the transitions from one color to another will take place smoothly and very quickly without creating any flickering o the screen.
Additionally, you will get great ergonomic features, with a tilt, swivel, pivot, and height-adjusting stand for your own comfort and flexibility.
PROS
The clarity in images.
Good response time.
Great ergonomic features.
In our opinion, this is the best 240-hertz monitor for gaming as it has the most convenient size of display screen.
Also, if you don't have a very big budget or you don't have much space on your desktop then this monitor is just made for you! Without wasting more time exploring, go and buy it.
Buying Guide to Choose the 240-hertz monitor
Resolution
We have heard a lot of times that higher resolution has better performance and undoubtedly it is true that a high-resolution screen produces far superior images but for a 240-hertz monitor, 1080 pixel resolution will work just fine.
Moreover, it depends on the size of your monitor, as the bigger screen you buy the more resolutions you will require to prevent blurred or pixelated images. You will get numerous options in the market such as 2K, 4K, and 8K. As you go higher with the resolution, you will see an increase in price as well.
Screen size
The size of the monitor is usually the first thing that comes to one's mind. However, the size of the monitor depends on various factors such as how far you will be sitting from the monitor, how much space on your desktop is available, or your budget.
While gaming if you sit 2 or 3 feet away from the desk, then we would recommend you 24-inch with 1080 pixel resolution and 27-inch with 2k resolution. Moreover, if you need a bigger monitor then remember to buy with a higher resolution.
Panel Type
You will find 3 types of panels in the market VA, IPS, and TN. All of them have their own strengths and weaknesses, so you have to make this decision by yourself accordingly.
A gamer who wants both performance and visuals in their gaming experience should opt for an IPS panel.
TN panels deliver the best quality of motion.
In addition, VA panels limit backlighting in order to prevent the distortion of images.
G-Sync vs FreeSync
To prevent screen tearing, NVIDIA and AMD created technologies, namely G-Sync and FreeSync.
Screen tearing is one of gaming monitors' biggest problems, having any of the variable refresh rates will provide you the smoothest experience and will not at all distract you with its screen tearing or stuttering.
Frequently Asked Questions
A 240Hz monitor has a Hz of 240. What does that mean?
A screen's Hz describes its refresh rate, how many times its image is refreshed every second.
Motion sickness is caused by high refresh rates?
No. Although you have probably heard of some cases of motion sickness caused by monitor refresh rates, we are convinced that a monitor's refresh rate has no relationship to motion sickness.
When you have a 240Hz monitor, can you play games at 144Hz?
You can lower the refresh rate even though we don't find it to be a great option. However, just enjoy your new monitor's benefits instead of lowering its refresh rate if you're investing in one.
Is there a speaker built-in to a 240Hz monitor?
Speakers are built-in to most 240Hz monitors. Before ordering a speaker for your monitor, check its specifications.
CONCLUSION
In this article, we have tried to spread awareness/ knowledge regarding which is the best 240-hertz monitor and what elements and features to look at before buying a monitor for you. Additionally, we created a buying guide to inform you on how different features function, and how they will help you.
To avoid the mess and clear your confusion, we will recommend you to buy…
SAMSUNG Odyssey G7 Series 32-Inch with this 240-hertz curved monitor, you experience an immersive gaming experience with very realistic visuals.