4 Best Console gaming monitor
Unlike your standard TVs and monitors, gaming monitors are designed specifically for gaming. These options save space when compared with the best gaming TVs, and they are often specifically designed for gaming. You can play games on TVs, but a monitor with more responsiveness may give you the edge.
It can quickly become a bit of a headache for today's console gamer with so many different options. A list of the best console gaming monitors has been compiled in this article based on certain criteria and considerations. It is intended to appeal to any PlayStation (PS4 or PS5) or Xbox gamer (Xbox One or Xbox Series S or Xbox Series X) out there.
4 Best console gaming monitor
1. ViewSonic XG3220
Best Pick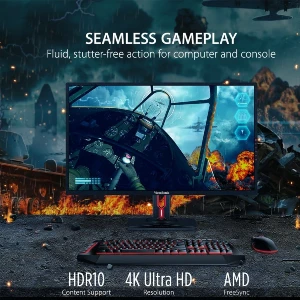 WHY DO WE LOVE IT?
Stunning 4k resolution delivering very clear images.
Has AMD FreeSync technology allowing smooth gameplay.
Built-in eye care technology to reduce eye strain.
The ViewSonic XG3220 is a great monitor with 32-inch widescreen and 2160 pixels (4k) resolution, which displays incredibly sharp and detailed visuals for an immersive and realistic gaming experience.
Moreover, it has a standard refresh rate of 60 hertz with AMD FreeSync technology which ensures that you get the smoothest gaming performance without any tearing and choppiness of images, which could've distorted your gameplay.
Further, it has HDR10 delivers a high dynamic range of vivid colors and contrasts for a stunning screen performance and supports display to enhance your visuals by providing the deepest blacks and brightest whites while gaming.
Also, it has ColorX game mode, which adds more to your gameplay by increasing the optimum speed and visuals. Additionally, HDMI 2.0 and DisplayPort 1.2a video standards offer 3840×2160 resolution at a 60Hz frame rate so that console gamers can take advantage of these video standards.
PROS
Ultra High Definition quality.
Added AMD FreeSync technology.
Fully adjustable ergonomic
In our opinion, this is a great monitor that you can buy for amazing gameplay. With this monitor, you will get amazing features that will enhance your gaming experience and support your PS5, Xbox Series X, PS4, and Xbox Series S. Although it has a low refresh rate, if you are just a casual gamer, then this monitor is best for you.
2. BenQ ZOWIE XL2411P
Staff Pick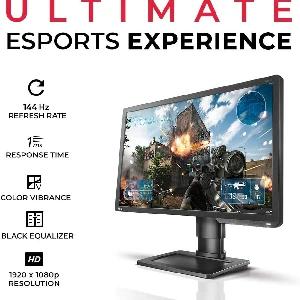 WHY DO WE LOVE IT?
High refresh rate allowing fast-speed gameplay.
The clarity in the images with a perfect combination of screen size and resolution.
The BenQ ZOWIE XL2411P is a good e-sports monitor best for console gaming. With its 24-inch screen size and 1080 pixels resolution, this monitor provides clear visuals on the screen.
Moreover, it has 144 hertz of refresh rate, which ensures that the frames of the screen change 144 times in a second. As a result, the images on the screen look clear and smooth with a fluid consistency. Also, it has a TN panel type so you will get the fastest response to your input.
You can connect this monitor to the PS5, as it can run at 120 hertz of refresh rate. Further, this monitor has a response time of 1ms, which is responsible for changing the colors of the screen as fast as possible.
With this response time, the transitions of the colors will take place as fast as technologically possible. Furthermore, this monitor has a height adjustment feature so you can personalize your viewing angles.
PROS
High refresh rate and very less response time.
The clarity in the images.
Great low input lag.
CONS
Bad black uniformity and very little ergonomics.
In our opinion, this is a good monitor for gaming. With this monitor, you will experience clarity in the images and very quick response while gameplay. Overall this is a fine monitor you can buy if you have little space on your desktop.
3. ASUS VG248QG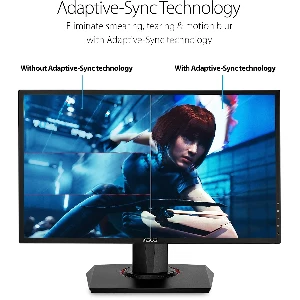 WHY DO WE LOVE IT?
Amazing screen display with IPS panel allowing accuracy in colors and wide viewing angles.
NVIDIA G-SYNC technology provides you with smooth gaming without any stuttering or tearing of the screen.
Additional Eye care feature to prevent straining of fatigue.
The ASUS VG248QG is an amazing monitor owith165 hertz of refresh rate and 0.5 ms of response time, making the overall performance epic and fastest without any distortion on the screen.
Together with NVIDIA G-SYNC technology, there will be no stuttering and screen tearing making the images as smooth and clear as possible. Moreover, with a 24-inch screen size and 1080 pixels resolution, which is full HD, you will get amazing clarity in the images, and every object on the screen will be visible.
Further, it has exclusive Extreme Low Motion Blur technology, which will help in eliminating the motion blur. Also, to avoid any kind of body ache or eye strain, this monitor offers a fully flexible stand through which you can tilt, swivel, pivot into portrait mode, and adjust the height accordingly.
In addition, it has rich connectivity with DisplayPort1.2×1, HDMI (v1.4)x1, and D-subx1. Impressively through the IPS panel, you will get an accuracy of colors and 178 degrees of wide viewing angle so you can look at the screen from any angle possible without any loss of colors.
Furthermore, with this monitor, you will get Eye Care Technology which will help you prevent eye strain and eye fatigue.
PROS
NVIDIA G-SYNC technology.
Very high refresh rate. And amazing response time.
Outstanding ergonomic features.
CONS
Console gaming is limited to 60 hertz.
In our opinion, this monitor will prove to be the best gaming monitor possible. Although it lacks in refresh rate during console gaming so if you connect to your console games casually, then this monitor with the best monitor for you.
4. SAMSUNG Odyssey G5 Series LC32G55TQWNXZA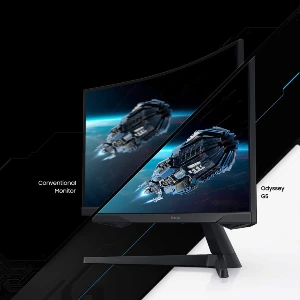 WHY DO WE LOVE IT?
Stunning display with 2K resolution providing amazing clarity in the images.
Backed by FreeSync Technology for smooth gaming.
HDR10 supports high contrast in dark scenarios of the games.
The SAMSUNG Odyssey G5 Series LC32G55TQWNXZA is a great monitor of 32 inches with 1440 pixels (2k) resolution, displaying amazingly clear images with sharp quality. Moreover, it has 1000R of curvature, which matches the curvature of the human eye that creates an illusion of getting lost in the screen.
With the curved display, you can take in every detail of the screen without stressing your eyes. As a result, you will not have eye fatigue very often. Further, it has a very high refresh rate of 144 hertz, allowing you to experience smooth gaming with clarity in the images.
And together with AMD FreeSync support, you will experience a stutter-free performance. Furthermore, it has a lightning-fast response time, so the transitions from one color to another color will take place with very incredible speed. And lastly, this monitor has HDR10 support to provide the deepest shades of black and the brightest shades of white.
PROS
Very high refresh rate.
Lighting fast response time.
Sharply curved display.
In our opinion, this is the best monitor for console gaming, as you will experience amazing clarity and smooth gaming without any stuttering or tearing of images. Also, with AMD FreeSync Technology, there will be no flickering of the screen, which will protect your eyes from distortion by the screen.
Buying Guide to Choose the console gaming monitor
Response time
Typically, this statistic indicates how quickly pixels can transition between grey and white. TN panels are among the fastest gaming monitors, with IPS and VA screens being a bit slower.
Fast-paced scenes benefit from low response times, which reduce distracting smears. Response time differs from input lag, which is the time delay between input (such as clicking a button) and the results shown on the screen.
Refresh rate:
In Hz, how frequently does the screen update? For high refresh rate monitors, 144Hz is the most common, although many gaming monitors may refresh at speeds from 100 to 240Hz. Generally speaking, the higher the refresh rate, the smoother the gameplay will be.
Resolution:
A horizontal x vertical measure of the pixels on the screen. Both TVs and monitors typically use 1920×1080 (1080p) or 3840×2160 (4K) resolutions. A game tends to look crisper and more detailed with a higher resolution.
Contrast ratio:
A measure of how bright an electronic display is when it is displaying perfect black and when it is displaying perfect white. OLEDs have technically infinite contrast since they can switch their organic LEDs off completely to create a completely black image when turned off.
An IPS screen is usually around 1000:1, a VA display can hit 3000:1, and a VA can reach up to 10,000:1. Blacks will appear properly black instead of dark grey on screens with a high contrast ratio in dark rooms.
In addition to displaying high contrast, HDR content will look more vibrant on displays with high peak brightness levels (600 nits plus).
Variable Refresh Rate (G-Sync/FreeSync):
AdaptiveSync and VSync are terms that describe a technology that eliminates ugly screen-tearing and adds minimal input lag compared to traditional vSync.
It is normally implemented by Nvidia, requiring a physical G-Sync module embedded inside the monitor, which can raise prices.
It doesn't require a special module, so it won't significantly raise the price of a monitor. AMD's FreeSync is also an alternative. Nvidia announced recently that its GeForce graphics cards would support FreeSync displays, but the responsiveness may differ significantly between monitors.
Moreover, Nvidia graphics cards are required for G-Sync, while AMD graphics cards are needed for FreeSync.
HDR:
With a High Dynamic Range camera, the darkest and lightest portions of an image can be seen clearly, along with the ability to widen the color gamut.
Many monitors have HDR capabilities, but few get to the point where they're bright enough to justify their inclusion. To enjoy games or movies in HDR, we recommend monitoring devices that meet stringent standards, like HDR10.
Panel Type:
Monitors are strongly influenced by the type of panel they have. Each type of panel has different features, so there are three types.
In-Plane Switching (IPS): These monitors are often expensive, but they provide better viewing angles and more accurate color reproduction than monitors using VA or TN panels.
Twisted Nematic (TN): To produce cheaply and offer one of the fastest response speeds, this display technology is the most mature on the market. It is also difficult to view colors accurately and at a wide angle.
Vertical Alignment (VA): A type of monitor panel that is considered to be between an IPS panel and a TN panel in many respects. As long as the panel's response times and color reproduction are good, these usually offer the best contrast
Frequently Asked Questions
Can console games be played at 75hz?
Definitely, a 75Hz monitor has a slower refresh rate than a 144Hz monitor (which can refresh 144 times in a second), but it will still provide a better gaming experience than standard monitors, which have an average refresh rate of 60Hz.
60Hz refers to a refresh rate of 60 refreshes per second. A rate of this rate may result in fast-moving visuals appearing blurry and even causing uneven screen tearing. An increased refresh rate, such as 75Hz, allows a monitor to display graphics and images of fast motion more smoothly without tearing or lagging.
Is the PS5 capable of running at 144Hz?
It is not yet possible to play at 144Hz on the PS5, but it is capable of playing at about 120 fps on a 1080p monitor.
When we wrote this, the PS5 was capable of playing 1080p at 120 frames per second, 4K at 60/120 frames per second, and 8K at 60 frames per second (though its 8K is not likely to exceed 3840×2160).
Sony has not yet supported 1440p in any system updates, but future updates will provide 1440p support.
You'll get the best gaming experience from monitors and TVs optimized to run at 1080p resolution if you are searching for them for your new PS5.
CONCLUSION
In this article, we have listed a few monitors that you can consider if you are looking for the best console gaming monitor. Here we have provided our reviews on each monitor and how the functions of their features can serve you the best.
However, to avoid confusion in deciding which monitor to buy, the best monitor for console gaming that can fulfill all your requirements is…
SAMSUNG Odyssey G5 Series LC32G55TQWNXZA: this is the best monitor for console gaming.