Does the lazy side of you make you think of a way you could enjoy golf from the comfort of your home away from people and crowds?
Does the rainy season make you miss going out for golf? Do you also feel it's the same boredom filled day repeating in loops? Don't worry, we have got a solution to cheer up the golfer in you. Yes, we are talking about the golf simulators.
With advancing technology, the gap between the real and virtual experience is almost nil. Giving you experience of an actual game at a golf course.
But the quality and experience of experience depends most importantly on your simulator's projector.
The popularity of the product and the number of options has increased in parallel over the years. Making it very difficult for buyers to choose the one that suits all their needs. Affordable to ultra-expensive, compact to bulky, you can get any model you want.
To all of you looking for thrilling live game like experience from the comfort of your homes, we have a list of the best buys. Make sure you read it all!
What to look for in a Golf Simulator projector:
1. Throw Ratio:
To explain in layman terms, the throw ratio tells you what size of the picture will be projected on screen from a given distance. Larger the image to be projected, the smaller the throw ratio of the projector.
2. Brightness or Lumens:
Needless to say, brightness plays a very important role. The brighter the screen, the better the experience. You should go for a higher lumen count projector if you are using it in a bright room. As the rule of thumb says, a lumen count of 2000+ is good enough for dark rooms. But for people looking out for a real life like golf experience, it's always recommended to opt for a lumen count of 3000+.
3. HDMI Connectivity:
Crucial requirement for any golf simulator projector is the HDMI connectivity feature. This is the most used HD signal for transfer of both HD video and audio. While most modern projectors do come with this feature, one must look out for this while they buy.
4. Resolution:
Resolution of your projector directly impacts the quality of the image displayed. The higher the resolution, the higher is the pixel count in your image and the better is the quality of image. Thus improving your play experience.
5. Aspect Ratio:
This factor defines the ratio between the height and the width of the projected image plus the shape of it. Most common aspect ratios that most projectors in the market offer are 4:3, 16:10 and 16:9.
With all these experience impacting factors in mind, here we present to you a list of the Best golf simulator projectors. All we leave up to you is to choose one according to your taste and requirements.
10 Best Golf Simulator Projectors
1. Optoma EH200ST Full 3D-BEST SHORT THROW RATIO PROJECTOR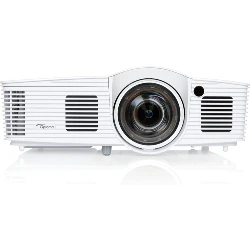 Features
Best in class throw ratio of 0.49:1 giving you experience bigger picture at short distances
Multiple ports for numerous device connectivity options
Also, exceptional contrast ratio of 20000:1 for deeper blacks and brighter whites
Moreover, this comes with a built in 10 W speaker and lumen count of 3000
With a throw ratio of 0.49:1, the Optoma EH200ST projector gives you the widest possible pictures within a short distance. This provides you with a 100" diagonal image from a mere distance of 3.5 feet.
Apt for people with small rooms, this ensures that your shadow does not fall on the projected image. Indeed this makes it a perfect fit for a golf simulator as larger pictures provide better and larger visuals making it feel like a game on field.
Not only is the picture big and wide but also the resolution is commendable. With 1080p of crystal clear sharp images
Moreover, it comes with multiple input ports giving you ample choices for the kind of input you want to provide. Connect it with your laptop or your phone or even your tablet and display directly from them. This has got all that you might need.
With a contrast ratio of 20000:1, the blacks in your pictures are darker and the whites are brighter. Improving the picture quality by a great margin, this makes sure you get the real feel during the play.
Not only as a golf simulator but this is a perfect fit for all your movie plans and even for conference rooms.
With a lumen of 3000, this ensures none less than a real play experience. Unmatchable not only in terms of picture display quality but also the 10 W strong and powerful in built speaker is a cherry on top.
This product offers you 2 HDMI ports one of which comes with MHL connectivity. Compatible with multiple graphic arrays like UXGA (1600 X 1200), XGA (1024 x 768) and may more, this for sure makes it the best golf simulator projector for home.
Pros
Best for small rooms with throw ratio 0.49:1
Exceptional picture quality with contrast ratio of 20000:1
Built in speaker of 10 W
Cons
Quite expensive for indoor use
With unmatchable contrast ratio and throw ratio ensuring wide, sharp, life-like pictures, this undoubtedly is the best option for those looking for an indoor projector for golf.
Offering all that you need for a good virtual game from the comfort of your home. No more worrying about the weather, get this projector and you are all set for a game of golf anytime anywhere.
2. BenQ MW632ST-BEST DURABLE GOLF SIMULATOR PROJECTOR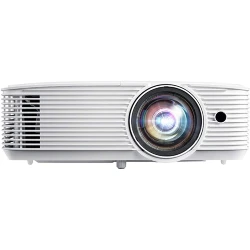 Features
Lumens count of 3200 for bright and beautiful picture even in well-lit rooms
Lamp life of up to 10 years and easy and low maintenance cost
Precision glass and lenses for sharp crystal clear images
Light weight and wall mounted
Imagine having unclear blurry images of the field during the game, complete turn off right?! Combating all these problems is the BenQ MW632ST WXGA Short throw Projector.
Available with an aspect ratio of 13000:1 providing you as much as 1.7 million colors making your experience real life like one. Aspect ratio of 16:10 ensures resolution as high as 1280 x 800 and more rectangular shape images.
With a width to height ratio of 1280:800 you are rest assured that the display is going to be worth it. Indeed, this is a good projector for exceptional display experience.
The light source for the projector is a lamp light source which is one of the most preferred types for golf simulator projects. Lasting for as long as 10 years makes it a very reliable option. Easy and low at maintenance, this assures you longer play experience.
Weighing only 5.7 pounds, this one will make you give it serious consideration while you prepare the list of the best projectors for golf simulators.
Pros
Light weight and budget friendly
Provides 1.7 million colors options for detailed clear display
Longer life and easy maintenance
1.2x zoom
Needless to say, if you are looking for something that can last over years with lowest possible maintenance plus exemplary picture quality, this is the one for you. However, there are lesser input options but it will definitely satisfy the golfer in you.
3. ViewSonic PG800HD-BEST PROJECTOR FOR OUTDOORS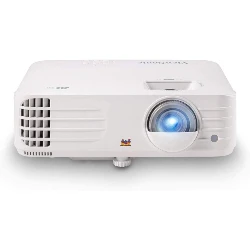 Features
Automatic turn on/off feature relieving you from manual work
Easy installation using vertical/horizontal lens shifting
In addition to that, the admin can remotely monitor the projector for alerts.
5000 Lumen brightness with 20Hz-20Khz sound range
This product, ViewSonic PG800HD has been a serious consideration for all the serious golfers out there. Moreover, you can easily configure automatic turn off and turn-on.
Whenever an active input is detected, the device gets turned on automatically and on detecting no input for a certain time period, there is an automatic off saving power and manual work.
Offering 5000 lumens brightens up the display for all your indoor or outdoor games. No matter how big or small the screen is, you are guaranteed bright, sharp and clear images even in daylight.
The 6 segment color wheel gives you an option of millions of colors so you get a real feel during you game.
Integrated with MHL/HDMI ports you can even stream content from wireless dongles. One can easily connect it to any OS, Mac, and Windows, smartphones or tablets. You have the option of all.
For enhanced security, the admin can also schedule or manage the projector remotely. Adding to that is the alert configuration capability which sends you an alert whenever necessary.
Moreover, the SonicExpert technology with large speakers provides you with a dense and strong sound in the range of 20Hz to 20 kHz.
Pros
Remote monitoring and controlling
Powerful amplified speakers
Amazing picture quality
Instant and automatic on/off
Though, the price range is a bit on the upper side. But looking at the features and the quality of it that is offered to you, you won't be disappointed for sure.
This product is definitely value for money. For frequent players of golf and those who don't miss any chance at it, this is definitely a choice for you.
4. BenQ TH671ST – MOST AFFORDABLE GOLF SIMULATOR PROJECTOR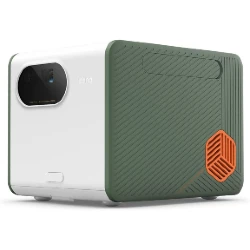 Features
Provides unmatched gaming experience preventing motion blur
Also, offers you unmatched picture quality with 3000 lumens
Project 100 inch of picture from just 5 feet distance
Moreover, this supports most PCs, gaming consoles, tablets, Macs and phones so you have ample options
Apt for the gamer in you, not only for golf but any kind of game. Take your game to the bigger picture with a display of 100 inches from just a distance of 5 feet provided by the BenQ TH671ST Short throw projector. Image size expandable up to 300 inches makes sure you get as big and as clear pics that grab all your attention.
Coming with 1080p of pure HD picture quality this definitely levels up your game giving it a much more realistic view than just a flat screen.
How would it be if it takes some seconds for the updates to reflect on screen? A complete turn off right?! As always, we have got you covered.
With input lag as low as 16ms, you are ensured instant updates on the screen with minimal blur and lag. Switch to the game mode to tune your images for cancellations of shadows ensuring crystal clear sharp images.
With 3000 lumens of brightness, this projector even detects the kind of lighting environment that you are in and adjusts the picture brightness accordingly so there is no stress or strain that you suffer.
Weighing only 5.9 pounds, these wall mounted projectors are definitely for the gamer in you. Moreover, this provides you multiple connectivity options. Connect it with your phone or PC/Mac or any other gaming console, so you can directly stream pictures from your device.
Pros
Gaming mode for shadow cancellation
16ms input lag and blur cancellation to get your golf game strong
Active detection and adjustment of brightness
Cons
Reduced pixel count of the display
For all the gamers out there, who are looking for projectors for not only golf but for video games as well, this is a perfect choice. With a delay of mere milliseconds this will undoubtedly enhance your live golf game experience.
5. BenQ MW632ST-SHORT THROW PROJECTOR WITH ANTI DUST SENSOR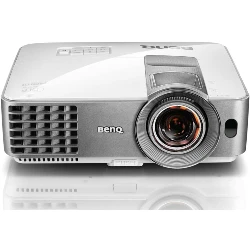 Features
No need to buy the accessories separately as it all comes in the package
Lamp life of more than 12 years even with a 2 hour game everyday
To add to that, the WXGA resolution provides better and clear details
Furthermore, 3200 lumens count gives you splendid experience of clear, real world like color experience
Anti-dust sensor to prevent dust accumulation
Worrying about dust accumulating inside your projector and degrading the picture quality? Worrying of how maintenance will be the maintenance to remove those dust blobs? Relax, our next offering will take away this headache of yours.
The BenQ MW632ST WXGA short throw projector has the anti-dust sensor. Hence, this prevents the accumulation of dust in your projector preventing any impact on the quality of your gold experience.
With automatic on/off features, there is no wastage of energy anymore. On detection of an active input, it turns on automatically in almost no time relieving you from the irritating wait period.
As the projectors monitor, if there are no inputs for 20 mins, it turns off itself, saving power. Hence increasing the lamp life making it last up to 15000 hours.
Are you one of those looking for a projector that can be used for both, golf simulator and also for conference room/ movies? Then this is the one for you. This offers you three different modes for meeting. Choose any of the modes according to the content of the slide.
Not only this benefits during meetings but this also ensures real like course display during play.
With 3200 lumens, projection is always going to be of sharp, crystal clear, real world like pictures. For places with not so easy installation, the auto vertical keystone feature ensures the display is always a perfect square from any angle of lens.
Projected image size can range from 30" to 300". The WXGA resolution of 1280 X 800 gives your pictures an added dimension giving them a more real like look.
Moreover, this comes with 2 HDMI ports providing exceptional video and audio quality in one cable itself.
Adding to that, we also have a number of accessories for better experience.
Pros
Perfect for both your game and conference room uses
Anti-dust sensor to prevent dust accumulation
Longer lamp size of up to 12 years
Automatic on/off feature
Cons
Lesser picture quality than the competitors
Most projectors don't come with anti-dust sensors. Lack of this results in degradation in picture quality over time as dust gets accumulated inside the projector.
With this feature, you are rest assured that there isn't going to be any issue due to dust. Perfect for multi-use as a golf simulator projector to the one for movie/ conference rooms, this satisfies all your needs in just one buy.
6. ViewSonic PS501X-BEST MULTI-USE PROJECTOR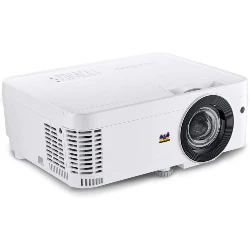 Features
Compatible with interactive white board module
Also, Super Eco saving mode reduces power consumption making the lamp last longer
In addition to that, Wireless Dongles can be easily plugged in to one of the USB ports while other port can be used for charging the same
Moreover, high contrast ratio and 3500 lumens provide super bright images
The ViewSonic PS501X projector is one of the most affordable options we have in the list of best golf simulator projectors. With 4 variant models, it is available from a price range of $411 – $800. Offering various display option ranging from XGA to WXGA, this is for sure gives the others a tough fight,
In addition to that, the Super Eco feature in this lowers the power consumption increasing the lamp life. Lamp life is as long as 15 years, which is one of the longest offered. With super easy setup and installation you also get a guide to complete the setup.
Get a 120 inches display from just a distance of 4 feet 10 inches. The 3400 lumen count ensures a bright display with extreme clarity.
Moreover, you are provided with a 3 year limited parts and 1 year lamp warranty. Any problem or query during the warranty period will immediately be addressed and will come absolutely free!!
The device has flexible connectivity with most PCs, Macs, tabs and smartphones. So you could just plug and play anything of your choice. ViewSonic also offers you a display of 3D images once connected with 3D Blu-ray players. For viewing 3D images, you can check out the 3D glasses for ViewSonic.
Not only this, but while you connect to wireless modems, like amazon fire stick or any other, you can also parallely charge it by connecting the charge cable using USB A port. It is also compatible with most whiteboard modules for use after your game.
Pros
3400 lumens count for bright display
Long lamp life making it reliable and durable
3 year warranty on selected parts
Cons
Only XGA resolution is available which is an older technology
Equipped with amazing features, this is an ideal choice for office or home. But for golf simulators the only limiting factor is the XGA technology while the other competitors provide the latest technologies for amazing display.
If you are looking for an option that can be used for multiple things, this is the one for you.
7. Optoma UHD50X-INDOOR/OUTDOOR GOLF SIMULATOR PROJECTOR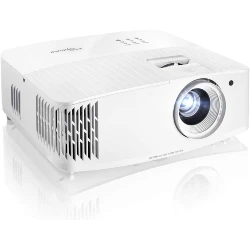 Features
Outstanding 4K HD display with 8.3 million pixel on screen count
Also, Lowest gaming lag on any 4K projector
Contrast ratio of 500000:1 makes you experience millions of color tones and shades
Additionally provides 1.3x lens zoom and vertical lens shift
These Optoma UHD50X projectors offer you a premium quality UK HD display with 8.3 million pixel resolutions on screen. Making the display sharp and crystal clear with all details popping out clearly.
The 8-segment color wheel enhances the saturation of blue green and red making you experience color shades like never before.
With 1080p resolution, the device offers an input delay of just 16ms while with 4K UHD mode, the delay is the lowest ever of mere 25ms. Detailed picture quality or faster game updation, you decide.
This fabulous projector has been made to bring out the best of the gamer in you. With a refresh rate of 240 Hz, blur pictures are never in your way.
Plug it with your PS, tab, mobile, PC, Mac or any other device of your choice. We have got you an ample number of options. The HDR tone mapping feature with Dynamic dark technology combines, offering you deeper blacks and brighter whites. So you get to experience a live game feel.
The 3400 lumens count makes sure the display is bright and visible even in very well-lit rooms giving you an option of both indoor and outdoor game setup.
TV and other display devices strain the eyes but this product has been carefully designed to prevent your eyes from straining even during hours of playtime.
With a lamp life of 15+ years, this is undoubtedly a big competition to all the projectors out there in the market. With the vertical lens shift option, you always get a perfect shaped image even in areas of hard installation.
Pros
Blur free display and high refresh rate for a smooth game with 4K HD display
Contrast rate of 50000:1 offering billions of color shades
Lowest input lag for any 4K HD projector
Ample number of connectivity options
Cons
Bit expensive
Higher throw ratio
Not compatible for small rooms
Though the projector is a bit on the higher end of cost. The features and the experience that it will provide remain unparalleled. With 4K HD ultra-sharp and smooth vivid images you will definitely be the talk of your friends circle.
8. Optoma UHD38-BEST GOLF SIMULATOR WITH LEAST INPUT LAG
Features
Unmatched lag of mere 4.2ms with 1080p display for gamers
Also, it can be easily connected with multiple option of devices
In addition to that, sharp vivid display gives you the spectacular real like experience
Our choice as the best golf simulator projector will become your favorite too. For the golfer in you who enjoys continuous uninterrupted games, latency becomes the biggest issue.
Imagine playing a game and then the screen takes several seconds for refreshment. A complete turn off right, but we have got you covered as always.
With the new updated Optoma UHD38 projector, your game screen gets updated in less than even a second. 4.2 ms to be precise. Yes, you hear it right, with a resolution of 1080p your screen gets refreshed in just 4.2ms making it the best projector for gaming experience.
And that's not the end, for even better picture quality, you can switch to a 4K UHD display for ultra-clear and sharp images and videos.
Even during the day with enough natural light, the 4000 lumens count makes sure the display is as bright as needed. To reduce eye strain, the projector screen reflects the light for more comfort.
Lamp life of 15+ years is just another feature of the many existing ones. Connect the projector with your phone, tab or your PC you have got all necessary options.
Pros
Ultra-detailed precision display with 4K UHD plus the 4000 lumens brightening it up
Ultra-fast screen refreshment with lag of just 4.2 MS
1.1x lens zoom and key store correction
Cons
Heavy weight
Higher throw ratio
This value for money product is definitely a must buy for those who are not limited by budget. Gamers will definitely be satisfied with the quality and experience with the projector. Though higher throw ratio is a breaker on the route, the other features will make you adjust with this one pull back.
9. Optoma UHD30 – BEST EXPENSIVE GOLF SIMULATOR PROJECTOR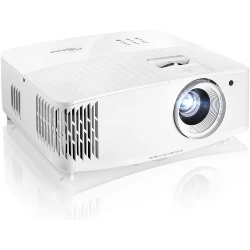 Features
High contrast ratio of 50000:1 making you experience every single shade of color visible giving you a real golf game feel
3400 lumens of brightness gives you clear sharp display even in well-lit rooms
Also, this projector is HDR and HLG compatible
Lamp life of 15+ years for max. durability and reliability
Introducing to you, another best performer from the Optoma family. The Optoma UHD30 provides you a crystal clear display with so much depth and sharpness that you will completely forget about any other option.
With a contrast ratio of 500000:1, whites are whiter and blacks are deeper giving the display sharper vivid more real world like images. In addition to that, this projects a 100" image from around 11 feet distance.
For the gamer in you, comes an exceptional feature of reduced lag. Integrated with Enhanced gaming mode, it produces just 16 ms response time. With a refresh rate of just 240 Hz you can always be on top of your game.
With 3400 lumens of brightness you are always rest assured that your display is going to give you an exceptional experience. The lamp life of 15000+ hours provides durability and reliability.
Available with multiple input options, you can connect any of your devices to the projector.
Pros
Lesser input lag and higher refreshment rate
3400 lumens for bright display
Cons
Heavy compared to the other competitors
Higher throw ratio
This amazing product is one of the best buys. With the offered features, it definitely fits all your needs. Such less input lag makes sure you don't have to wait for the screen to refresh to the proper stage.
10. Epson EX3260 – BEST COMPACT AND CHEAP PROJECTOR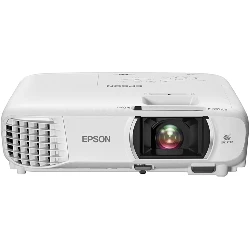 Features
3300 of color and white brightness
SVGA resolution technology of 800 x 600
Easy installation
When we think of an ideal projector for an outdoor golf simulator, we always want it to be light in weight and durable. Imagine carrying a 10 pounds bulky projector everywhere and anywhere you go. For those looking for a durable and lighter solution, we have for you the Epson EX3260.
Offering 3300 lumens for both color and white brightness, this ensures giving you a real like golf experience. The SVGA technology with 800 x 600 resolution, you are given an amazing display experience both indoors and outdoors.
Extremely easy to install and set up, this is apt for carrying outdoors. HDMI compatible makes it to use for laptop and mobiles.
With this comes an additional carry bag that you can use to carry the projector wherever you go. Instant power off feature reduces the wait time, Just switch it and immediately you can carry it with you.
With a price of just $393 and weight of just 5.5lbs, this is definitely the best compact and cheap projector for golf simulators.
Pros
Lightweight and easy to carry
SVGA resolution technology
Instant off and HDMI compatible
Offering you durability and easy carriage, this is one of the best options for people who would have to carry it wherever they go. With durability, there is no compromise in the quality of experience that is provided to you.
Frequently Asked Questions
 What are the best projectors for outdoors?
Latest projectors come with the anti-dust sensor technology. This helps in preventing dust accumulation inside the projector preventing any degradation in the picture quality over the years. Hence, we suggest BenQ MW632ST as the best outdoor projector.
Is a screen a must for the projectors?
Yes, when you want to use the projector with a golf simulator a screen is always a better option. Apart from that for home and office use, a plain light colored wall will be enough.
What is the average price of projectors for golf simulators?
The normal price range for projectors is between $600-$800. The products in this price range will offer you some or most of the features you are looking for. There are multiple options in this range like the BenQ MW632ST and ViewSonicPS501X. But depending on your requirements, it can be as expensive or cheap as needed.
Some projectors create too much noise which interrupts the experience. What are the best buys for that?
Latest projectors now come with features like Whisper quiet technology. Which almost reduces the noise to nil. Irrespective of how close or far you keep them, these projectors won't be a blocker in your experience. For the best noise canceling experience we suggest Optoma EH200ST projector.
For outdoor usage, which projectors should one choose?
There are multiple factors that impact your experience outdoors. The first and foremost is the bright light outside during the day. Sometimes when the lumen count of your projector is not high enough, the display is very blurry and unclear. Hence it is always best to go for projectors that offer a min lumen count of 3000+ for outdoor usage. Secondly, one should always check the connectivity options available. Last but not the least, no one wants to carry a bulky device with them while they travel. Hence a lightweight compact projector must be chosen. Epson EX3260 is the best buy for outdoors.
For gaming, what should be picked?
People looking for projectors for ultimate gaming experience must always check the response rate and the input lag of the projector. The lesser the lag, the faster your streaming would be giving it a more real like experience. The Optoma UHD38 is the best projector for exceptional gaming experience. With input lag of just 4.2 ms, you will always be on top of your game.
CONCLUSION:
In the fast paced world where technology dominates, there are solutions for every problem of yours. One such technology is of the golf simulators that are gaining popularity at a rapid speed. With thousands of brands providing products with the same name, it becomes extremely difficult for buyers to opt for the best one that satisfies all their needs.
Here are our suggestions of the best buys to make your work easier:
1. Optoma UHD38: For best gaming experience with refresh rate of 240 Hz. This projector priced at $2524.99, this is definitely for those looking for exceptional quality golf simulator projector.
2. Optoma EH200ST: Best short throw projection with 1080p resolution. Built in speaker with noise canceling technology, affordable rate makes it the best short throw golf simulator projector.
3. Epson EX3260: Budget friendly, lightweight and easy to carry. This one is for the frequent travelers. Though the price is less, you are not going to compromise on the quality of experience.
Hence, we came up with this blog to help you make the perfect choice and to narrow down the list. Hope it helps!