A gaming monitor is an essential component of your gaming PC. Often overlooked during the PC building process, picking a great gaming monitor is one of the most important decisions you'll make. So for the same reason, we compiled a few monitors that are great in fps gaming.
Therefore with this article, you can decide which monitor you should buy and also learn about important features that are required in a monitor specialized in fps gaming.
5 Best Monitors for FPS gaming
1. LG 27GL83A-B
Best Pick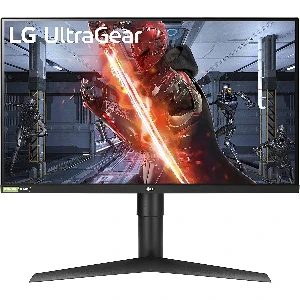 WHY DO WE LOVE IT?
A high refresh rate of 144 hertz and 1ms of response time provides smooth and amazing gameplay with clarity.
The sleek frameless design of the monitor makes images appear larger.
27 in widescreen, giving an immersive experience with clarity of 2K resolution.
The LG 27GL83A-B is a great monitor with incredible speed delivered through its 144 hertz of refresh rate, which changes frames about 144 times in a second. As a result, the images look clear, with very little motion blur behind the objects or no flickering of images.
With such a high refresh rate, you will experience a smooth tear-free gaming performance. Also, it supports FreeSync VRR technology and is certified with NVIDIA, which enhances the performance of changing the frames. Moreover, with 1ms of response time, you will experience fast and fluid action with very minute input lag.
Besides its performance in gaming, it is 27 inches wide and has a 2k resolution that together will provide images that will have clarity. In addition to its quality, it also has HDR10, which will provide you with immersive and more realistic visuals.
Further, its IPS panel allows you to see the screen from any angle possible as it has a wide range of viewing angles. And also, IPS technology is best known for its accuracy in colors that you will receive in this monitor too. Lastly, it has good ergonomics, which will give you comfort in your chair.
PROS
Very wide viewing angles.
Amazing response time.
A good refresh rate of 144 hertz
To summarize, this is a great monitor for fps gaming as you will be getting 144 Hertz of refresh rate with 1ms of response time.
Even though other options are available in the market for even higher refresh rates, their prices are also high. So if you want to stay within your budget and still want a good gaming monitor, then this is a great monitor for you!
2. Acer KG241Q Philip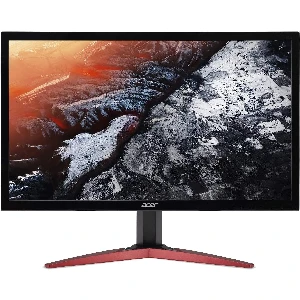 WHY DO WE LOVE IT?
Fast refresh rate with AMD Radeon FreeSync Technology ensures smooth and fluid gameplay
Built-in Acer VisionCare technologies to prevent eye strain.
The convenient size of the monitor is great for small desktop spaces.
The Acer KG241Q Pbiip is a great small-size monitor for fps gaming. Firstly, it has a fast 144-hertz refresh rate ensuring the monitor changes its frames 144 times in a second, which is amazing. And in addition, it has AMD Radeon FreeSync Technology that will prevent stuttering and tearing of the frames.
Thus you will experience smooth and consistent gaming. Moreover, with 1 ms of response time, this monitor will ensure you an enhanced in-game experience no matter how fast and dramatic the transitions are; you will be getting smooth gaming without any annoying effects of ghosting or smearing.
Further, it is full HD (1080p), which doesn't mean the images will appear blurry, as the size of the monitor is 23.6 inches which is perfect with a full HD, so you will be getting clear images without any pixelation.
Furthermore, it has AcerVisionCare technology which provides a shield that stops the blue light from emitting from it and protects the eyes. Plus, it stops the flickering of the screen and overall prevents eye-straining.
PROS
Great response time.
AMD FreeSync support with 144 hertz of refresh rate.
Built-in eye care technology.
This monitor will prove to be the best fps gaming monitor for those who lack space for a big screen-sized monitor. With its 23.6-inch display, you can place it anywhere, and still,144-hertz will serve you amazing gameplay.
Moreover, this monitor will range within your budget with all those amazing features ensuring you fast gaming performance. Overall if you need a monitor which specializes in gaming, but you don't have enough space on your desktop, without a doubt, this is the monitor you have been looking for!
3. Acer Nitro XV272U Xbmiipruzx
Staff Pick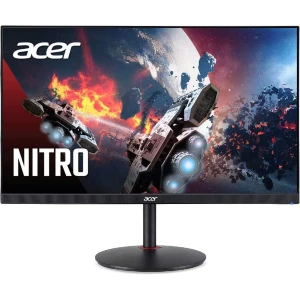 WHY DO WE LOVE IT?
Amazing 27-inch screen with IPS panel providing great image quality.
A very high refresh rate of 270 hertz ensures the smoothest gameplay possible.
Advanced ergonomics are built for extraordinary comfort.
The Acer Nitro XV272U Xbmiipruzx is an extraordinarily fast-paced monitor with 270 hertz of refresh rate, which means the frames will change 270 times in a second which is beyond amazing.
In addition to AMD FreeSync technology and 0.5ms of response time, you will get the smoothest consistency of the frames and their transitions from one color to another.
And this will eliminate the chopping and tearing of visuals which will not be distracting to you. Moreover, its IPS panel and 99% adobe RGB allow the color of the images to look accurate and more realistic.
Also, the DisplayHDR 400 feature enhances the visuals by making the dark colors look the darkest and the bright colors look the brightest possible.
So overall, the picture quality while gaming will not be limited to being smooth but also look very realistic. And all these features will serve as an immersive experience in your gameplay.
Lastly, the stand of this monitor is very flexible. You can tilt, swivel, adjust the height and also pivot it, in addition to your comfort.
PROS
Very high refresh rate.
Rich connectivity and advanced ergonomics.
Accuracy in color ensures images look realistic.
CONS
The adjustability of backlight strobing is limited.
Looking at its features, pros, and cons, this is an amazing monitor for those who are looking for 270 hertz of refresh rate with a fast gaming experience.
Also, you will get 0.5ms of response time which is the fastest you can have. Plus it has a very flexible stand for your comfort. Therefore, you should buy it!
4. BenQ ZOWIE XL2546K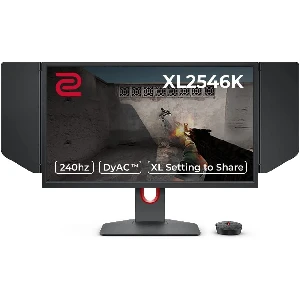 WHY DO WE LOVE IT?
Lightning-fast experience with 240 hertz of refresh rate.
Color Vibrance and Black eQualizer technology to enhance the overall image quality.
Violent actions like spraying, such as in-game combat, become less blurry thanks to Dynamic Accuracy Plus technology.
The BenQ ZOWIE XL2546K is the best monitor for fps gaming as it has 240 hertz of refresh rate, which means that you will get 240 frames per second. Resulting in clarity and smoothness in gameplay. Which prevents the tearing and stuttering of images.
Therefore, if you are concerned about the frames, you shouldn't bet; you will get amazing frames with detailed changes. Moreover, the screen is 24.5 inches wide, which is not very wide, so you don't have to worry about space on your desktop.
You will be getting a fast-paced monitor with 240 hertz in a convenient-sized display which is rare. Also, the display of this monitor is full HD, i.e., 1080 pixels of resolution, which will deliver enough clarity and sharp images to see the detail.
Further, it has a good ergonomic build. You will be provided with a tilt and height adjustment feature, which is quite fine to give you comfort.
PROS
Amazing response time.
Good ergonomics.
Very high refresh rate.
In my opinion, this is a fast gaming monitor with a very high refresh rate providing you amazing gaming performance with clarity in images.
Moreover, there are more technologies in this monitor that will enhance the overall image quality and result in the images looking realistic. So, with a 240 hertz of high refresh rate, this monitor is great for you.
5. Acer Nitro XV252Q Fbmiiprx
Budget Pick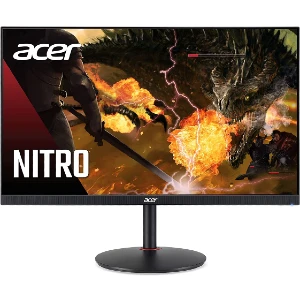 WHY DO WE LOVE IT?
An incredibly high refresh rate ensures next-level gaming.
The convenient size of the monitor that you can place it anywhere.
Very fast response time to prevent the motion blur.
The Acer Nitro XV252Q Fbmiiprx is an incredibly fast gaming monitor with 360 hertz. Based on the IPS panel of the 240Hz monitors, this 360Hz gaming monitor features similar specs.
178° viewing angles, *99% sRGB color gamut, and 1,000:1 contrast ratio deliver the same viewing experience. In addition to a fast 360 Hz refresh rate and responsive pixels, the new display offers a 360 Hz refresh rate.
Also, it has a 24.5-inch screen size which is enough for gaming. And on top of it, you will be getting wide viewing angles so you can play with comfort by looking at the screen from any angle possible. Lastly, you will get access to its flexible ergonomics, so you can tilt, swivel, pivot, and adjust the height.
PROS
Fully ergonomic.
Incredibly high refresh rate.
Very fast response time.
CONS
The size could be bigger.
In our opinion, this is the best monitor for fps gaming, but it lacks size. This monitor has the fastest/ highest refresh rate of 360 hertz, which ensures that you get detailed images without any motion blur. So overall, this is a great fps monitor.
How to Choose the Best monitor for FPS gaming
Here are the features that are important to look at before buying the best monitor for fps gaming
Screen size
The screen size of the monitor is an important aspect when you are looking for a monitor. The bigger the screen, the more immersive the gaming experience, but you'll also need to make sure that there is enough room to store the large monitor. It should be noted, though, that larger monitors are more expensive
Resolution
The resolution of the monitor you choose is another important factor to consider. Sharper pictures are associated with higher numbers. To achieve an extraordinary gaming experience, you require anything over full HD (1920 x 1080), such as 2,560 x 1,400 (WQHD) and 3,840 x 2,160 (4K)
Panel type
As a result of their weaker viewing angles, TN monitors tend to be the fastest and cheapest model. The response time of IPS displays is a little slower than that of VA displays, but their color reproduction is better. For gaming, VA monitors are the best. Also, VA monitors have a slower response time
Refresh rates
The rate at which your monitor updates information is reflected in hertz (Hz) and is indicative of how many frames per second (fps) the monitor has the capability of displaying the images. Smoother images are associated with bigger numbers.
Gaming requires a high refresh rate, so make sure your monitor offers at least 75 Hz (the majority of gaming monitors offer 144 Hz) and has the lowest possible response time
G-Sync or FreeSync
G-Sync and FreeSync technologies are commonly found on the very best gaming monitors. By preventing screen tearing and input lag, these features keep your frames per second (fps) smooth. Nvidia developed G-Sync, so it requires a GPU from Nvidia.
These monitors feature built-in technology, which makes them more expensive. In contrast, FreeSync is made by AMD. The monitors that have them are generally more economical since the manufacturers use them free of charge
Aspect ratio
Gaming monitors use an aspect ratio to determine their width and height. The standard aspect ratio of widescreen monitors is 16:9, while older monitors have a format closer to square: 4:3. In 2021, old monitors will probably feel pretty dated. 21:9 ultra-wide displays are rapidly becoming more popular due to their enhanced picture quality.
Response time
You'll get fast and fluid action from a gaming monitor that has a low response time, meaning input lag is minimal. Monitors with TN technology (we'll discuss this in the next section) typically have a response time of 1 millisecond, whereas IPS monitors usually have a 4-millisecond response time.
You should keep this number as low as possible when playing competitively to avoid latency.
Frequently Asked Questions
Should I choose an IPS, TN, or VA panel?
IPS panels are always recommended over TN panels. Although there is little comparison between the cheaper technology and the more advanced technology in terms of image clarity, viewing angle, and color reproduction, you will often find a faster TN for less money.
VA technology is a less expensive and better alternative to IPS and TN. However, the contrast performance is outstanding, so it is not quite as intense as the colors.
Which monitor is better, a G-Sync or a FreeSync one?
It is generally cheaper to buy a FreeSync monitor. Previously, AMD GPUs were required to drive them, and G-Sync monitors with Nvidia GPUs were not supported. Although if you're intent on saving money, you can find cheaper FreeSync monitors that are G-Sync compatible nowadays.
Do I need an HDR monitor?
By using one of the many HDR monitors available, you can enjoy the growing number of HDR games and applications. Despite offering more vivid colors and greater contrast, it will cost a bit more.
HDR is also poorly implemented in Windows native HDR, and you may need to tweak the settings to get HDR to look right.
How should I choose my aspect ratio?
A 16:9 aspect ratio or above is best for watching movies and playing video games today. With 4:3, the bottom and top of those cinematic moments will appear stunted. Choosing between each ratio can depend entirely on personal preference, but there are many slight variations in each ratio.
CONCLUSION
In this article, you will find a range of monitors specialized in fps gaming with average size. Through this article, you will learn what features are necessary for buying a monitor great for providing you with amazing gaming performance. To avoid confusion, we recommend you buy this monitor…
Acer Nitro XV252Q Fbmiiprx: This monitor is specifically designed for gamers. With its high gaming speed you will experience smooth and fluid gaming with clarity.