Getting an enjoyable movie experience does not require a pricey 4k TV; most monitors deliver an acceptable multimedia experience. Many new 4K monitors now support HDR, as well as local dimming, for improved performance in dim rooms.
But how do I find the best monitor for watching movies?" this is the first question that comes to mind, isn't it? We understand that it is really hard for you to pick one monitor out of lots, knowing that every day hundreds and thousands of monitors are launched! How to pick the right one?
Also, you might require comfort while watching the movie, but some monitors just keep you frozen and rigid in the chair, making your body ache and strain in the eye!
Now that is not an issue anymore… because you came to the right place. We have compiled a few monitors that will give you an amazing movie experience.
4 Best Monitors for Movies
1. LG 34WK650-W
Best Pick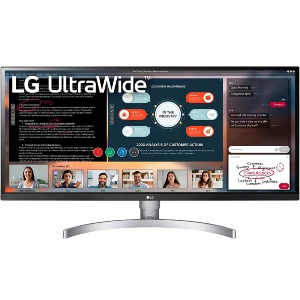 WHY DO WE LOVE IT?
Quite a big monitor size will make your movie experience an excellent one.
Has IPS panels, ensuring accuracy in colors from every angle.
High contrast ratios, so you can watch movies in the dark as well as in bright environments without any distortion.
Pros
Quite big display with HDR compatibility. 
Flicker-free technology
Built-in AMD FreeSync technology. 
The LG 34WK650-W is a monitor with a 34-inch display and 1080 pixels resolution delivering good quality images. But with HDR10 compatibility, the movie will have high contrast, making the picture look clear even in dark or bright environments, and colors in the picture will look more vivid, making overall content very defined.
Moreover, the integrated IPS panel makes you comfortable in looking at the screen from every angle, and still, there won't be any loss of colors as the IPS panel has 178 degrees of wide viewing angle.
Further, the refresh of this monitor is also quite high, that is, 75 hertz ensuring the formation of 75 images per second, making your movie look consistent. Also, it has AMD FreeSync technology that makes the image look seamless and fluid. 
In our opinion, this is a great monitor for watching movies. And what makes it a good monitor is its 34-inch large display, 21:9 ratio monitor, 1080p resolution with HDR compatibility, wide viewing angles, sRGB 99% color gamut, and split-screen feature.
These features altogether make this a great monitor. Overall this is a great monitor, and you should definitely buy it.
2. VIOTEK GFV27DAB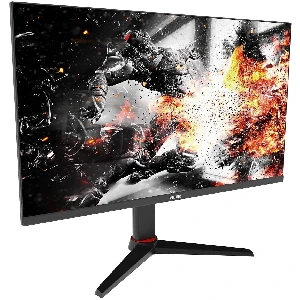 WHY DO WE LOVE IT?
Amazing curved monitor display with 27-inch size.
Built-in flicker-free technology makes the movie run smoothly.
Also a great monitor for gaming besides watching movies.
Pros
High pixel density and contrast ratio.
Vivid and vibrant colors.
Backed by AMD FreeSync technology.
Cons
Moderate ghosting fast-motioned pictures.
The VIOTEK GNV27DAB is a great monitor with 27-inch screen size and 1440p of resolution delivering amazing image quality. Also, its refresh rate is 144 hertz, ensuring that the image changes 144 times every second.
Moreover, its curved display allows you to see every detail in the movies without moving or stressing your eyes, so while watching movies, you can be as comfortable as you want. Also, it has flicker-free technology, so when you are watching a movie for hours and hours, you won't hurt your eyes, and the movie will run very consistently.
Other additional features such as PIP(picture-in-picture) feature, ergonomic(tilt-only) feature, G-SYNC compatibility, On-screen display options, and many other features will make your experience even better not just in watching movies but also in gaming and working.
Looking over its features, the only problem with this curved monitor is with its ghosting and tilt-only stand. But ghosting of images takes place while playing games in fast motion, it is not a problem in watching movies.
So overall it is a great monitor with amazing features and more importantly for multimedia, so we recommend you to buy it.
3. Dell S2721QS
Staff Pick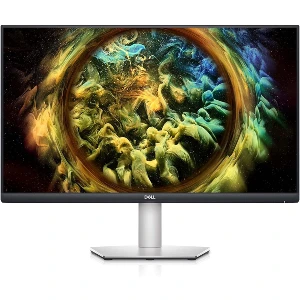 WHY DO WE LOVE IT?
The razor-sharp image quality of the movies with 4k UHD resolution.
Prevents tearing or breaking of the image through AMD FreeSync technology.
Has an amazing frameless look on the monitor with very thin bezels.
Pros
4k resolution ensures clarity in movies.
Perfect 27-inch wide display with wide viewing angles.
Ultra-thin bezels make the images look bigger.
There is no doubt that Dell S2721QS is a great monitor for watching movies! This monitor has a 4k display which obviously means sharpness and clarity in the images of movies. Moreover, its AMD FreeSync ensures the smooth and fluid consistency of the movie.
Also, its IPS panel, together with 99% of sRGB color coverage, makes the images look vibrant and full of colors. Plus, with this panel, you can watch movies from every angle as it has an IPS panel and it has a wide viewing angle.
Further, it has additional features like PBP, through which you can split screens side by side, or PIP, where you can open a small window in the main window.
Additionally, this monitor has flicker-free technology to provide protection to the eyes from irritation. Also, it has very thin bezels to avoid distractions in movies.
Overall this is a great monitor to watch movies in, it has great image quality making the images of movies look realistic. Above all, it has a 4k resolution display, giving amazing crisp images with clarity.
Also, with this monitor, you will get the smooth and fluid consistency of the movie without any interruptions. And on top of it has flicker-free technology that will not destroy your movie night by weird display or eye fatigue. Overall this is a great monitor, and you should definitely buy it.
4. LG 27" Ultragear (27GN95B-B):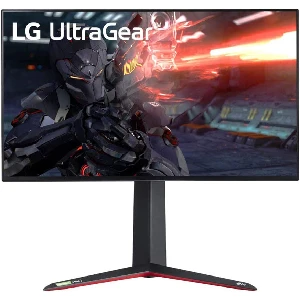 WHY DO WE LOVE IT?
It has amazing display quality with 4k resolution, making images look clear and crisp.
Has advanced ergonomic features making you comfortable and flexible in the chair.
Very high refresh rate making movies smooth and fluid.
Pros
Accuracy in colors. 
Ergonomic features are available. 
AMD FreeSync and G-SYNC compatible.
The LG 27" Ultragear(27GN95B-B) Monitor is the best monitor for watching movies! What makes this best is its display of 4k resolution and 27 inches, which is not very wide, but it's convenient.
Its display delivers amazing sharp-quality images with clarity that will make your experience of watching movies an amazing one.
Moreover, it has 144 hertz of refresh rate that will create an image 144 times in just 1 second of time that will not make your movie look like it is stuttering. Instead, it will look more fluid.
Also, it has G-SYNC and FreeSync compatibility to minimize the tearing or breaking of the image while watching any video.
Further, it covers about 98% of the DCI-P3 color gamut, which ensures its accuracy in colors, so the movies you watch look more lifelike and realistic.
And the best part is its ergonomics, which are advanced as it has height adjustment, tilting, and pivoting into portrait mode, so you can also watch movies or videos which are made in portrait.
However, its ergonomic features will keep you comfortable in your chair as you can personalize it!
To summarize, this is the best monitor you can buy not only to watch movies but also for an amazing gaming experience. Moreover, this monitor will ensure your comfort and flexibility while watching movies with its ergonomics.
And the colors of this monitor are amazing, and the movies will look very realistic and accurate. Overall this is a great monitor, and if you have a good amount of budget, then this should be your ideal monitor!
Buying Guide to Choose the Monitor for Movies
Here is a list of the features/elements you must look for while buying a monitor to watch movies-
Monitor Size and Resolution:
The more pixels your monitor has, the more vivid and realistic the images will be. For the most precise images, you should choose a monitor with an Ultra HD and 4K resolution. While some 1440p or 1080p monitors can still offer good picture quality, this is also affected by the panel.
Display panel:
Display panels can be classified into three main types: twisted nematic (TN), vertical alignment (VA), or in-plane switching (IPS). If you want the best color accuracy and wide viewing angle, you should consider IPS. In comparison, VA and TN panels offer less color gain and a narrow viewing angle.
Also through the IPS panel, when you will watch at the screen from a different angle then there will be no loss of colors in the images and the picture will look just the same on the screen.
Refresh Rate:
Monitor refresh rates are measured in Hertz and reflect how often new images are updated every second. A common refresh rate for monitors is 60, 70, 100, 120, or 144. Motion resolution, screen tearing, and response time are all better when the refresh rate is high.
So, opt for the highest refresh rate possible. The higher the refresh rate is the more formation of images takes place, which will prevent motion blurring or stuttering of images.
Contrast Ratio:
When choosing a monitor for watching movies, the contrast ratio of the display makes a difference in determining the luminance range between darker and brighter areas in a scene.
High contrast allows you to see subtle gradations and nuances in both dark and light scenes, in addition to the subtle textures. Low contrast also disturbs the eyes when you watch in dark or bright environments, so we have to make sure that whenever we buy a monitor, it should have high contrast ratios.
HDR:
HDR-enabled computers provide brighter and more vivid colors. These enhance the viewing experience by improving image quality. Although HDR produces impeccable results, monitor brightness plays a key role in its performance.
Frequently Asked Questions
Is a curved monitor better for watching movies?
Yes, there is no doubt about it. Its unique curvature helps give the viewer a three-dimensional sense of the action. Compared to a flat monitor panel, the experience is much more realistic, making it ideal for use in fast-paced video games and movies.
Are 4K monitors suitable for watching movies?
Most monitors can deliver a respectable multimedia experience without spending a fortune on the latest 4k TV. Unlike high-end TVs, 4K monitors come equipped with many of the same features as high-end monitors, such as HDR support and local dimming for better viewing in dark environments.
When buying a video monitor, what should I look for?
When selecting a monitor which is best for watching movies, take these factors into your consideration, as without any of them your monitor will not be able to deliver the desired performance. 
Size of the screen of the monitor.
Display resolution. 
Display panel.
Refresh rate.
Contrast ratio.
HDR compatibility.
CONCLUSION
It is so hard to find a good monitor when you have no knowledge about it, and quite easy when you know exactly what you want. This article covers all the mandatory points that will help you in acknowledging what you really need in a monitor for great image quality while watching movies. You will be well aware of what different features perform different functions and more.
If we had to make a choice of just one monitor best for watching movies, then it would be either Dell S2721QS 27 Inch 4K UHD– It has a great frameless display and is amazing for watching movies.
OR
VIOTEK GFV27DAB 27" this is because it is curved and great for watching movies and playing games.