Do you love watching movies and want a new innovative way to make your movie experience more dynamic? Are you looking forward to watching movies with your friends in your backyard?
The television in your drawing room is not portable but you want to watch movies in your backyard or the garden?
This is where the projectors play a vital role. A projector helps you make your backyard, garden or even the rooftop into a home cinema and makes your movie watching experience more amazing.
But again it is not an easy task for you to choose the best outdoor projector for yourself. There are so many projectors available in the market with so many different features.
If you are confused about which projector to choose among so many options available in the market then you are at the right place.
Here a review of 10 best outdoor projectors is given. This review is surely going to help you out in choosing the best outdoor projector for yourself. So lets get started!!
10 Best Outdoor Projectors
1. LG CineBeam HU80KSW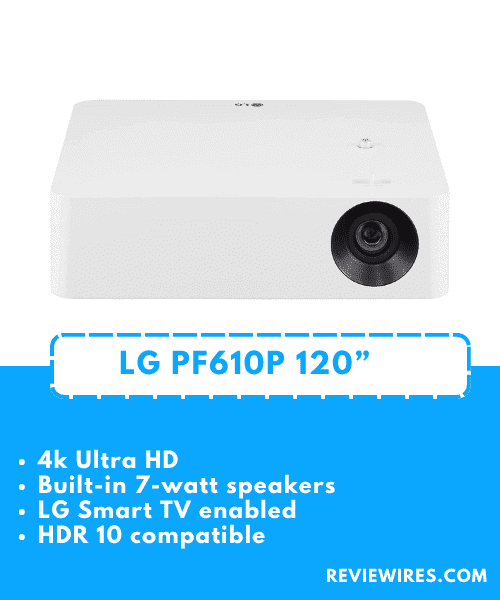 Features
4k ultra HD
Built in 7 watt speakers
LG smart TV enabled
HDR 10 compatible
The LG CineBeam projector is the most feature laden projector among all the projectors mentioned in this list. The image produced by this projector is decent in quality and is 4k HDR. The size of the image is good too and is between 66 to 150 inches.
One of the best features of this projector is that it is blessed with the webOS platform. This feature enables the projector to connect directly with all the apps over the wi-fi. Additionally it has amazing miracasting and bluetooth connectivity.
The range of the bluetooth is too good and you will fall in love with it.
Moreover this projector comes with a laser life of 20,000 hours and hence you can watch a movie everyday for 2 hours for the next 22 years without any need to replace it.
In addition to all the in-built apps you can also cast the screen of your phone, laptop or even a MacBook through this projector. Not just that but you can also connect a device to it through multiple other physical options.
It has various ports such as for the HDMI cable and also a space to insert a SD card.
Another great feature of this projector is the in-built harmane kardon speakers. The sound quality of its speakers is so good that there is no need to attach any other external audio device.
Pros
 Portable
Compatible
Comes with in built apps
Great Bluetooth
If you are looking for the best outdoor projector, the LG CineBeam can be one of the options for you. It comes with a great picture quality and an amazing set of inbuilt speakers. Plus it is super compatible with a range of devices.
Not just that but it is also super light and compact and hence can be taken outside and brought back inside with a lot of ease. Therefore if you have been looking for a projector do consider the LG CineBeam HU80KSW.
2. Optoma UHD40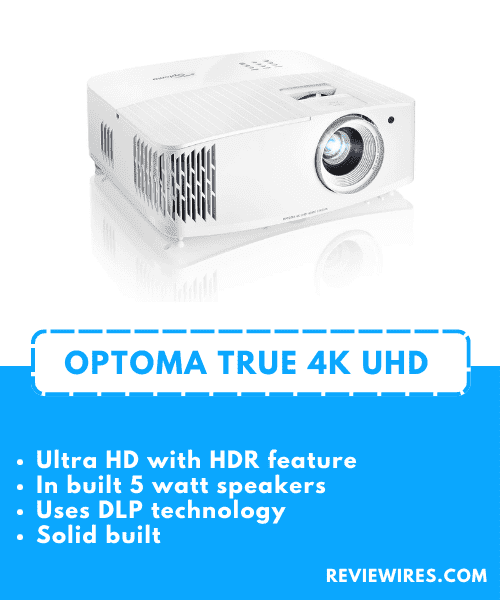 Features
Ultra HD with HDR feature
In built 5 watt speakers
Uses DLP technology
Solid built
If you are looking for the best outdoor projector then you will want to have two features that are Ultra HD resolution and the High Dynamic Range. These features are mostly available in projectors with very high prices therefore not many people can afford that.
But the Optoma UHD40 is one projector that brings to you both these technologies at a very affordable price making it one of the best outdoor projector.
The weight of this projector is only 5 kgs and it is small enough to fit on the top of any table. There is a button for zoom and the focus on the top of the projector.
On the other hand, ports for all the connections are given at the back of this projector.
The built in speakers are all also good but you need to attach external speakers if you want the best sound quality. But this point can be ignored as this is the least you can expect at this price.
Moving forward the projector comes with an easy to use remote control through which it becomes really convenient to switch between different input options from a distance.
The layout of buttons on the remote is also convenient and straightforward making it user friendly.
Pros
  Affordable
Insightful detail
Solid color quality
This is one projector that brings the best quality and technology at a very negligible price. No other projector in the market has such great features and picture quality at this price. The Optoma projector not only promises these features but also implements them really well.
All the other rival brands can not match the quality of this projector at least at this price, hence the Optoma projector triumphs over all the other projectors in the market.
The color quality of this projector is unbelievably vivid and is yet so realistic. Overall the Optoma UHD40 is the best projector at this price and if you have a low budget just go for it without giving a second thought.
3. Epson EF12 mini projector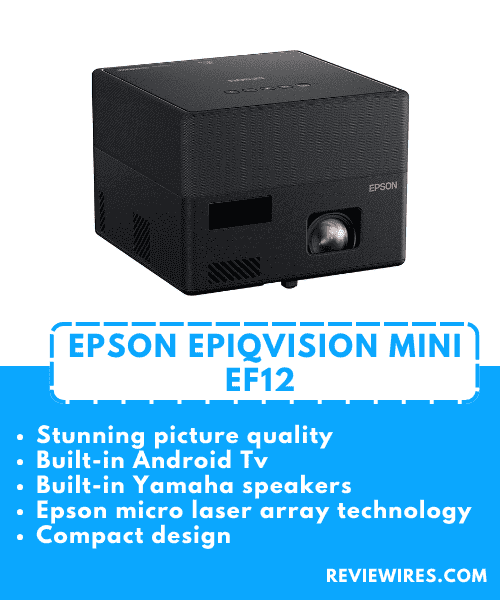 Features
Stunning picture quality
Built in Android Tv
Built in Yamaha speakers
Epson micro laser array technology
Compact design
This is one projector that bridges the gap between true home cinema projector and the completely portable projector as it has tried to accommodate the qualities of both of them. This projector has a perfect in-built sound system and is portable and compact.
Hence it is a complete home theater in itself. But it does not have an integrated battery and needs to be plugged into a power source unlike a complete portable projector. Therefore this is one projector that is best for your garden or the backyard but not for camping.
One drawback in the bulk of this projector is that even though it is so compact and portable it does not have a handle to use it. Another one is that it has a fixed lens and hence in order to zoom in and out you need to move the projector back and forth.
But besides that there are plenty of great features as well. The keystone correction feature is great and helps in providing a decent quality picture.
The 2 built-in yamaha speakers give great sound with an amazing quality. The projector has bluetooth and you can connect your devices to this projector wirelessly. Moreover the range of the bluetooth is also appreciable.
Coming to the picture quality the projector uses 1080 pixels resolution which can take a 4K as well as HDR 10 input. This projector handles motions so effortlessly that you will fall in love with its picture quality. There is absolutely no flickering or blurring and the picture quality is great.
Pros
 Tidy build
Strong depth and picture detail
Great keystone correction feature
Cons
color complexity is average
This is the best portable projector you will get at this price. The picture quality as well as the sound quality is amazing. The image produced is so bright yet subtle that is so soothing to the eyes. It is an all in one product with great details and features.
The only problem is that it does not come with a built in battery and because of it there are certain lacks in the apps and there is not that extra edge to the pictures. But this is the best product at this price and you can ignore certain drawbacks.
4. Anker Nebular solar portable projector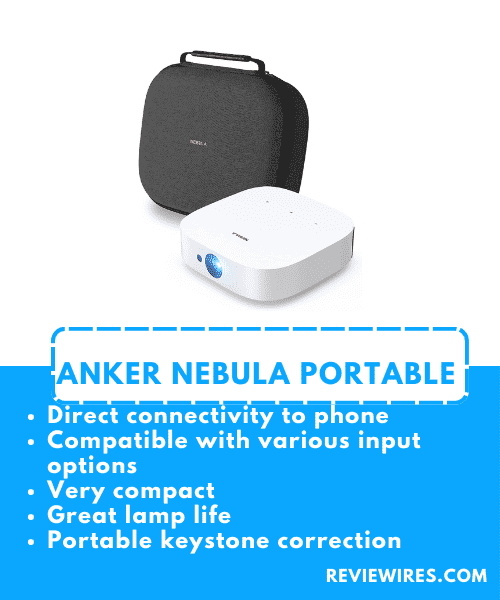 Features
Direct connectivity to phone
Compatible with various input options
Very compact
Great lamp life
Portable keystone correction
The Nebular project contains a rechargeable in-built battery that makes it a portable laptop. In addition its picture quality is also decent and it can produce a full HD and HDR picture of upto 120 inches.
But one drawback is that the battery goes off after 3 hours and needs to be recharged again.
The projector has an awesome 720 pixels resolution and the brightness is 400 lumens which is also pretty decent. Moreover this projector has a lifespan of over 30,000 hours making it pretty durable.
There are certain physical control options on the projector but apart from that this projector comes with a remote control that is equipped with a voice command function.
One of the best parts about this projector is that even among the list of portable projectors it is the most light weighted device.
Therefore due to its tiny size the sound is not much but still it is decent. Moreover there is an input port for external audio devices. In addition a Bluetooth speaker can also be connected to the projector via wireless mode.
Pros
 Vivid yet balanced picture
Decent spread sound
Great picture quality
Cons
Sound quality has average impact
You need to attach external speakers with most of the projectors therefore the Nebular projector is no different. You can clearly ignore this fact about it.
If sound quality is not an issue for you then this is one of the best outdoor projectors and you should buy it. Moreover it is affordable and is one of the best deals available in the market.
Furthermore this projector provides an excellent picture quality and an easy installation for its price. Moreover it is super light and compact and is the best value for money.
Therefore if your budget is low Nebular projector can be one option for you. But if you can stretch your budget a bit go with something like Epson.
5. M2 Portable smart wi-fi projector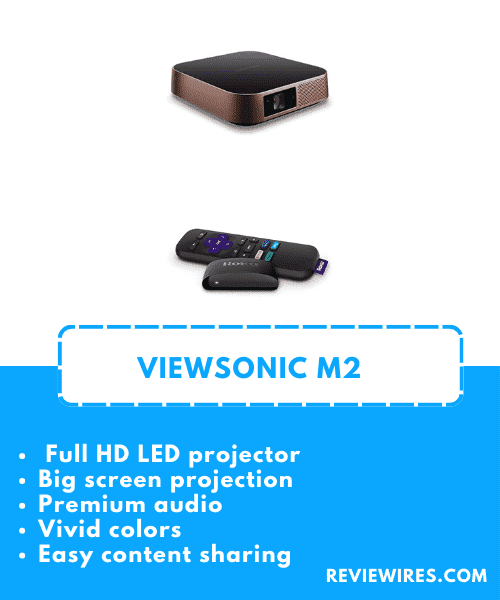 Features
Full HD LED projector
Big screen projection
Premium audio
Vivid colors
Easy content sharing
The viewsonic M2 portable smart wi-fi projector delivers great picture quality from a very compact and portable body. It is so compact that it can be carried easily in a backpack from one place to another making it extremely portable.
For the purpose of convenience this projector comes with a wireless screen mirroring option that helps in sharing the screen of your device through the projector wirelessly.
In addition it is a short throw projector and ensures a large size of the projection from a very small space.
The LED light source of this projector has a lifespan of 30,000 hours and a brightness level of 1200 lumens. Equally important is its kickstart design that helps in easy setup and installation of this projector.
Furthermore this projector has different slots for a SD card and also an USB type A-reader port that allows you to display content without having to attach any external laptop or phone.
Another great feature of this projector is the inbuilt dual Harman Kardon speakers that provide great sound quality without attaching any external speaker with it.
Moreover the projector has stunning resolution that is full HD with 1920×1080 native resolution. This projector is perfect for all time of picture formats and gives out crystal clear images without any distortion.
Another feature that will make you fall in love with this projector is its vertical and horizontal keystone correction. This feature helps in removing all the distortions and produces a symmetrical perfectly proportioned picture.
Pros
   Lightweight design
Built in Wi-Fi
Great horizontal and vertical keystone
Cons
  Image size is not very large
If you are looking for a portable projector whose features are also not compromised anywhere then this one is the best projector for you.
It comes with such great features like bluetooth and the wifi connectivity which are not available in other projectors at this price range. You will surely love this projector, do buy it if your needs are fulfilled by the kind of feature it provides.
The image size is comparatively less but when it comes to the picture quality it is the best. In addition the sound quality is also premium making this projector an amazing choice for all those looking for the best outdoor projector.
6. XGMI Halo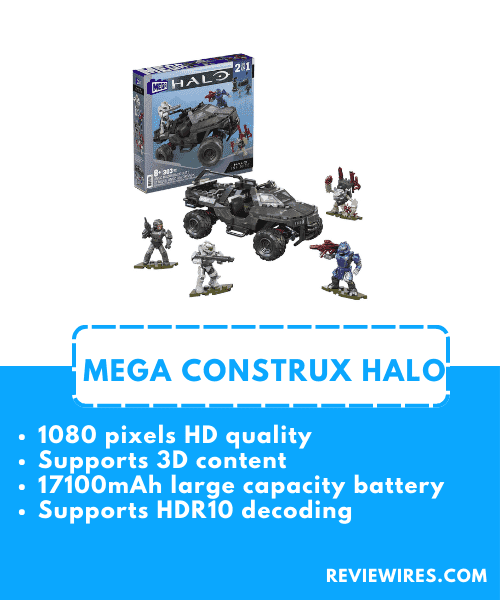 Features
1080 pixels HD quality
Supports 3D content
17100mAh large capacity battery
Supports HDR10 decoding
The brand XGMI has been making the projectors since 2013 and is one of the best brands. The XGMI Halo is one of the best projector XGIMI has made.
It is an extremely portable projector and can be easily carried to any place making it one of the best outdoor projector.
In addition to its portability the projector comes with 5 watt Harman Kardon speakers which gives it an amazing sound quality. Also it comes with a LED light source that has a lifespan of 30,000 hours which means you can use the projector for eight hours a day for the next 10 years.
The projector has a fixed lens with a throw ratio of 1:2:1 that can project an image anywhere between 30 to 300 inches. Another great feature of this projector is its inbuilt battery that works well for three to four hours and then you need to charge it again.
Furthermore this projector uses the google android tv 9.0 OS in order to take care of all its apps. The google voice assistance makes using this projector way more convenient and there is also a feature of chromecast through which you can mirror other apps from your phone through the projector.
Another mind blowing feature is the auto auto-focus and auto-keystone correction that helps in easy setup of this projector.
Pros
  Great quality built in speakers
auto – focus function
Great battery backup
If you are in search of the best portable projector and do not want to compromise on the quality then the XGMI Halo is the best outdoor projector for you. It can be carried anywhere and comes with extraordinary sound and picture quality.
The brightness is also decent and it works well in a well lit environment as well making it the best projector for outdoors.
In addition the battery life is also fairly long and you can watch an entire movie pretty easily. Some apps do not work on it but the chromecast feature allows you to mirror them through your smartphone.
Therefore it is the best portable projector and you can go for it without thinking twice.
7. AAXA P7 Mini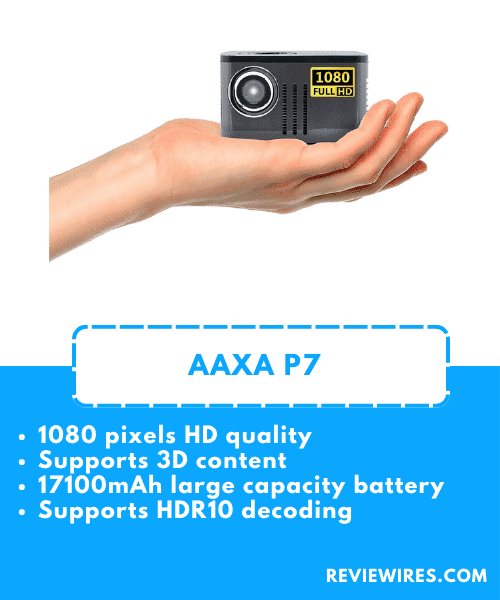 Features
1080 pixels full native resolution
Super compact
Onboard media player
Up to 120 inches screen size
Rechargeable battery
The AAXA P7 mini projector is a super compact and lightweight projector with some great features. The body of this projector is so small and yet so easy to use making it a real user friendly projector.
Moreover in spite of its small size the projector comes with in-built speakers with decent quality. Although there is a separate port given for attaching an external audio device if needed.
In addition the projector comes with a rechargeable battery which further makes it more portable. But one drawback with the battery is its low backup.
The battery works only for 90 mins after being charged and needs to be charged again after 90 mins. This is one of the major setbacks of this projector as even one movie is about 3 hours long.
Coming to the image quality of this projector that is also pretty decent. The projector is bright and comes with an amazing contrast ratio.
Because of this the colors in the picture appear so vivid and lively. Therefore in terms of the picture quality it's a big thumbs up for this projector.
Also the projection size is also decent with 120 inches and the durability of the LED lamp is also good with 30,000 hours of lamp life. Hence in terms of durability and the image quality it is a good device for its price.
Pros
Great connectivity
Great lamp life
Vivid colors
This projector is perfect for all your trips because of its small size and great picture quality. It is so compact that it can fit in the palm of your hand making it the perfect pocket projector.
The major drawback is the battery life which is also noted as bad according to its price. The sound quality is also not upto the mark but is still decent.
But then there are a number of advantages as well. It is compatible with a wide variety of ports for a number of inputs.
The image quality as well as the lamp life is amazing. But according to its price the quality of the projector is not bad. Therefore if it satisfies your requirement you should go for it.
8. Samsung the premiere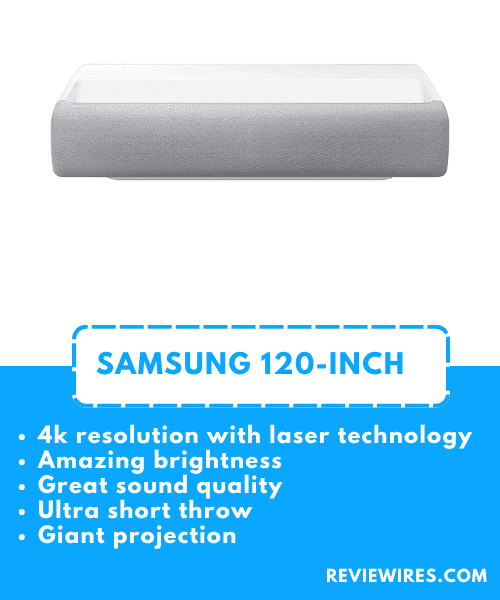 Features
4k resolution with laser technology
Amazing brightness
Great sound quality
Ultra short throw
Giant projection
This projector by Samsung comes with 4K resolution and is made as an alternative to its high end QLED TVs.  You can enjoy large images from a very short distance with this great Samsung premium projector.
It is a Laser DLP projector that gives ultra clear image quality and gives you a complete feel of a theater.
In addition it comes with a built- in wifi and ethernet connectivity. Also it comes with an onboard Tizen smart TV operating system that enables the projector to stream multiple streaming apps.
The projector has 2200 lumens of brightness and UHD image resolution giving it great image quality. Additionally this projector also supports the HDR10, HDR10+, and HLG HDR formats that provides it even richer picture quality.
Furthermore it comes with onboard HDMI ports to connect any HD video source with the projector. It is very easy to use and handle and you can even control it using Google assistant or Alexa. For more convenience this projector comes with an IR remote.
The brightness of the projector is so good that it produces a detailed and clear picture in very bright light, also making it the best outdoor projector. You can enjoy detailed images from any angle on a wide screen of 120 inches.
Pros
  Details even in bright light
True cinematic quality
Room-filling sound
Cons
Sometimes there is a rainbow effect
The samsung premium is an excellent model and is worth the buy. One drawback with this projector is that it is wireless and hence you need to be careful with all the wiring. Otherwise, it is an amazing model with the best image and sound quality.
In fact the tri color laser technology and its ultra-short throw lens leads to projection of crystal clear image from a very less distance.
Additionally this projector has HDR10+ dynamic and HDR format that is not available in any other projector in the market. Due to this feature the best quality of picture is sure shot.
Overall this is a great projector with best picture and sound quality and you can definitely keep this one in your list if you are looking for the best outdoor projector.
9. HD outdoor movie projector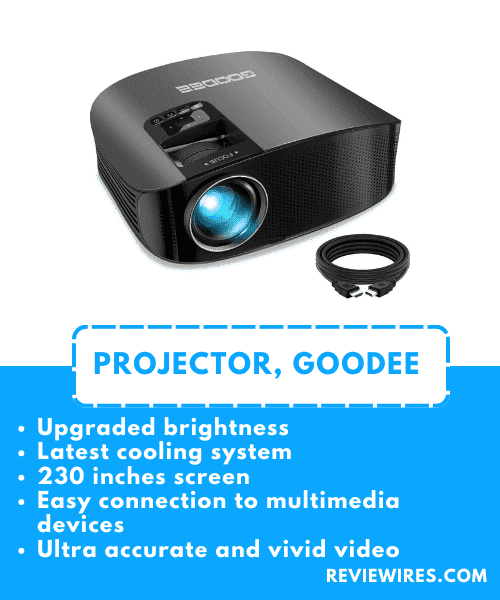 Features
Upgraded brightness
Latest cooling system
230 inches screen
Easy connection to multimedia devices
Ultra accurate and vivid video
The GooDee projector is one of the best outdoor projectors available in the market with great image quality. The brightness of this projector is extraordinary and is better than most of the other projectors in the market.
Moreover the company claims that it has 80% more brightness than other small projectors in the market. This is why it is the best outdoor projector as it has the ability to produce clear pictures even in bright sunlight.
Not just that this projector has the best resolution and provides accurate and vivid color quality. In addition to the image quality the size of the image is also giant. It uses LED light source and LCD display technology which is the best in the entire market.
Also the LCD display ensures low level of energy consumption and higher level of durability.
Another great feature is the low level of fan noise and the powerful cooling system. The problem with most of the projector is that their fans produce a lot of noise as they do not have an effective cooling system but this problem is resolved in the GooDee projector.
Not just the image quality but the sound quality of this projector is awesome. It comes with two 3 watts powerful speakers that produce decent quality of sound and there is no need to attach any external speakers.
In addition the GooDgee projector comes with a warranty of 3 years and 5 years of factory support. In fact if you do not like this projector you can return it within two months and will be given your refund.
Pros
 Great sound quality
Amazing factory support
Long lamp life
Great value
This projector is really affordable and offers some features which are not available even in some of the higher priced models. Features such as the 1080 pixels resolution and the massive 200 inches projection are praiseworthy and are not available in models at this price.
It provides solid brightness and great sound quality and hence is one of the best outdoor projector available at a very genuine price. Therefore if your budget is low this is the best projector with the most decent price.
10. ViewSonic True 4K Projector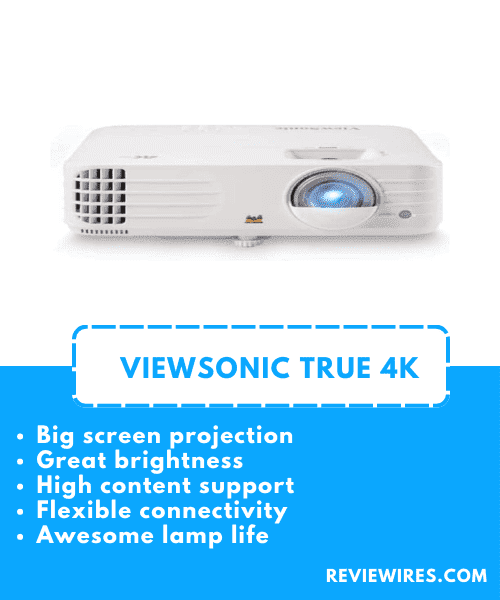 Features
Big screen projection
Great brightness
High content support
Flexible connectivity
Awesome lamp life
This is the world's first high brightness DLP, 4K ultra HD projector. It has a brightness of 3500 lumens making it the best outdoor projector. In addition its 4K ultra HD resolution helps in predicting the clearest picture possible.
This projector can project high quality and bright images irrespective of the lighting.
Moreover this projector works on the XPR technology and projects 8.3 megapixels of true 4k ultra HD image. Furthermore the image projection is not only clear but also very big.
This projector creates an unmatchable viewing experience as it uses the HDR support that enhances the details of the picture to a great extent.
There are dual HDMI inputs that make it easier for you to connect a wide array of devices with the projector. Additionally there is also a provision for connecting the wireless dongles like the Chromecast and the firestick.
Icing on the cake is the feature of 120% offset and vertical keystone correction. This feature helps in flexible operation of the device and it autocorrects the position of projection.
The projector comes with a user-friendly remote with a backlit screen that can be used easily in the dark as well.
There are also provisions in this projector for reducing power consumption. When there is no activity detected for a longer duration the projector turns off on its own.
Pros
Power saving technology
120% keystone correction
Remote with a backlit
Cons
Takes long time to turn on
The viewsonic projector is just amazing and has the  best features. It has the latest features and they are really good according to the price. In terms of features no other projector can beat this one.
Its brightness and picture quality is just awesome and you should not give it a second thought before buying it.
The 4k resolution with such great quality speakers are available only in more costly models hence this is the most affordable model with these features. It is totally recommended to just go for it.
Frequently Asked Questions
What is the most important thing about outdoor projectors?
The most important thing that you should keep in mind while buying an outdoor projector is the brightness. A projector with high brightness works well outdoors. Another factor that you should keep in mind is that an outdoor projector should be portable as you need to carry it again and again.
 What level of brightness should an outdoor projector have?
The outdoor projector must have at least 500 lumens of brightness. If your projector is not bright enough you will not be able to project clear images  outdoors due to the presence of light.
Which projector should I buy if there is not much space in my garden?
If you do not have much space you should buy a short throw projector which can project clear and large images from a very short distance.
Can I leave the projector outside after using it?
The projectors are not meant to stay outside and you must bring it inside after each use. Moreover the change in climate outside or the rain can affect the projector and it may even stop working.
What are the other equipment I will need with the outdoor projector?
Projector does most of the work for you but besides that you need some more equipment. You need a screen on which the projector will display the image. If your projector does not have a good quality sound then you will need external speakers also. In addition you will need external cords to connect your projector to the electric supply if it does not have a built battery.
Conclusion:
This list is surely going to help you to grab the best outdoor projector for yourself. The things that you should keep in mind before buying the outdoor projector is that you can control the light inside but not outside. Therefore you should buy a projector that works well in any environment.
In this list all those projectors have been reviewed that work well in light as well as dark. Hence you can choose any of the projector from the above list that satisfies your requirements and suits your pocket without thinking twice.
In this review all the best projector with so many different features have been mentioned. It includes both wired and wireless projectors, projectors with different resolutions and technologies, has both portable and not so portable projectors.
Hence this review gives you a very wide choice among the best outdoor projectors. Now you need to identify your requirements and choose the one that's best for you.