CURVED VS FLAT TV – Which is best for You
To be honest, there isn't much of a difference between a curved tv and a flat tv; they're not that dissimilar.
However, there are a few minor differences to consider to demonstrate that this article will compare the two types of televisions.
Learn everything there is to know about the differences between flat and curved TVs in terms of the viewing experience, design, and selection.
FLAT-SCREEN TV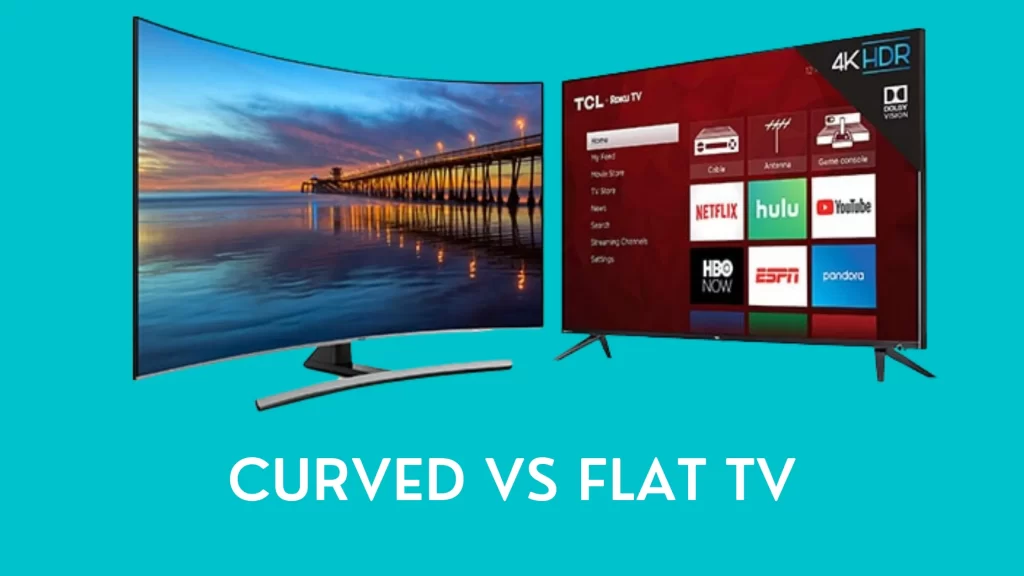 The type of panel determines the viewing angles of a flat television. Viewing angles are better on TVs with an IPS panel than on TVs with a VA panel.
When seen from a different angle, OLED displays maintain their image quality. Flat TVs don't have a lot of reflections, though, unless the panel has a glossy covering.
Moreover, if you place your TV on the wall, the flat style is extremely appealing. Of course, if you enjoy it. Thinner TVs are especially easy to hang on the wall as a picture.
A flat television's design fits in seamlessly with its surrounding devices and walls because of its straight lines. Straight lines can also be found on your audio system, Blu-ray player, and console.
Further, there are numerous alternatives available if you choose a flat television. Flat televisions come in a variety of designs and sizes. You can select from a variety of resolutions, ranging from HD to Ultra HD.
You may easily choose a TV that fits your budget, interior, and image quality requirements. For the best image quality, use a model in the upper price range.
You can visit here if you want you buy the perfect TV for your home: Best 43inch smart TV
CURVED-SCREEN TV
When it comes to curved monitors, the term itself draws attention because it's been a long time and we're all weary of viewing the same old flat TV, and we're ready for a change.
A curved television is a way to go if you want a television that will be noticed by everyone. A curved television's design draws all of the focus in the living room to it.
Moreover, reflections are stretched on a curved television. With a shiny screen and low or bright illumination, you're more likely to notice this.
A curved television provides a similar viewing experience to that which you are accustomed to.
Further, the selection of curved televisions is limited. These televisions are on the top end of the pricing scale.
They have a screen that is larger than 40 inches, are more expensive, and offer additional image enhancement technologies. These televisions feature the most curved screens.
The advantages of having a curved screen will be as follows:
Improves the watching experience by making it more theatrical.
Moreover, it also helps your eyes by reducing eye movement.
The borders of a curved screen are closer to your peripheral vision, giving you more depth and a wider field of view.
Looks good with your interior.
Disadvantages of having a curved screen are as follows:
While curved TVs are often more attractive than flat TVs, they appear odd when hung on the wall, but this is a matter of personal opinion.
Additionally, when it comes to the distance and angle from which you should be viewing the screen on a curved TV, there is a particular sweet spot.
Further, if you line up several curved TVs in a circle, the center of that circle will be the perfect viewing distance, and it will also take up more space than a flat TV.
Moreover, the extra immersion is lost when there are more individuals in the room watching the same screen from various angles for them.
CONCLUSION
We've reached the end of this article, and we now know that a curved screen has a few advantages over a flat screen, such as making the screen appear larger if you sit close to it, reducing reflections, and looking good in the room, although these are tiny distinctions.
However, there is no true screen resolution advantage to having a curved screen over a flat screen, and curved screens also have a few disadvantages. So, In the end, it depends on you.