7 Best Gaming Chairs under $300
We gamers often forget about the one component that is probably the most important: the chair we use with our gaming PC.
We spend so much time studying graphics cards, processors, monitors, and cases that go with our gaming laptops or computers that we often forget about gaming chairs.
Studies have demonstrated that spending extended time on a chair can cause back problems, so having a quality gaming chair has never been more important for gamers.
Gamer chairs come in plenty, and many can be found out there.
Additionally, quite a few affordable options are available. Also, you can easily choose the best gaming chair based on your budget with our guide's breakdown by price range.
Below are the gaming chairs that we have also rated on the basis of their features. You can use the computer chair reviews below to help you find the best chair that suits your needs if you're looking to upgrade your setup.
7 Best Gaming Chairs under $300
1. AKRacing Core Series EX-Wide Gaming Chair.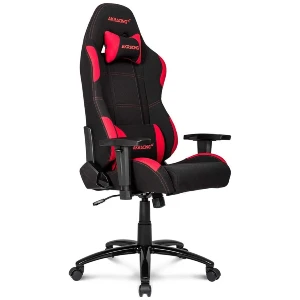 WHY DO WE LOVE IT?
The headrest of this chair is adjustable and has lumbar support to provide comfort.
It has an adjustable armrest that can adjust in 3 different directions. (Read below to know how).
Additionally, the fabric cover on the chair is breathable and soft to prevent sweating.
Pros
Zero squeaks due to solid construction.
Upholstery is made of smooth, breathable fabric.
Over time, high-density foams won't deflate.
Cons
Wider people may not be comfortable in bucket seats.
The AKRacing Core Series EX-Wide Gaming Chair is an amazing gaming chair that is exceptionally solid-built. Starting from its wide metal frame, which has an anti-corrosive coating to prevent corrosion.
Moreover, it features soft yet supportive zero-percent cold-cured foam padding, carefully selected to offer maximum comfort and support over the long term.
AKRacing sources the same quality upholstery materials as premium auto manufacturers. Also, its polyester fabric upholstery is breathable and durable.
So when you work for a long time, your back will not sweat, and this fabric is durable.
Further, it has 3D armrests which can be adjusted in 3 directions. Plus, it is made of a special foam mix that supports the arms and wrists.
It can be adjusted in 3 different directions: up-down, back-forth, and rotates to the sides.
Furthermore, the increased foam weight of the chair is designed to provide more comfort as gamers – or users – spend long hours playing or working, and its lumbar pillow provides perfect back and neck support to improve posture.
Overall, this gaming chair is great as it will improve your posture and support your back and neck, as it has a headrest and lumbar pillow support.
You should also know that the mesh material on the back of this chair is breathable and durable, keeping you cool and dry while sitting on it. So if the environment you play in is hot, this chair will work just right for you.
2. GT RACING Gaming Chair Racing Office Computer Game Chair.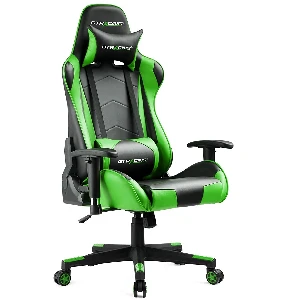 WHY DO WE LOVE IT?
Perfect gaming chair for both children and adults as it has quite a spacious seat.
The seat of this chair is completely ergonomic for enhanced comfort.
A very attractive chair that goes with all the setup- gaming, office, or studying
Pros
The weight capacity is impressive.
Supports the head and lumbar areas with cushioning.
The height and position of the armrests can be adjusted.
Cons
It does not rock, only reclines.
The GT RACING Gaming Chair is perfect for gaming, especially for professional gamers. With this chair, you will get a very strong metal frame that is designed to help in promoting comfort while sitting.
Games are so immersive that we usually forget about our comfort, which results in body aches. For preventing those aches, this chair is ideal.
Moreover, this chair has multiple functioning features, such as armrest height adjustment and seat height adjustment, which you can personalize accordingly.
Plus, it also has some reclining features ranging from 90 to 170 degrees. And it can swivel too. In addition, it has a 5-point base built with heavy-duty to protect your chair from falling.
Not to forget the casters, which roll smoothly without scratching the floor and making unnecessary noise.
Further, its smooth PU leather ensures the durability of the chair. And it also has a lumbar cushion and removable headrest pillow, so you can customize and set them up according to your needs.
Overall this chair would be an ideal choice for your gaming setup, as it has this attractive racing car style that is perfect for gaming and office environments.
You will acquire comfort as well as flexibility with this chair in your overall setup. So think no more; buy this chair to upgrade your setup and gaming experience as well.
3. Vertagear S-Line SL2000 Racing Series Gaming Chair.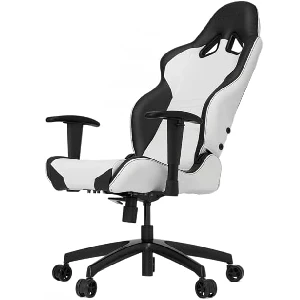 WHY DO WE LOVE IT?
The design of this chair is amazing and goes with all types of setups.
Good ergonomics with lumbar support and reclining features.
The weight capacity of this chair allows people of all shapes and sizes to sit comfortably.
Pros
Durable frame of the chair.
Amazing design for all environments.
Affordable to buy
Cons
Very firm lumbar support.
The Vertagear S-Line SL2000 Racing Series Gaming Chair is an attractive chair of white and black color that will go with almost all of your setups.
Similar to the rest of the racing gaming chairs, it has lumbar support, reclining features, and a smooth build that ensures you don't have body pain and stay comfortable.
Also, having a comfortable chair for your setup is crucial nowadays because we are so immersed in our games so deeply that we forget about our bodies.
So for the same reason, this chair would be a great addition to your setup. Nevertheless, it can sometimes be difficult to sit for some people due to the hardness of its cushions.
Additionally, this chair has ergonomically placed adjustments under the armrests for users' convenience. Moreover, the base makes gliding easy and lets you adjust it smoothly, just like the armrests.
Furthermore, with this gaming chair, spilling water or any beverage on the chair won't be a problem since it is padded with water- and stain-resistant PVC leather.
Overall this is a very attractive chair, and it is worth buying as anyone can sit on this chair- children, teenagers, or adults. The best part of this chair is its design.
You will get sleek black and white design on the chair, which will go with any computer set-up. It will even complement your living area, so if you need a chair with aesthetic looks, this chair is perfect for you.
4. AutoFull Gaming Chair.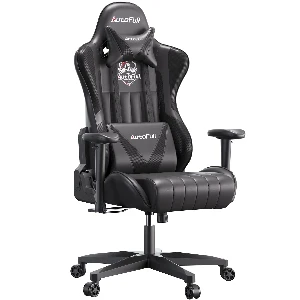 WHY DO WE LOVE IT?
The sleek black look of the chair complements your gaming setup and room.
Features full ergonomic support to enhance your flexibility.
Helps in supporting your neck and back and promotes good posture.
Pros
Comfortable and ergonomically designed.
With a sturdy design, it is durable.
Relaxes the body and allows easy movement.
The AutoFull Gaming Chair is the best gaming chair under 300 for a perfect gaming experience. Designed to provide the ultimate support, this chair provides a natural curve that naturally fits the player's body.
Despite losing yourself in the game and forgetting your body, you will feel comfortable in this gaming chair.
Moreover, you can also customize the chair's support by detaching the headrest and the lumbar support. So when you feel strain in your neck, you can attach the headrest, and the same goes for the lumbar support.
Consequently, its ergonomic comfort will ensure that you will not complain about neck and back pain after long gaming sessions.
Further, it has multiple functioning features, such as a 360 Degree Swivel. Also, the chair back can be locked at any angle between 90 to155 degrees.
Swiveling and reclining up to 155 degrees will keep you flexible and your muscles relaxed. Plus, you will get a height-adjustable seat and 2D armrests with this chair, so you can adjust the chair's height according to your desktop height to avoid head hunching.
Furthermore, the chair's carbon fiber and PU leather material provide a better touch feeling. Also, the PU leather material of the chair is durable so spending your money on this chair is worth it.
Overall this is the gaming chair that you can look forward to buying, especially if you want a chair that has a completely black look that will suit your gaming setup and also your room.
Not only that, but also you will have full comfort while your intense gaming session. And lastly, you can personalize the chair according to your with its ergonomics features.
5. Musso Executive Swivel Office Chair.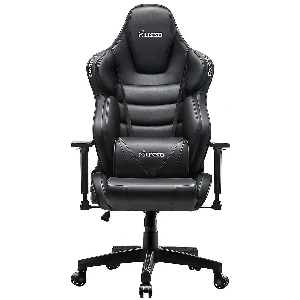 WHY DO WE LOVE IT?
You will get incredible ergonomic features that will improve your posture and health.
It has an adjustable headrest and lumbar support so you can personalize it accordingly.
With this chair, you will get a heavy-duty base and good casters to keep the chair stable.
Pros
Gamers' version of office chairs.
Featuring additional lumbar support and a wide, heavily padded design.
Rocking function and 170-degree deep reclining.
Cons
The amount of weight capacity is insufficient for heavier users.
Designed with a futuristic feel, the MUSSO 229A series is a very supportive chair as it is muscular in shape and extremely supportive. With contoured padding, it provides exceptional comfort.
You can insert memory foam in any position according to your body type. Sitting on an ergonomic chair can help reduce pressure on your back and also improve blood flow to the lower body, which will not numb your legs.
Moreover, this gaming chair under $300 provides luxurious comfort and other premium features. Likewise, the lumbar pillow and headrest filling, the adjustable armrests (which can either be detached), the wider seat cushion, and the high backrest make it one of the best in terms of comfort and luxury.
Such ergonomics will eliminate strain in the back and neck, and you will not have to hunch as the monitor screen will match your eye level.
Additionally, the leather is high-quality, and the sponge is thick and elastic with great resilience. And with this excellent leather material,
you will get Plus, it also has an integrated metal frame with stable chairs, which are built with heavy-duty chairs and castors.
In our opinion, this is a good chair for gaming under 300 as you will have enough features to enhance your comfort level and protect your back and eyes from staring also, you will not have hunched back. So with this chair, you will acquire a good and healthy posture.
6. AKRacing Core Series EX-Wide Gaming Chair.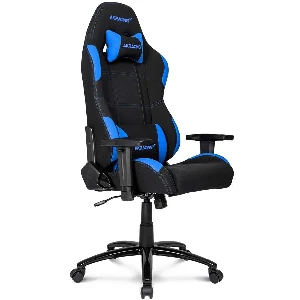 WHY DO WE LOVE IT?
Wide metal frame with an anti-corrosive coating of paint.
Adjustable headrest and lumbar support pillows of the chair to allow you to acquire good posture.
The 3D armrest can be adjusted in three directions- up and down, back and forth, and rotates to the sides.
Pros
Has options for a variety of colors.
Wide metal frame with cold-cured foam padding.
Great for people with heavy bodies.
Cons
Not very adjustable as competing chairs.
The AKRacing Core Series EX-Wide Gaming Chair is a good gaming chair. It has an extra heavy-duty and hand-welded steel frame which keeps the chair stable.
Plus, the frame has a coating of anti-corrosive paint so that the steel frame will not catch corrosion. Moreover, it has 100 percent of cold
cured foam padding, which allows you to have a soft and supportive experience. Also, this padding provides excellent performance and comfort for the long term, which assures its durability.
Further, with polyester fabric upholstery, your back will not sweat and will make the chair suitable for even hot environments. This fabric is not only breathable but also durable.
Furthermore, its armrests are made up of special foam mixing, which will give you a cushioning feel on the arms and wrists and support them as well. Surprisingly, this chair is also great for adults, as it can hold weight up to 330 pounds.
Lastly, this chair can be adjusted in 3 directions, back and forth, up and down, and also rotates to the sides.
This is a nice chair looking at its features, pros, and cons. The attraction about this chair is that it comes in many colors, so you can choose any color you like or any color that will go with your gaming setup.
Also, the cushion of this chair is amazing, so if you want to upgrade your chair and want a more ergonomically accessible chair with nice cushioning, then look no more. This is the best gaming chair for you under 300.
7. Arozzi INIZIO-FB-Black Computer Gaming Chair.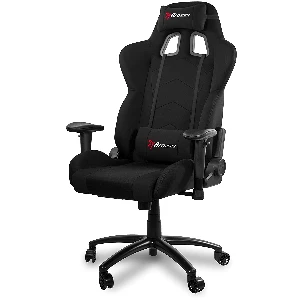 WHY DO WE LOVE IT?
Remarkably amazing ergonomic design to keep you flexible while gaming.
Adjustable headrest pillow and lumbar pillow.
Best gaming chair for you if you often complain about back and neck pain or hunching.
Pros
Adjustable headrest and lumbar support.
Ergonomically comfortable and flexible.
A strong base for the chair.
Cons
Not for very heavy people.
The Arozzi INIZIO-FB-Black Computer Gaming Chair is a great chair designed to increase your comfort level. The chair's ergonomic design makes it easier for your back to avoid strain and allows you to acquire good posture.
Also, having such a seat is very advantageous for gaming because we are often lost in that immersive game where we forget about our bodies and comfort.
Further, you will get two soft support pillows with the chair; one is a lumbar pillow that will support your back and hips and reduce back pain. And the second is the headrest pillow to support your neck and prevent it from hunching.
To ensure the stability of the chair, the metal frame of the chair is constructed very toughly to support up to 232 pounds of weight.
However, if someone weighs more than 150 kg or 232 pounds, this chair is unsuitable. Its hard metal frame supports full and frequent use, which increases its durability.
Lastly, the padded armrests can be rotated and adjusted to fit your height. The backrest and rocking function can provide up to 145 Degrees of recline and u to 12 degrees of rocking, respectively.
This is a great gaming chair for you if you usually complain about back and neck pain and want to avoid hunching. Also, the color of this chair is all black which will go with any room and setup.
We understand when you lose track of time while gaming and you don't even realize the time has passed. Due to the same reason, this chair won't numb your legs and body the way most chairs do.
How to Choose a Gaming Chair under $300
Weight Capacity
There are a lot of chairs in this category that tends towards the lighter end of those weight limits. If possible, you should have a chair supporting at least twenty pounds more than your current body weight.
Doing so can ensure that the chair will last for a long time and feel sturdy while sitting in it.
There are quite a few seats in this price range that are very comfortable but tend to be smaller in weight capacity.
Height Capacity:
Another important factor to consider is the chair's ability to support users' bodies fully. As a result, it is important to have an updated height summation and consider your upper body measurements versus your chair dimensions, as leg length varies from person to person.
Comfort:
Having a comfortable chair for gaming is essential. Considering that you will be seated in it for hours, you'd better choose something that won't cause you to pain in the long run.
In addition to measurements of the seat cushion thickness and material, we test the seat's comfort for four or more hours.
Durability:
There are different types of gaming chairs. In assessing the chair's durability, we assessed the quality of the materials and their strength after it was assembled.
Ergonomic Features:
The armrests, height adjustment, reclining, seat ergonomics, and other ergonomic features are also considered, along with the lumbar support. The more features and adjustability it has, the better for ergonomics.
Frequently Asked Questions
Game chairs last for how long?
You will likely be able to enjoy your Gaming Chair for five years if you choose the best quality one. However, it still depends on how you use your chair.
What is the breakage rate of gaming chairs?
The base may break when an overweight person sits on a seated gaming chair. Ensure the weight capacity of the chair is sufficient before using it.
How much money is wasted on gaming chairs?
As long as you don't spend more than four hours playing video games every day, the Gaming Chair is not a waste of money.
In addition to the lumbar support, the Gaming Chair provides armrests to comfort your arms. No matter how many hours you spend playing video games each week, it helps.
What are the benefits of a gaming chair under $300?Your gaming experience will be enhanced by it.
-It is useful for maintaining proper posture when playing video games.
-Colors and styles are available for you to choose from.
-Lower back pain can be prevented by it.
-Both gaming and working can be done on it.
-Your stature and requirements can be fully adapted to this device.
Conclusion
A good supportive chair can make a big difference in our lives. In this article, we have gathered a list of the best gaming chairs under 300 that we think are amazing for you and will help you acquire a good posture with the help of that chair. Also, we have created a buying guide to ease your decision-making.
If you are still unclear, here are two of the best gaming chairs that you can refer to
Arozzi INIZIO-FB-Black Computer Gaming Chair
With the help of this gaming chair, you will acquire good posture and eliminate back pain and other unnecessary discomforts.
GT RACING Gaming Chair Racing Office Computer Game Chair.
This gaming chair under 300 is the best for heavy people who require more space on the seat for extra comfort.