5 Best Gaming Chairs under $200
We have all clicked through dozens of different models when it comes to finding an affordable gaming chair and quickly become overwhelmed (don't worry, we were overwhelmed too while putting together this review).
Fortunately, we're here to help you out.
Nowadays, people sit for hours gaming on computers. Investing $200 or more on a quality gaming chair that keeps them comfortable for long hours and doesn't leave them with aches makes perfect sense.
Before making a purchase, it is important to ask yourself the following questions: How many hours do you play every day? What are your needs in terms of comfort and support? Will this chair also be used at work?
If you know how often you will use the chair, you can have a better idea of what features you will need (if you continue to have doubts, read the guide at the end of this article).
Using this guide, you can finally stop searching and get back to playing again, but this time comfortably.
A great gaming chair for $200 or less offers some unique features that can help minimize common aches caused by long-term gaming.
Carpal tunnel syndrome, back pain, neck stiffness, and other conditions fall into this category. Gamers at this price point can find gaming chairs with footrests, lumbar and neck pillows, and bucket seats.
To help your game in comfort and keep yourself healthy, we're walking you through the best budget gaming chairs for under and around $200.
5 Best Gaming Chairs under 200
1.GTRACING Gaming Chair.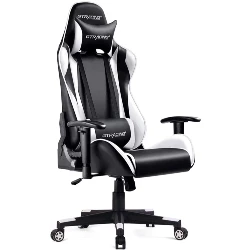 With a sturdy metal frame, you can sit comfortably even after hours of playing.
Has a smooth PU leather upholstery, additional seat cushion and lumbar & headrest pillows, this chair is comfortable and supportive.
Its innovative racing car design is perfect for a game room or an office.
The GT RACING Gaming Chair (full review) features ergonomic comfort and a great recline (few people can resist lying down after a hard day at work).
This chair will keep you comfortable and in good posture for hours, whether you use it to work on your computer or to play games.
Even if it doesn't quite fit the office setting, you can use this GT RACING chair at home.
In case you want an ergonomic gaming chair, you should first look at how well it treats your back.
Apart from its winged curve, the GT RACING Gaming Chair also comes with adjustable lumbar and neck pillows so that you can sit back comfortably without worrying about future back pain or bad posture.
This gaming chair is said to be more comfortable than any office chair that has ever been used before by a user.
Besides being a great chair to sit in, it looks great too. Even the wheels have a sharp look in this design with a striking two-color palette.
Those with a vibrantly colored computer usually like matching their chair with their computer, so if you have one of these, then you might like this gaming chair.
This chair is often mentioned as a big plus by users because of its color.
Pros
Great lumbar support to eliminate back pain.
Featuring a reclining backrest with 170° of adjustment and height-adjustable armrests
An eye-catching style, available in 4 colors.
Cons
Not the best chair for heavy people.
Aside from these unique features, the GT RACING Gaming Chair also offers great adjustability, especially compared with other gaming chairs under $200.
This chair's adjustability options make it perfectly fit the needs of a disabled person. Despite its attractive appearance, this chair reclines to a full 180°, so you can effectively lie down (perhaps remove the lumbar pillow first, though).
Therefore, this gaming chair is an excellent choice for work, relaxation, or even gaming, because it reclines so high.
GT RACING Gaming Chair is an excellent gaming chair in the $200 range. It provides comfort and utility adjustability, making it one of the best gaming chairs in this price range.
Overall, this is one of the best chairs if you are looking for these features as well as a great look.
2. HEALGEN Reclining Gaming Chair.
Best Pick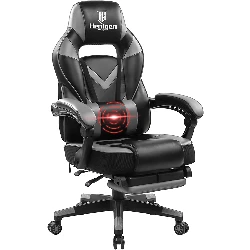 HEALGEN's racing-style gaming chair offers immersive gaming experiences.
This chair offers easy height and angle adjustment, allowing users to always maintain a comfortable posture.
High-quality leather and highly breathable material make this gaming chair comfortable, breathable, and does not easily wear out.
This gaming chair is unique in that it lacks certain features common in other gaming chairs, and is, therefore, best suited to larger gamers.
Game chair seats are often "winged" to ensure that the user is hugged as he sways from left to right, however, this can cause cramping for people who are not as thin. We found that this chair's seat is one of the widest we've seen to date since it cuts out the side bolsters.
With a width of 22.4 inches, the Healgen Big and Tall seat is among the largest in the industry. Some users who weighed 340 pounds reviewed that they fit perfectly.
In addition to a robust recline feature and a pull-out footrest, this Healgen chair offers a footrest for adding comfort. Its back can be lowered all the way to 155 degrees.
If you sit at that angle for a few minutes while you watch a movie or take a quick nap, a footrest makes perfect sense. As you recline, the armrests move back toward you, supporting your elbows and creating a sense of relaxation.
Also worth mentioning is the large waist pillow found on the Healgen Big and Tall chair. In addition to its vibrating function, it is powered by a USB.
Overall, this cheap gaming chair comes with a massage pillow that's not the most impressive, but it still adds a nice touch on a tight budget.
Pros
Four-inch thick high-density foam seat minimizes sagging
With 155 degrees of recline and a footrest that can be withdrawn
Powered by USB, this lumbar pillow massages while it massages.
Cons
There are often issues with the footrest coming out.
In our opinion, this chair is another best gaming chair under 200. The unique feature is that this chair serves as a footrest, which might sometimes become flimsy but it really supports your legs.
Moreover, you will get another additional feature which is a massager in the lumbar pillow. Overall, you will be getting more with this gaming chair.
3. High-Back Racing Style Bonded Leather Gaming Chair
Staff Pick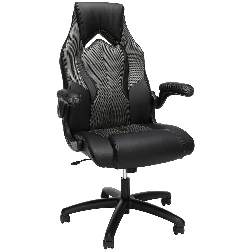 This game chair provides comfortable support and quality comfort to the user with segmented padding, an integrated headrest, and padded arms.
The height is adjustable, the chair tilts from center to edge, the arms flip up and it pivots 360 degrees.
The backrest is upholstered in contrasting colored mesh for a stylish and cool look.
The Essentials Gaming Chair is an awesome change from the aggressive design common on most gaming chairs.
This ergonomic chair blends easily into your home or office, even when you are not gaming, thanks to its non-discreet, compact design.
Despite the well below $200 price, most owners found the Essentials Chair to be of excellent quality and comfort. PU leather covering is replaced with SofThread Leather, a softer and more premium version.
Bonded leather chairs typically lack a sense of refinement. While this chair is cool to the touch, it has a sense of sophistication.
The chair is a bit more basic than some of the others on this list because it does not come with many extra features. Backrests, for example, tilt-only in response to force but do not recline.
In addition, there is no height adjustment for the armrests, although they do flip up for easy storage. As long as you need a comfortable chair for working on your computer or playing games, this chair will suffice.
In addition to being affordable and having a good warranty, the Essentials Mid-Back Computer Gaming Chair is also a great ergonomic gaming chair.
You'll find all you need at Essentials if you're looking for something comfortable and simple.
Pros
Seat with a comfortable cushion
The armrests can be folded away when not needed
The chair frame is covered by a lifetime warranty, and parts are covered by a 36-month warranty.
Cons
There is no lock on the seat, and it can only recline with force.
Overall, this is one of the best gaming chairs under 200. With this chair, you will get ultimate comfortability and support to the lumbar area and neck area specifically.
Plus, this chair is adjustable too so you can be flexible at the same time while gaming. And last but not the least, this chair has a stylish design that will complement your gaming area.
4.GTRACING Gaming Chair
Budget Pick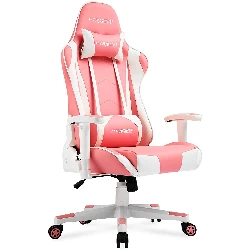 With a strong, metal frame, you can maintain an ergonomic seated position while playing or working for long hours.
These chairs have thick padded backs and seats for added comfort.
Additional seating cushions, headrest pillows, and smooth PU leather make this chair more comfortable.
It's definitely worth checking out the Pink version of our top pick, whether you're a female gamer or simply enjoy the color pink.
With the classic GTRacing chair, you'll get the same level of adjustment and comfort, but with a feminine twist.
This chair is more than just cute and calming thanks to its colors. GTracing's gaming chair doesn't only provide a comfortable and supportive sitting position during gaming or work; it also prevents back pain although it has a strong metal frame and a padded lower back pillow.
This versatile chair adjusts from 90- 170 degrees, allowing you to work, rest, or read comfortably.
Moreover, the PU leather covers the chair and the padding ensures you won't be uncomfortable when you're wearing shorts or a sleeveless top.
For extra support at the bottom, a thicker high-density sponge is used. The seat is wide enough for petite girls and women to cross their legs.
Even women and teens with short legs can sit comfortably without dangling their feet because the minimum seat height can be lowered to 17.".
While the maximum advertised capacity is 300lbs, we recommend that you weigh no more than 230 pounds.
Pros
Female gamers will find pink and white to be a very appealing color scheme
Reclinable at 170 degrees, with the backrest rocking
Under $200 pink gaming chairs with 3D armrests that pivot inward
Cons
It was difficult to assemble.
In our opinion, this is the best gaming chair under 200. Especially if you are a girl and you want a chair that resembles you, then this chair is the best gaming chair pink color for you.
Moreover, this chair is more than just a pink-colored chair. You will get all the comfort and ergonomic benefits with this chair. Thus, it will go with the girl's room too.
5. Lorell Executive High-Back Chair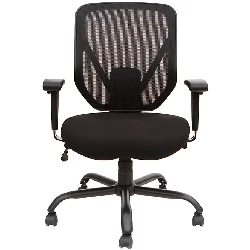 It has a full mesh design that helps in preventing sweating on the back.
This chair offers stellar comfort within the price range of 200.
Almost equivalent to a firm mattress that allows your body to sink into the chair.
The mesh back on this chair is likely the first thing you will notice. Although this mesh has a low density, meaning each individual strand is further apart than normal strands, the nylon makes up for it with its high quality.
Due to the fact that this chair is made partly from nylon, its durability should be an assured feature. Despite this, there is still the low-density nylon mesh which brings about pain in that chair.
For its price, this chair is incredibly comfortable. With regard to the back support, the chair back of this range is considered one of the most comfortable.
When comparing the firmness of the chair with a mattress, it is almost the same as sinking into a firm mattress.
It would have been a great budget chair if it had neck support and lumbar support.
Pros
Support is provided in abundance by back.
Meshed material is breathable.
Limited adjustment and durable design of armrest.
Cons
No lumbar or neck pillows.
In our opinion, this is a great gaming chair under the range of 200 if you rarely use your computer, or use it for a short time period.
This does not have any lumbar or neck support which is required for long gaming hours.
Buying Guide:
Types Of Gaming Chairs:
Game chairs come in a variety of styles. Let's discuss some of the most popular styles of PC gaming chairs so that you know they differ:
Rocking Gaming Chair
An L-shaped chair rests on the floor. In order for the chair to rock, the bottom is rounded so that it provides some movement. There are many styles available that have speakers built into the backrest. Wal-Mart often has these for console gaming and they tend to be more common.
Pedestal Gaming Chairs
A topped gaming chair is similar to a rocking chair… but with a pedestal. Additionally, since the chair now swivels and adds height, it also eliminates the L-shaped design altogether.
Racer Gaming Chairs
Originally, racing chairs were intended to be used for racing games. In much the same way as bucket seats in racing cars, these types of chairs are similar to the ones found in computer gaming chairs. With these chairs, you also get a steering wheel and pedals for creating an immersive racing experience.
PC Gaming Chairs
As we mentioned in the introduction to the article, PC gaming chairs are among the most versatile gaming chairs. Most of these office chairs are similar to standard ones, though the aesthetics may differ slightly.
There are several things to consider after you've decided on what style of chair you want.
Ergonomic Design:
When searching for the perfect chair, you have probably come across this term many times. Designed for ease of use by humans, ergonomic products are easy and comfortable to use. These include ergonomic guitars, keyboards, and chairs, among other accessories.
When it comes to comfort and spine health, an ergonomic gaming chair is the best option. Traditionally, dining room chairs have many sharp 90-degree angles, which are not in harmony with human body shapes.
Gaming chairs are built with the knowledge that they will be sat in for hours on end. Companies design and manufacture them with this in mind. Often, they have a variety of adjustable elements, removable headrests, and lumbar cushions.
Adjustable Components:
The best gaming chair for PCs is what you are looking for when you are shopping. It does not necessarily mean that you will like the chair based on its reviews. Because people come in all shapes and sizes, chair manufacturers often run into trouble–this is why adjustable features are so important.
The following is a list of some of the more familiar adjustable parts and how they might be adjusted.
An ergonomic design includes features such as headrests and lumbar support. Our seats include arms and footrests in addition to these features. Make sure your new chair has all four of these components to make it as versatile and customizable as possible. A chair that can be easily adjusted is ideal.
In many cases, the headrest can be adjusted up or down. The muscles in the upper back and neck need quite a bit of support.
Typically, there are levers or straps to adjust lumbar pillows. Their density makes them very firm and stiff. Maintaining good posture and supporting your lower back with these is easy.
Although it is harder to find adjustable armrests, they are available and they are essential. In most cases, these features can be adjusted upward, downward, or sideways.
Despite the price range, footrests are less common than these features, which are nearly essential. You should make sure that your footrest is retractable and sturdy since that's rare.
Footrests can usually be removed or never attached since you must assemble the chair, to begin with.
Other. The height of your chair, the recline angle, the size of the backrest, etc. should also be considered. You will either enjoy or dislike your experience based on how well each of these factors suits your body type.
Whether this chair fits into the mid-price range or the top-tier, it is exceedingly difficult to find one that is fantastic in all of these categories.
Materials:
Gamers have a choice between two materials when it comes to gaming chairs: leather-like or mesh-like materials. Ultimately, the choice depends on your own personal preferences and on the benefits each material offers.
PU leather is a smooth and durable material used by many popular brands. A gaming chair made of leather that is stitched together or bonded together would be a reliable choice for those who use the chair every day.
In contrast to fabric chairs and mesh chairs, leather chairs tend to be less breathable, however, they look more professional.
Most popular gaming chair brands do not offer fabric chairs, but they do offer their own benefits. Generally, mesh chair designs are more breathable than leather chairs, so if sweating is an issue, consider one with this feature.
By looking at traditional office chairs, you might be able to find a more fabric-friendly chair, but they can quickly become dominated by leathers at higher price points.
Style:
Choosing a chair solely based on its appearance should only play a relatively small part in your decision… but let's face it, no one wants an ugly chair.
The good news is that you can have both. The design of most PC gaming chairs is heavily influenced by bucket seats in racing cars, which have both ergonomics and looks going for them.
Moreover, the contours and details of a chair tell a great deal about your style, even if they seem the same at first glance. Perhaps you need a bright, vivid color scheme because you are using the chair for gaming and work.
Or perhaps you just have a preference for matching your room. You will find a chair that suits you no matter what, so pick the colors that you like.
Price:
You don't have to spend a fortune on your chair. There are a wide variety of brands offering different price ranges to suit every budget. A more expensive product does not necessarily imply a better one.
You may have plenty of cash to spend on new games or hardware for your computer if you choose wisely and within your means.
The other thing you should consider is investing in a gaming chair that's high-quality, comfortable, and most importantly, durable. You need a gaming chair that's up to the task if you game for hours every day (or almost every day).
Frequently Asked Questions
What to Look for in a Gaming Chair Under $200?
The ergonomic gaming chair under $200 will have a few advantages over the many computer gaming chairs on the market, which range from $100 to over three thousand dollars:

When you play games, it can help you maintain good posture.
Lower back and neck pain can be prevented by it.
Gaming can be improved by using it.
Playing video games and working on them are both possible.
There is a wide range of colors and styles available to you.
Your body composition and needs can be fully accommodated.
There is space for sleeping there if you desire.
Gaming Chairs: Is it Worth the Money?
A $200 ergonomic gaming chair is a great option if you're a dedicated gamer who does not want to spend most of your savings on an office chair.
You can find these chairs in a variety of quality and comfortable types, offering quality and comfort whilst sitting or gaming. Although they lack some sophisticated features, they still offer quality and comfort. Some even go above and beyond your expectations. Consequently, outline your needs before selecting a gaming chair that will not break your budget and will enhance your gaming sessions in the future.
Conclusion:
In this article, you will find some of the best gaming chairs under the range of 200 dollars. We understand it is hard to find that one gaming chair that can fulfill all your requirements and at the same time you might not be willing to spend a fortune on it. So for the same, we brought you this article to avoid a problem so you could find the best gaming chair.
This is the best gaming chair that you can have in your budget of $200. You will get all the comfort benefits with this gaming chair that you require.