Ultrawide Monitors – Ranking the 8 Best
In most of today's businesses, ultrawide displays are far more efficient than working across dual or even triple screens. Ultrawide monitors have been introduced to reach new levels of productivity.
It is possible to run two or more full-screen windows side-by-side without using a multi-monitor setup with these large widescreen monitors.
You will not be distracted by multiple windows or virtual desktops since everything can be opened on one display.
If you spend your days working on designs and editing projects or are considering upgrading your gaming setup, an ultrawide monitor might be a good idea.
Ultrawide monitors are popular with gamers due to their enhanced video quality and immersive gaming experience.
Despite their size, these displays are ideal for multitaskers, gamers, and content creators who can maximize the space on these displays.
You can upgrade your setup to an ultrawide monitor if you want a more immersive experience and don't want to stick with your standard widescreen.
8 Best Ultrawide Monitors
1. LG 38WK95C-W
Best Pick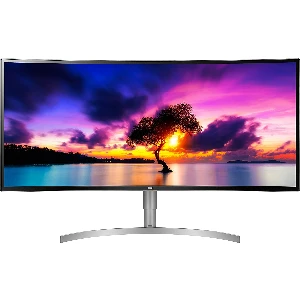 WHY DO WE LOVE IT?
Very wide display screen of 37.5 inches, providing an immersive experience.
Images are very sharp as well as detailed.
Curved display, ensuring you receive every detail on the screen.
The LG 38WK95C-W is an amazing ultrawide monitor that is 38 inches (approx) wide, a massive display. In addition, this monitor has a 21:9 aspect ratio, resulting in more immersive movies and games than ever before.
In addition, the UltraWide space gives you the capability to view multiple documents simultaneously without having to flip between them.
And uniquely, this monitor is curved, so you don't have to move your head so much or stress your eyes to pick up every detail on the screen.
With 1440 pixels of resolution, you will experience immense clarity in the images with sharpness in the images. So if you are editing photos, you can take a detailed look at them and edit them very neatly.
Further, it is HDR 10 compatible, which will support specific levels of colors and brightness, which makes this monitor better than other
Furthermore, it has an IPS panel which ensures that you get an accuracy of colors and wide viewing angles.
Also, with 99% wide range coverage of the RGB spectrum, the images will look precise in colors and very realistic. Talking about the ports, it has USB Type-C ports, which will additionally allow 4k content.
Finally, the base stand's smooth curve adds stability and a touch of class which will go with your office and home too.
Pros
Precision and accuracy in colors.
Amazing image clarity.
Very widescreen.
Cons
HDR is software-enabled only.
In our opinion, this is a great ultrawide monitor which will deliver crisp and sharp quality images. Most importantly, the display is curved so that it will prevent stress from the eyes.
Also, if you are an editor or graphic designer, this monitor will be the best with its accuracy and precision of colors with realisticity. Overall, this is the best ultrawide monitor that you should look up for buying.
2. SAMSUNG LC49RG90SSNXZA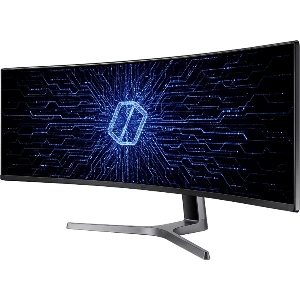 WHY DO WE LOVE IT?
Very widescreen monitor of a 49-inch display.
Delivers an immersive experience with realistic images.
Additional Game mode features allow for intense gameplay.
Without a doubt, SAMSUNG LC49RG90SSNXZA is the best ultrawide monitor if you need a larger screen. With a screen measurement of 49 inches and a resolution of 5120×1440, it has the equivalent of two 27-inch monitors in the 1440p range side-by-side.
As a result, you will experience an immersive view of atmospheric games, although some games do not support 32:9 aspect ratios.
In addition, it has a quick response time, which is only possible with a graphic card that supports Display Stream Compression and a 240Hz refresh rate that is only achievable with a DisplayPort connection.
Additionally, the AMD FreeSync 2 HDR technology which makes sure that you get a smooth gaming experience without tearing up images.
Further, it has a VA panel, although it has worse viewing angles, it delivers deeper blacks with a better contrast ratio.
Plus, it also has eye care technology to prevent eye strain so that you can sit in front of the screen for extended hours.
Pros
Ultra-wide curved screen.
Delivers sharp images.
Fast response time and high refresh rate.
Overall this is the best ultrawide monitor with a very widescreen. Also, the display resolution is amazing. So if you have been looking for a very wide monitor, this is it. You should definitely buy this one.
Although it has bad viewing angles due to the VA panel, with its curved display, the images will look clear when you sit in front of the screen.
3. BenQ EX3501R
Staff Pick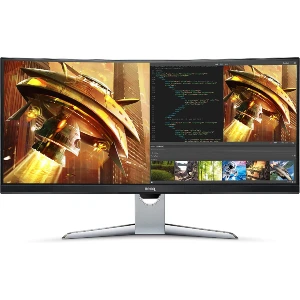 WHY DO WE LOVE IT?
Curved display gives an immersive experience without stressing eYes.
Amazing resolution delivering clear images.
Ultrawide monitor is best known for providing intense gameplay.
Our computing experiences are already pushed to the edge with ultrawide resolutions, so when we found out about BenQ's EX3501R, a 3,440 x 1,440 monitor with HDR, we sat up and took note.
With this absolutely incredible gaming monitor, you will experience amazing gameplay as the display is 35 inches wide and curved as well.
Moreover, you will get height and tilt adjustability, which will take your body away from any pain or strain.
Further, it has AMD FreeSync technology, which eliminates tearing, broken frames, and choppy images and allows a fluid gaming experience.
With 100 hertz of refresh rate, you will have ultra-smooth gameplay. Furthermore, the monitor has good ergonomics with height and tilt adjustment.
Additionally, it has a Brightness Intelligence Plus feature which detects the light of the surroundings and adjusts accordingly.
Pros
Wide monitor with a curved display.
High refresh rate.
Eye care technology and Brightness Intelligence Plus.
Cons
A little less range of colors.
In our opinion, this is the best ultrawide monitor for gaming as it has a high refresh rate with AMD FreeSync technology and a good response time.
Resulting in exclusive gameplay. Moreover, the images will be delivered with clarity and with fluid consistency. So overall this monitor will be a great addition to your gaming setup.
4. Dell U3419w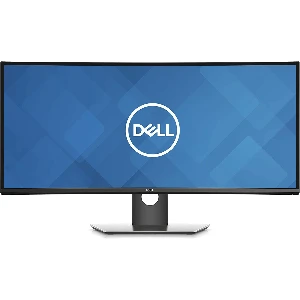 WHY DO WE LOVE IT?
Additional Picture-In-Picture feature for enhancing productivity.
The accuracy of colors makes images look realistic. Great curved monitor, which delivers amazing picture quality.
The Dell U3419w is a stunning curved ultrawide monitor with 34 inches of display with 1440 pixel resolution delivering spectacular images with immense clarity and detail.
Moreover, it has 99% RGB color calibration, which is responsible for providing accurate colors in pictures and realistic images. So if your job is photo editing, graphic designing, or anything close to these, this monitor will be great for your office and home as well.
Therefore it has a great build quality. With IPS technology, you will get a wide viewing angle and accuracy of colors. Plus, with the curve, you will experience amazing immersive images.
Further, the display has HDMI and DisplayPort ports along with USB-C, so you can simultaneously connect a laptop and charge the display simultaneously.
Also, it has a Picture-In-Picture (PIP) feature that enables you to view content from two different sources at the same time.
Pros
Supports USB-C cable.
The amazing accuracy of colors.
Sharp and crisp images.
In our opinion, this monitor is the best ultrawide monitor. Especially if you have work with the monitor in the office or at home, this is the best monitor for your work setup.
Not only this monitor will enhance your productivity, but also give quality to your work. Although it is expensive in price, with those extra features and great quality this monitor delivers, every penny will feel worth it.
5. Acer Nitro XV340CK Pbmiipphzx
Budget Pick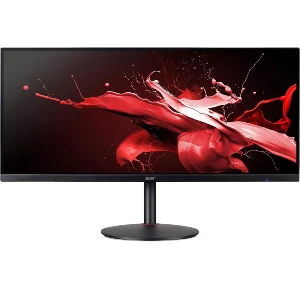 WHY DO WE LOVE IT?
Best ultrawide monitor for professional gameplay as it has a very fast response time and refreshes rate.
Protective eye care features protect eyes from harmful blue light and the flickering of the screen.
HDR 10 technology for deeper blacks and brighter white images.
This is a great monitor with 34-inch display size and 1440 pixels resolution, which delivers very sharp images. Every detail of the picture looks defined on the screen.
Moreover, this monitor serves the best gameplay possible as it has 144 hertz of refresh rate and AMD Radeon FreeSync technology which together deliver smooth and fluid consistency of gaming without breaking or tearing images. Resulting in serious and very competitive gameplay.
Further, with 1ms of response time, the colors of the pixels will change very quickly from one color to another.
Additionally, to enhance the screen's picture quality, this monitor also has HDR 10, which adds to the picture by raising its contrasts, where the blacks look deep blacks and whites are at their brightest.
In addition to its protective features, this monitor has a blue light shield to protect your eyes from harmful blue light from the screen.
In addition, the Flickerless technologies allow you to work even longer before taking a break by preventing unnecessary strain and fatigue on your eyes.
Pros
Crisp image quality.
High refresh rate.
Ee care technologies.
Cons
Not bright enough to eliminate glare.
In our opinion, this is a good ultrawide monitor for you if you are not looking for a very wide one. As this monitor is specialized in its gaming performance, you will have an amazing gaming experience without tearing or stuttering images.
Also, you have the benefit of eye care features to protect your eyes even after long hours of work in front of the screen. Overall this monitor will be a good ultrawide monitor for you.
6. Philips 343E2E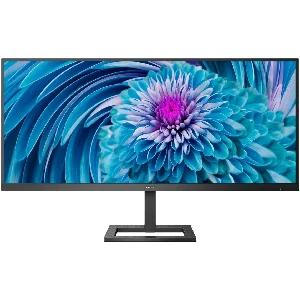 WHY DO WE LOVE IT?
Displays very accurate colors on the screen, making images look real.
Good refresh rate, so you can play games after work.
Very wide range of built-in ports in the monitor, ensuring high connectivity.
Without a doubt, this is a stunning, ultrawide monitor with a 34-inch display that offers expansive panoramic visuals with an immersive experience. Together with 1080 pixels, this monitor gives good-quality pictures.
Moreover, it has up to 123% sRGB and 109% NTSC color gamut, which delivers life-like images with an accuracy of colors.
And together with the In-Plane Switching (IPS) panel, this monitor will give you very wide viewing angles and accuracy of colors so that you can look at the screen from any angle, and pictures will look just the same.
Further, the refresh rate of this monitor is 75 hertz, and the response time is 1ms, together with AMD FreeSync technology, resulting in a great gaming experience.
So if you are a casual gamer, then with this monitor, you can work as much as you can, and when you need a break, you can jump into the games right away.
Talking about the ports, this monitor has multiple ports- 1- display port, 2- HDMI, 1- USB-C input for high-resolution video quality, and audio-out connectivity too.
So this monitor has quite good connectivity options. Also, it has a Picture-By-Picture feature and the Picture-In-Picture feature, which will enhance our productivity and take it to another level. Lastly, it is also VESA mountable.
Pros
Amazing picture quality.
Wide range of built-in ports.
PIP and PBP feature.
Cons
The low pixel density of images.
If you want a sleek ultrawide monitor which can enhance your productivity, display color-accurate pictures, and allow you to play games casually, then this monitor will be great for you.
Although it doesn't have the best pixel density, overall, this has many features that are worth buying.
7. LG 34GP83A-B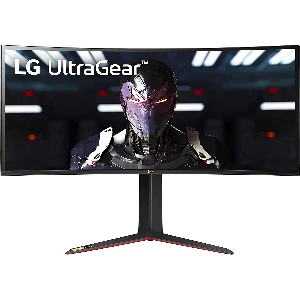 WHY DO WE LOVE IT?
Allows immersive gaming experience with its curve.
Integrated IPS panel ensures accuracy of colors and wide viewing angles.
High screen resolution, delivering details of the images precisely.
As a 34-inch monitor, the LG34GP950-B delivers immersive gaming experiences thanks to its 3440×1440 resolution and its slightly curved screen, which places the edges more within your peripheral vision.
Furthermore, you will notice that the motion is smooth, regardless of whether you are gaming at its full refresh rate of 60Hz.
Also, there is no strobing function to improve the appearance of movement in the backlight, but it should not be a problem. Thus, it is quite easy to play responsive games with low input lag.
Moreover, it has an IPS panel which makes sure that the viewing angles are wide and the colors are accurate and the same from every angle.
Plus, the DCI-P3 98% Color Gamut with VESA Display HDR 400 ensures that the images look good and are very realistic.
Pros
Amazing screen resolution.
Low input lag.
Wide viewing angles.
Cons
Black looks gray in a dark environment.
LG's 34GP950G-B monitor is fantastic all around. Thus, the screen is large, and highly resolved, and the text is quite clear. However, it is ideal for office use.
Additionally, it's a good choice for watching movies, while its wide color gamut and excellent gradient handling make it an excellent tool for media creation.
There are a few features that make this a great gaming monitor, such as low input lag, fast response time, and an impressive maximum refresh rate. However, it has a quite bad local dimming feature. Moreover, it doesn't have enough contrast for a dark room.
8. AOC CU34G2X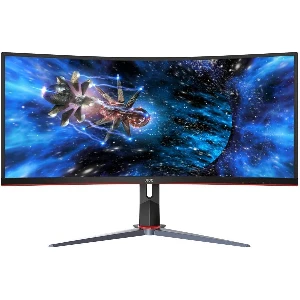 WHY DO WE LOVE IT?
An amazing curved monitor allows sharp images with detailed clarity.
It has several built-in ports for multiple connectivities.
Additional eye care features to protect eyes from straining.
The AOC CU34G2X is a great ultrawide monitor. Therefore it has a 3440 x 1440 pixels resolution which is just stunning, as the images look very clear with 34 inches of screen size. Plus, the images look very realistic and immersive gaming experience.
Moreover, with its Vertical Alignment (VA) panel, you will be provided with next-level gameplay. But it also has bad viewing angles.
Although VA panels provide 100% sRGB coverage and 98% Adobe RGB coverage with wide viewing angles, they also offer brilliant colors for life-like images.
Further, it has 2- Displayport 1.4, 2- HDMI 2.0, and USB 3.2 -4 hub inputs and outputs for excellent graphics performance.
Also, with such a wide range of ports, you will get flexibility and numerous options for connectivity. Furthermore, this monitor has low blue light mode and flicker-free technology, which will protect our eyes when you are working for extended periods of hours and prevent eye strain.
Lastly, its AOC Low Input Lag feature helps minimize the input latency from video signals for higher resolution, improved image quality, and in-game responsiveness.
Pros
Very high refresh rate.
Stunning monitor design.
Additional eye-protective technologies.
In our opinion, AOC's CU34G2X is an excellent monitor overall. The monitor offers a 144Hz refresh rate, G-Sync and FreeSync compatibility, and low input lag to make it perfect for gaming, but black smearing can easily be seen.
Because of its large screen and good text clarity, it is good for office use and content creators, but its viewing angles are narrow. Although it has a good contrast ratio, its lack of brightness prevents it from delivering a satisfying HDR experience.
BUYING GUIDE
Screen size:
Whether you are editing photos or videos, designing graphics, trading financials, or doing any other types of professional work, choosing the right monitor size is vital.
Ultrawide screens typically measure 34 inches wide, but the widest screen available is a whopping 49 inches wide.
It is important to take into consideration that a large desk will be necessary to fit such a large screen. Consider how close you'll sit to the screen as well.
It might be uncomfortable to use a large screen if you're too close to it. You'll have to turn your head to see certain parts of it.
Resolution:
A few ultrawide monitors are available with resolutions of 2560 x 1080. The screen's aspect ratio is still too low to receive the full benefits of the ultrawide ratio despite offering more workspace than a regular 1080p widescreen monitor.
Although not as expensive as ultrawide monitors with larger numbers of pixels, they may be a good option if you're on a budget. As a result, you will be more productive because you will have more clarity and details.
In addition, if you will be editing photos, creating graphics, or completing any other creative task, the resolution is extremely important. Monitors with lower resolutions won't allow you to fully enjoy the ultrawide aspect ratio.
Panel Type:
Depending on the panel technology and features, ultrawide monitors differ. Although vertical alignment (VA) panels are fine for widescreen displays, in-plane switching (IPS), a much brighter, sharper, and considerably more expensive panel technology, will produce better-quality images.
Ports:
Defining an ultrawide monitor's connectivity options is another feature worth considering. When selecting a monitor, you should consider the type and number of ports it provides.
Therefore, a widescreen monitor will usually have a DisplayPort or HDMI port. Moreover, USB-C ports on their monitors offer Power Delivery, which makes it possible to charge compatible laptops while they are connected to your monitor.
There are many ultrawide models that feature USB 3 ports, making it easy to connect external peripherals such as a mouse, keyboards, webcams, and pen drives.
Additionally, the monitor includes an audio input/output jack or a headphone jack.
In order to ensure that you can access all the necessary ports, invest in a multimode ultrawide monitor.
Color accuracy:
A monitor's color accuracy is essential for getting high-quality images. Thus, having your monitor covers, the sRGB color gamut, and delivering accurate color will give you the best visual experience. Displayable colors are described as color gamuts.
Consequently, the wider the gamut coverage of a monitor, the more accurately it can represent color. Along with sRGB, a large number of color spaces are available, including AdobeRGB, NTSC, and DCI-P3. Plus, AdobeRGB has a wider color spectrum than the sRGB.
Frequently Asked Questions
When buying an ultrawide monitor, what should I consider?
Many people will find that a 34-inch ultrawide monitor with a resolution of 3440 x 1440 is the right choice. Moreover, adaptive sync is a standard that supports high refresh rates (120Hz and above) and is compatible with graphics cards that support them.
Are There Any Disadvantages To An Ultrawide Monitor?
The first thing you need to know is that not every game offers a 21:9 aspect ratio. As a result, the image might be stretched to fill the entire span of the screen, or the edges may be left empty. Secondly, a large monitor requires a higher resolution display so, having the low resolution on screes will make images look blurry
Is it possible to split an ultrawide monitor?
You may still see stretched windows when you are using an ultrawide monitor, There is also a tool called FancyZones that is helpful to create as many zones as you want on a monitor—three columns would be a good start for an ultrawide monitor.
CONCLUSION
In this article, we have compiled several ultrawide monitors which we think are the best. If you are interested in buying, do take a look at the reviews, as they will help you a lot in deciding which monitor you should be investing your money in.
However, if you are confused about choosing the "RIGHT" one, then you can choose from these two that are the best, and here is the reason why-
If you are looking for the widest monitor possible, then this monitor will be a great option for you.
Best ultrawide monitor for office use or photo editing, graphic designing, etc.