The 5 Best Gaming Monitors under $500 on Amazon
As gaming monitors have become more expensive over the years, it is becoming harder to find one that is both excellent for gaming and affordable at the same time.
As technology is ever-evolving, manufacturers are always adding new features to make products more attractive to consumers and more convenient to purchase.
Due to competition in the market, there are many monitors being manufactured and sold today. But the biggest challenge is to find the best monitor for gaming which fits your budget. Well, you've come to the right place; at reviewires.com we specialize in helping consumers find the right products for them. 
This article will help you find a monitor with specialized features for gaming and fit within a $500 budget. 
5 Best Gaming Monitors under $500
| Design | Monitor | Retailer |
| --- | --- | --- |
| Best Pick | | Check Price |
| | | Check Price |
| | | Check Price |
| Staff Pick | | Check Price |
| Budget Pick | | Check Price |
1. ViewSonic ELITE XG270

Best Pick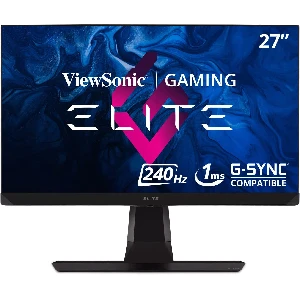 WHY DO WE LOVE IT?
Very high refresh rate allowing fast-speed gaming performance.
Provides accuracy of color displayed on the screen.
It has advanced ergonomic features to ensure your comfort.
Pros
High refresh rate with IPS technology.
Fully ergonomic.
Frameless design.
Flicker-free technology.
The ViewSonic ELITE XG270 is an amazing monitor with a 240 Hertz refresh rate and 1ms of response time, delivering an incredibly fast-speed gaming experience. With such a high refresh rate, you will not have blurring of images in fast-motion gaming.
This fast refresh rate will enable transitions to run smoothly on screen, which directly prevents flickering. Also, the 1ms of response time allows the monitor to shift from one color to another quickly. Moreover, the 1080 pixels of resolution and 27 inches of display size will allow the images to appear crisp and clear.
Another great feature is the integrated IPS panel which provides color accuracy, making the images look more realistic. The monitor allows you to look at the screen from nearly any angle and the images are displayed without any loss of color.
The wide viewing angles provide position flexibility, thus minimizing fatigue during long hours of gaming. Furthermore, the overall frame-less display delivers images on the screen that look bigger than they are.
In our opinion, this is the best monitor for gaming under $500! With such a high refresh rate and 1ms of response time, you will experience extraordinarily smooth gaming without any image flickering. Also, the 27-inch frame-less display design naturally enhances your gameplay all for less than $500.
2. Samsung C27HG70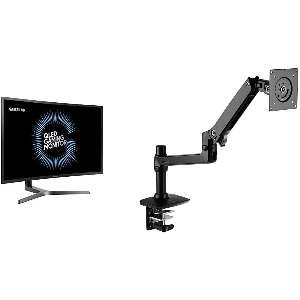 WHY DO WE LOVE IT?
A curved monitor which delivers an immersive experience.
It has a high contrast ratio, making it possible to see the blackest of black.
Built-in arena lighting feature to create that gaming atmosphere.
Pros
Provides an immersive experience.
Reduction in motion blur.
Accuracy in colors
Additional arena lighting feature.
The Samsung C27HG70 is a great 27-inch curved monitor with 1440p resolution delivering amazingly sharp images. Plus, the curvature of the screen is 1800R, which provides an immersive experience, and you can look at every detail on the screen without stressing your eyes thus preventing eye fatigue.
The monitor has Quantum Dot technology which elevates your gaming experience by delivering 1 billion different shades of color resulting in images that look accurate and realistic.
In addition to the display quality, the monitor has an HDR feature, which creates a high contract between dark and bright colors. Further, the AMD FreeSync technology, with 144 hertz of refresh rate, enhances your gameplay and provides smooth image consistency.
The VA panel reduces motion blur and provides excellent detail in every motion. A fun feature this monitor has is arena lighting which pulsates a light show on the wall behind the monitor, creating an amazing atmosphere and creating a more immersive game play experience.
In summarize, the Samsung C27HG70 monitor features a highly immersive game play experience do to the curved screen, high refresh rate and arena lighting all within a $500 dollar budget. The monitor does lacks ergonomic adjustment features but the overall gaming experience makes up for this short fall.
3. ASUS ProArt Display PA278QV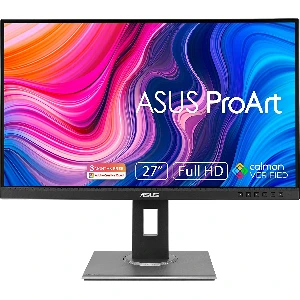 WHY DO WE LOVE IT?
This monitor is best known for its color reproduction and ergonomic features.
Provides images with full clarity and sharpness.
Built-in eye care technology to prevent eye strain.
The best monitor for casual gamers.
Pros
Accurate colors form realistic images.
Advanced ergonomic features.
Eye care technology.
The ASUS ProArt Display PA278QV is a monitor known for providing nice color quality and advanced ergonomic features.  The 1440 pixel resolution delivers crisp high quality images showing every detail not only with your games but also your videos and movies.
The Asus ProArt display delivers industry-standard 100% sRGB and 100% Rec. 709 color gamut and achieves ∆E < 2, which results in vivid and vibrant colors on the screen resulting in life-like game play.
Also, the Asus ProArt's ergonomic technology has all the features including tilting, swiveling, pivoting into portrait mode, and height adjustment.
In addition, the Asus ProArt monitor has eye care technology including a low blue light mode and a flicker-free setting, which will protect your eyes from eye strain even after long intensive hours of gameplay.
Overall, the Asus ProArt is a good value for the features provided.
4. AOC CU34G2X

Staff Pick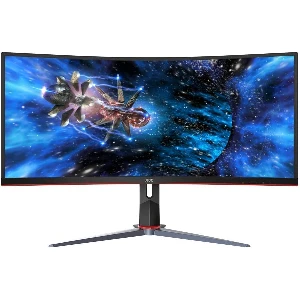 WHY DO WE LOVE IT?
A wide curved display provides an immersive experience.
VA panel and its high refresh rate together provide a fast-speed gaming experience.
Built-in eye care technology to prevent eye strain.
Pros
Immersive curved display monitor.
Images are delivered with clarity.
Built-in eye care technology.
The AOC CU34G2X is an amazing curved monitor with a 34-inch widescreen providing an immersive gaming experience. The AOC CU34G2X has a 1440p resolution, a 144Hz refresh rate, and 1ms of response time which reduces motion blur.
Further, the VA panel allows you to look at the screen from any angle, and the AOC CU34G2X gaming monitor provides a wide range of brilliant colors with over 115% sRGB and 98% Adobe RGB color gamut. Altogether this delivers accurate colors making the images more realistic.
Additional features include,  a low blue light feature and flicker-free technology, which will protect your eyes from strain and eye fatigue. Lastly, through its flexible stand, you can adjust the monitor's height and personalize it accordingly.  Though it lacks additional ergonomic features.
To summarize, the AOC CU34G2X gaming monitor with a 34-inch wide display delivers an amazing immersive gaming experience. Overall, we feel this is the best monitor for gaming providing great value and performance for under $500 despite its lack of ergonomic features.
5. GIGABYTE M32Q

Budget Pick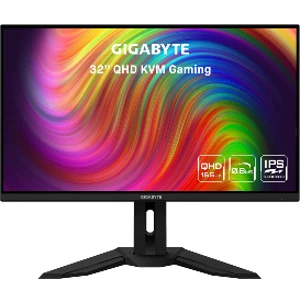 WHY DO WE LOVE IT?
A 32-inch wide monitor with 2k resolution provides amazing images.
Quick response time ensures very fast-paced gaming performance.
Incredible color accuracy creating realistic images.
Pros
Handles reflection very well.
Amazing response time.
Color accuracy.
Cons
Average contrast ratio.
Only basic ergonomic features.
The GIGABYTE M32Q monitor comes with a 32-inch wide display, 1440 pixels and 2K resolution. With this combination, you get stunning images with great clarity and sharpness.
The 165 hertz refresh rate provides amazing video clarity without blurring of the images. Also, the monitor's fast 0.8 ms of response time, together with AMD FreeSync technology, ensures that you get smooth and fluid gameplay without flickering images.
The 94% DCI-P3 (120% sRGB) Color Gamut ensures color accuracy and realistic looking images. Furthermore, the frameless design of the monitor makes the images look big and wide on the screen. 
In our opinion, the Gigabyt M32Q is a great budget monitor offering outstanding performance for the money.
Buyers Guide For Gaming Monitors Under $500
Below is a list of different features to consider when buying a gaming monitor. Our Buyers Guide will help you choose the most important features for you specific needs when gaming.
Screen Size
Screen size should be your starting point when choosing a monitor.  How big a monitor you choose may depend on how much room you have on your desk or entertainment area. A variety of sizes are available starting with 24″ and upward. Keep in mind though that the larger monitors may be more than your $500 budget. 
Display Resolution:
The typical resolutions available for gaming monitors under $500 include, HD/720p, FHD (Full HD) 1080p and QHD (Quad HD) 1440p.  Resolutions above this level include UHD/4K and FUHD/8K but these resolutions will be beyond a $500 budget.
Panel Type:
Monitor's come in three distinct types: 1) TN(Twisted Nematic) 2) IPS (In-Plane Switching) and 3) VA (Vertical Alignment).  Each of these technologies has their own pros and cons. 
TN panels are the oldest tech of the three.  They deliver a good but not great image quality.  They have low viewing angles and diminished color coverage.  TN panel technology still exists because it is very cost effective and they are fast.  TN panels can be ideal for competitive gaming where color quality is a secondary concern.
IPS panels are best known for their wide viewing angles and color accuracy.  IPS panels are ideal for multi-player gaming and professional photo/video editing.  As the technology has evolved the pixel response time and refresh rate can approach those of TN panels, though you may pay a premium. A big downside to IPS panels is their poor contrast ratios.  If you play games mostly at night or a dark room you may want to choose a VA panel.
VA panels take the middle ground between the TN and IPS panels.  VA panels are cheaper to produce and though they can't produce the color accuracy of IPS panels they are a huge improvement over TN panels.  A trade off with VA panels is improved contrast ration when compared to IPS panels but slower response times when compared to TN panels.
Refresh Rate and Response Time:
A monitor's refresh rate is the number of times the screen changes its images in a second. A monitor with a high refresh rate results in a smoother picture. The minimum refresh rate you should consider is 75 hertz.  Thought each of the monitors listed above have higher refresh rates.
The response time is the time a monitor takes to respond and your should only consider a monitor with less than 2ms for exceptional performance.
CONCLUSION: 
In conclusion, each of the monitors reviewed above provide a good to great gaming experience for less than $500 and it's up to you to choose the one that fits your needs the best.  Hopefully, we've provided enough information to help with your choice.  On behalf of reviewires.com thanks for reading.
Do none of these fit with your interests? Then, check out our post on 5 of the best monitors that will revolutionize your computing experience here.