4 Best Gaming Chairs with Speakers
For a long time now, gamers have been able to use gaming chairs fitted with speakers as part of their seats, offering a more immersive gaming experience.
Consequently, this allows you to listen to music without having to wear uncomfortable (and potentially harmful) headphones for long periods.
Additionally, gaming chairs with speakers are also enjoying a boost as home office upgrades among non-gamers who work from home.
Therefore, the discomfort that comes with wearing headphones may be familiar to those who work from home.
Because we typically wear headphones all day long due to conferences, videos, and music that improves our focus.
With video game chairs with speakers, you can significantly upgrade the quality of your computer's audio and boost productivity on the job or during video games.
4 Best Gaming Chairs with Speakers
1. X Rocker 5129101
Best Pick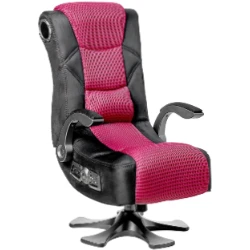 This elegantly designed game chair offers a high back tilt, swivel, and breathable fabric back and seat.
Two speakers are mounted near the headrest of the chair, as well as a 4″ subwoofer mounted in the outer part of the backrest, and the chair is equipped with wireless audio transmission.
During those intense gaming sessions, a breathable mesh is ideal. With a damp cloth, you can clean the Microfiber faux suede stylish outer.
A chair like this might be for you if you prefer stability in your chair. You won't move when playing serious games because the pedestal base prevents you from moving around.
Faux suede and mesh are easily cleanable, and the seat is breathable. Unlike leather chars, there is no squeaking to be heard when moving around in it. It holds 275 pounds of weight, a capacity that is higher than that of leather chairs.
We strongly recommend this option if you prioritize audio quality.
Thus, this chair features a wireless audio system coupled with a 4-inch subwoofer in the backrest, designed to deliver a low rumble, intensifying your experience playing games or watching movies.
As a result of that bump, you feel every boom from the subwoofer in the back of the chair. In addition, the control panel on the back of the chair can be adjusted to control treble and bass levels.
Even other X Rocker games chairs can be connected using the input and output jacks.
Therefore, it is just like the rest of the X Rockers, which are reasonably priced. It's a decent option for the space you have, so long as you don't mind the price.
Pros
Excellent sound quality, especially with its subwoofers.
Audio sources can be connected, as well as X Rocker chairs.
Great leather quality of the chair.
Cons
Not versatile as it is very heavy.
In our opinion, this is one of the best chairs which has an amazing quality of speakers that will serve you an immersive sound quality.
Also with this chair, you will not have any problem sweating as it has a mesh material on it that is breathable. Additionally, it also has lumbar support which will enhance your posture.
2. ACE Casual furniture Gaming Chair
Staff Pick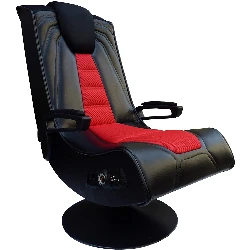 The outer fabric is faux leather, and the back and seat are woven fabric.
Wireless audio transmission, two speakers near the headrest, and four subwoofers are incorporated into the chair.
Input and output connectors are provided for connecting your audio sources to the control panel, including separate volume controls and bass controls.
You can swivel and tilt this faux leather chair, which is covered in breathable mesh. It supports a maximum weight of 275 pounds, just like other X Rockers.
Our reviewer thought the padding at the backrest and on the seats was decent but could have been thicker. Some seated positions can give you a sense of the frame.
Moreover, its 4-inch subwoofer is built into the backrest along with two speakers near the headrest. Controls for adjusting the treble and bass can be found on the right side of the chair.
If you're using the Xbox One, use the auxiliary jack. If you're using the PS4, you'll need an optical cable to connect. There's no way around it. What you'll need is a digital to analog converter.
Also, the chair comes with a wireless transmitter, but it isn't Bluetooth-compatible.
Furthermore, this chair is very expensive. Seats should be made of PU leather and high-density memory foam for the price. Moreover, armrests should be adjustable for ease of rest.
Pros
Video and gaming experience enhanced by vibrational audio.
Can be connected to two or more chairs.
The back and seat feature stylish, breathable fabric, with an outer layer of faux leather.
Without a doubt, this is one of the best gaming chairs with speakers. You will get an incredible gaming experience as it has two speakers near the headrest and a 4-inch sub in the backrest which will immerse you in the games.
Also, it is durable because it has a PU leather material on the seat which is long-lasting. So overall this gaming chair with speakers is another good option for you.
3. X Rocker, 5127401, SE 2.1 Black Leather Video Gaming Chair
Budget Pick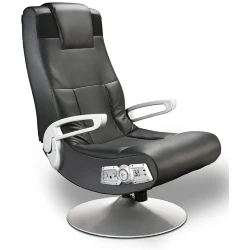 The chair transmits audio wirelessly, so you don't have to entangle the cables.
With its proprietary design, it is constructed for maximum comfort instead of forcing your body to adapt.
There are separate controls for volume and bass in the control panel, along with plugs for input and output.
The X Rocker with speakers is exactly what I was expecting, and is cheaper than the previous model. It's still not the perfect gaming chair, though.
Gaming chairs are covered in black leather, and are surprisingly comfortable, even for large people. While the control panel is outdated, the audio quality is not poor.
Moreover, A digital to analog audio converter will be needed if you are trying to connect this chair to a newer console.
Further, the chair is extremely reasonable in price, which somewhat helps to offset some of the complaints. Similarly, the wireless feature is not Bluetooth, but rather an adapter you plug into your television.
Pros
Assembles very easily.
Faux leather ensures durability.
Immersive sound quality.
Cons
Armrests are often missing.
Looking at its features this is a great chair that also has speakers to deliver an immersive gaming experience as it has an amazing quality of speakers.
Also, the chair has black leather which is durable. So buying this chair will be a good investment for you.
4. Blue Whale Floor Video Game Chair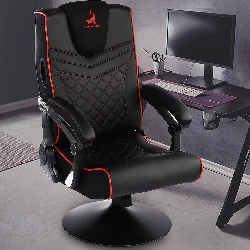 Chair with built-in Bluetooth capability and tilt & swivel motions at the back.
A damaged or defective part will be replaced for free by Blue Whale within twelve months of purchase.
Amazing speaker quality to provide immersive gameplay.
The Blue Whale Floor Video Game Chair is another best chair with a high back and tilting feature. Plus, it also has swiveling features for achieving more flexibility and enhancing the comfort level.
Moreover, this chair features built-in two speakers and a 2.1 subwoofer in the outer parts of the backrest which delivers very powerful and intensifying gameplay.
This will give you a feel of being on the ground of battle, thus the game looks very realistic. Therefore, speakers are connected with Bluetooth as it is a wireless audio transmitter.
Moreover, a large seating area provides a comfortable gaming chair with speakers so if you are quite heavy this chair will be a great chair for you.
Additionally, you will experience maximum safety with its 360-degree rotating metal base as it will keep you stable.
Furthermore, the armrests and backrests join together to provide a shared feeling of relaxation. You can relieve your back fatigue at any time by using the lumbar pillow that comes with the game lounge chair.
Furthermore, there is a metal frame, padded high backrest, and high-density sponge incorporated into the chair, which provides excellent support and comfort to the head, waist, and hips.
Additionally, this chair will give support to your back and enhance your posture as well.
Pros
Built-in Bluetooth speakers.
Ergonomically advanced chair.
Very supportive to enhance your posture.
Cons
Armrests are not adjustable.
In our opinion, this is one of the best gaming chairs with speakers. As you will get built-in two speakers in the chair which will give you an immersive gaming experience.
Moreover, the chair is ergonomically designed which will allow you to be flexible and comfortable in the chair.
So if you are concerned about your comfortability this chair is the best gaming chair with speakers for you.
Buying Guide:
Before reviewing the list of the best gaming chairs with Bluetooth speakers, first, you should read this buying guide in order to narrow down your choices further and find the best gaming chair with Bluetooth that meets your needs and preferences.
Speakers:
In order to consider a gaming chair with speakers, the sound must be incredible before you give it a shot. Nevertheless, mid-range and high-end speakers are becoming increasingly similar as technology advances. Therefore, it is best to have at least two speakers for the surround sound effect, since that will create the best surround sound. If you are going to cut corners on anything, it shouldn't be on the speakers.
Maximum Weight Capacity:
Our list of best gaming chairs with speakers has the majority of chairs that are capable of holding 275lbs of weight, with some chairs capable of carrying 200lbs. However, you will end up lowering your chair's durability, or worse, causing serious damage to it, if you weigh more than the chair's carrying capacity.
Comfort:
Some of the features that can improve your comfort include a headrest, high backrest, armrests, and lumbar support. Although there are gaming chairs with speakers that lack armrests, they are comfortable and maintain maximum comfort. Features on the chair must be useful to you. If the chair isn't comfortable, other features won't matter as much.
Flexibility:
It is useful to have folding chairs available, as well as chairs that are able to tilt and swivel. Swivel and tilt chairs will also provide more comfort, and folding chairs can be easier to handle and store in the long run. In addition, when determining the flexibility of a chair, you should also consider how easy it is to set up and use.
Vibration:
With the synchronized vibration, not only do you listen to the sounds, but you're also experiencing them. If your budget allows, you should consider vibrating the screen to make the game more immersive. Vibrations can also help relieve fatigue.
Material:
If you spend over $100 on a chair, you do not want it to spoil the next day. The durability of your chair depends on the materials used in its construction. When you sit for hours, choose a chair with a breathable fabric. If you are going to sit for long hours, choose a material that warms up faster than others.
Price:
The amount of money you have will ultimately determine what you can afford. If you cannot afford what you want, you will go into debt. You should focus on the speakers when you have a limited budget.
Frequently Asked Questions
Wireless speakers are available for gaming chairs?
While gaming chairs with speakers aren't truly wireless, audio can be played wirelessly via Bluetooth using gaming chairs with Bluetooth speakers.
Is there a speaker on the gaming chair?
You can now find a wide variety of gaming chairs with embedded Bluetooth speakers, which allow you to enjoy a truly immersive gaming experience. Bluetooth speakers usually occur on either side of the headrest or behind the backrest at shoulder height. Additionally, some chairs also have subwoofers.
A gaming chair equipped with Bluetooth speakers sounds the best, but what is the best gaming chair?
There are many good gaming chairs with Bluetooth speakers, so it's hard to pick just one. Therefore, we chose the few best gaming chairs that would be good for you to pick from. You can choose from our list of the best gaming chairs with Bluetooth speakers.
Conclusion:
Modern gaming chairs include built-in speakers to further enhance that gaming experience.
This allows users to enjoy a more realistic gaming experience. In this article, you can find some of the best gaming chairs which have Bluetooth speakers/ wireless speakers that will provide you amazing gaming experience where you can lose yourself in its immersive gameplay.
Also to avoid your confusion we have mentioned buying a guide which you should read to know more regarding the best gaming chairs with speakers.
Blue Whale Floor Video Game Chair:
This is the best gaming chair that you can buy. With this gaming chair, you will have very comfortable and flexible seating even if you are heavy. And most importantly this chair features 2 wireless speakers which will allow you to experience intensifying gaming.