What Types of Gaming Chairs Are Best For You?
As technology has been incorporated into the different gaming equipment used over the years, the gaming revolution has advanced greatly. There are numerous types of gaming chairs available on the market, and these conform to the latest developments in the industry.
There are many different types of chairs out there, and many think of basic office chairs when they imagine a computer/gaming setup. While office chairs have their strong suits, other types of chairs offer other benefits. Many gamers like to use gaming chairs, as they are designed for extended use and offer many different features.
Let's go over what a gaming chair is before we go any further…
What Is a Gaming Chair?
Gamers have two primary choices when determining the best types of gaming chairs. With its high-backed design and metal frame mounted on casters, the first chair is designed for PC gaming. It can be adjusted to tilt, pivot, and turn.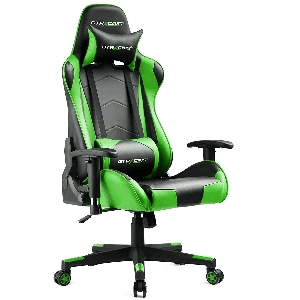 On the other hand, the second category is designed to be used with platform systems, or consoles (Xbox, Playstation, Switch, etc.). Often similar to lounge chairs, they have sleek, futuristic styling and are quite low to the ground.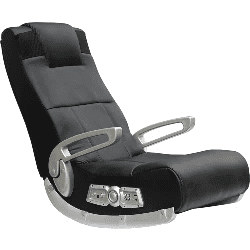 As both types are designed for extremely long-duration seating, they offer greater support for the mid-back and offer greater comfort than the standard office chairs or recliners that inspired them. Both types may also feature built-in speakers or cup holders.
Usage Of Gaming Chairs:
Because they're designed for gaming, they have to be comfortable, since as any gamer knows, there can never really be a short bout of gaming.
You might have heard of a few South Korean game players who died playing games because they forgot to eat and became dehydrated, exhausted, and starved due to lack of food.
Which is just horrible! These were obviously extreme situations, but they illustrate the point that gaming is a time-intensive hobby and an office chair or recliner will simply not suffice.
Although living room recliners are comfortable for sitting in for about six to eight hours at a time, and the best office chairs are remarkably comfortable over the same period. Gaming chairs are by far the most comfortable, allowing gamers to sit in them anywhere between 12 to 16 hours straight due to their added support.
Different Types of Gaming Chairs:
BeanBag:
As a large pillow, a beanbag is a comfortable place to sit or, with a large one, to lie. Formerly bean bags were filled with dried beans, which was how the name came about.
Nowadays, a beanbag is made up of a "Sack" filled with polystyrene beads or foam flakes and cloth, leather, or faux leather.
Adaptable to the user's shape, each beanbag model has a flexible filling. From the 60s and 70s to the 1990s, beanbags were the most popular. However, the gaming community is surprised that they are making a comeback.
Even the most expensive beanbags are very affordable. Unlike other furniture in the room, they are lightweight and easy to move around.
You can "shape" the chairs in whatever way you need, they don't have arms, back support, or headrests. Young gamers can sit, or even roll on their backs, in beanbag chairs, which are designed to provide the ultimate in comfort. Also, they should not be used by older gamers due to their sensitivity to pressure.
Office Desk Chairs:
The office chair was the default seating for all long before "gaming chairs". For decades, office chairs were used as gaming chairs, but then someone got clever and made them into office chairs instead.
Most office chairs are designed for people who must endure eight hours of work, so they provide adequate back support. To prevent back problems and work performance reduction, they must be ergonomically designed.
Moreover, a good modern office chair is designed with a sophisticated chair design and the latest ergonomic theories to ensure maximum comfort. However, a good modern office chair is expensive, but it is well worth the cost.
With adjustable height and inclination, adjustable armrests, adjustable backrests, and integrated lumbar support, you can create the perfect environment for your comfort.
Using a high-quality office chair is nothing wrong if you don't need a flashy gaming chair but simply the right support for your back and neck.
Racing Style Gaming Chair:
It has now become common knowledge that good posture is vital when sitting for long periods. But it is also crucial that pressure points be avoided, especially in the lower extremities, since they restrict blood flow.
It is possible to work on compensating for the negative effects of excessively long sitting by adopting an ergonomic and comfortable position. The best way to achieve this is to purchase a racing style gaming chair with lumbar support.
In many cases, the bucket seats and color scheme of the seating system appear to have been adapted from racetracks.
It is designed in a way that provides the driver with maximum comfort even when facing extreme centrifugal forces on the track. However, with a computer at home, is it as comfortable? You shouldn't experience too much restriction of movement or pressure points from making the seat too tight.
A quality bucket seat also boasts an ergonomic design and individual adjustment features in addition to these striking appearances.
In addition to the lumbar pillow and headrest pillow, most of these gaming chairs also come with armrests. Many even include backrests that incorporate lumbar support. There are now height adjustments, armrests that can be adapted, adjustable backrests, and options for inclination.
All types of video gamers are well supported by racing-style gaming chairs because they offer a variety of features.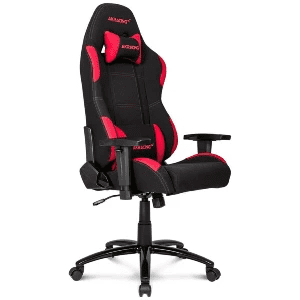 Rocker Gaming Chair:
Compared to traditional gaming chairs, rocker gaming chairs don't have legs and no bases. Instead, they sit directly on the floor.
Rocking chairs do, however, function as gaming chairs. The design of these chairs make them excellent for console users, however, their structure makes them not very suitable for PC gamers.
Rather than having a curved L-shaped design, gaming rockers have thick, padded seats combined with padded backrests and headrests in one piece. Some even come with adjustable armrests, as well as pockets to place remotes, controllers, etc.
Many gamers, predominantly younger, are attracted by many of the gimmicks that can be installed on the generously sized consoles.
A number of rocking chairs feature music systems with speakers and subwoofers built-in. Some models include built-in vibrations to give players a more realistic gaming experience. Multi-player models are also available – this allows for linking several chairs at once.
Some of them are compatible with WiFi, Bluetooth, USB, or RCA connections, enabling them to be connected to your PlayStation or Xbox right away.
In spite of their comfort and ease of relaxation, these chairs cannot be described as ergonomically designed. But many console gamers prefer comfortable seats over seats like racing chairs than comfy sofas like those in "make yourself comfortable.".
In addition to relaxing and watching a movie, rockers are also great for watching TV and chilling out. This chair is more suited to console gamers, whereas if you are more into PC gaming, you may find other options that would be better suited.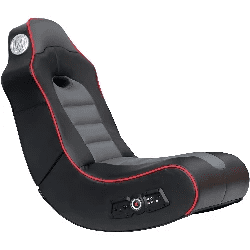 Pedestal Gaming Chair:
A gaming pedestal chair lies somewhere between a swivel chair for gaming and a rocking chair for gaming. Rather than being mounted on a solid base, pedestal gaming chairs are mounted on a rocker-like base. Users can rock and turn on this base.
Compared to the Rockers without pedestal, the Pedestal gaming chairs have slightly better ergonomics. The back and seat upholstery are strong and straight, so you're able to sit comfortably and relax.
In addition to their function as a gaming chairs, many of them have the same features built-in, like speakers, subwoofers, and wireless connectivity, plus they can connect to play multi-player games simultaneously.
It is certainly more convenient to get up from a pedestal chair since you are not sitting so low on the floor. In summary, these chairs are very comfortable to sit in while playing video games, watching movies, listening to music, reading books, or just relaxing.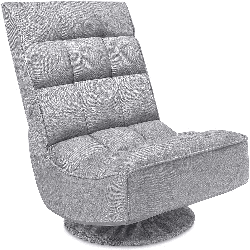 Simulator Seats:
You should consider this type of gaming chair if you love simulators, whether racing or flying simulations. The simulator seat is built specifically to simulate the cockpit of a plane, spacecraft, or race vehicle and to provide the feeling of being in one.
Racing Simulator Seat:
There are several kinds of racing seats, but the basic one is a bucket seat that is mounted on a metal frame with brackets for a steering wheel, a gear lever, and foot pedals attached. A lot of times it looks like something straight out of a race car.
All components can be purchased separately, so you can put together your own simulator seat. Additionally, complete setups are available, which usually include steering wheels, gears, pedals, etc.
Simulator Cockpit:
A simulator cockpit is the ultimate package. Esports enthusiasts get everything they need here for their dream setup.
Equipped with integrated motors that simulate G-forces and provide the feeling of actually moving, these cockpits include a large screen, steering wheel, pedals, and gear shifting.
High-end models could be fitted with hydraulics that feel like they're moving through space. Definitely, something you'll be impressed with along with a virtual reality headset.
Q & A
What type of chairs are best for gaming?
The two most popular types of gaming chairs are racing chairs and rocker chairs. Racing chairs closely resemble race car seats, and feature excellent back support, arm rests, swivel features, and the ability to raise and lower them. Many come with lumbar support and neck pads to help increase the already great support they offer.
Rocker chairs are made for extreme comfort. They sit low to the ground, if not completely on the ground, feature certain things like pockets, built in speakers, vibration to increase interaction with the game, or even arm rests. These heavily padded chairs are perfect for long console gaming sessions, but due to them being so close to the ground they do not work well for PC gaming.
What are the features of a good chair?
The answer to this question depends heavily on what exactly you are looking for in a chair. But the general consensus is as follows: Good types of gaming chairs will have a collection of key features. Namely back support, comfort for extended sessions, arm rests, swivel features and the ability to rock, and the ability to raise or lower the chair itself. Some people are looking for things like built in speakers, lightweight and easily moveable design, aesthetics to fit a certain room or furniture scheme, or even whether or not the chair rests on the floor, has legs, or rolls on wheels.
Conclusion
Gaming involves a lot of physical demands, as any gamer is well aware. You need the right kind of chair to ensure your overall gaming experience goes smoothly, otherwise, you could experience some serious shoulder, back, neck, eye, chest, and other injuries.
When you spend more than 5 hours per day playing your favorite gaming system, this becomes particularly problematic.
Thus, it is crucial to invest in good gaming chairs. It is possible to find ergonomic options which can meet your health requirements as well.
Further, it can seriously depend on your style of gaming whether you are sitting upright, lying in a recliner, or using a keyboard and mouse, so hopefully, the information we've provided you in this article will help you to determine which gaming chair will be most suitable for you.