If computer-aided design (CAD) software is part of your work, and you are looking for a monitor for the same, then you are just at the right place. Making the right choice of monitor is essential.
You will find some key features in this article that you should look for when you are buying a monitor.
Also, we will provide you with a list of the few best CAD monitors. First, you have to be aware of what features you have to look at in a monitor and which we have discussed in our guide.
5 Best Monitors for CAD
1. BenQ BL2420PT
Best Pick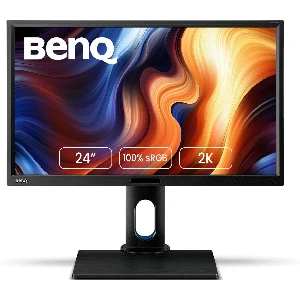 WHY DO WE LOVE IT?
The most convenient-sized monitor with the amazing display quality.
Specialized in Designing and creating graphics as it has CAD mode in it.
Built-in eye care technology to protect eyes.
Pros
Built-in advanced CAD mode.
Sharp and vibrant display.
Eye care technology.
Cons
The stand is not fully adjustable.
The BenQ BL2420PT is the best-known monitor for CAD, as it has all those features that are required for designing and technical documentation. Firstly, its size is very convenient at 24 inches(approx.) so if you don't have enough space, then this monitor is just an ideal one for you.
Moreover, its 1440p/ 2K resolution will deliver crisp and sharp graphics, designs, and photos that will be more detailed, making it easy for you to work with. Further, it has an IPS panel which allows more vivid and vibrant colors to display in the images.
And also have wide viewing angles so that you can look at the screen from almost any angle and still can see the picture on the screen without any loss of colors. Additionally, it has the revolutionary CAD/CAM Mode that offers superior contrast on 3D color lines, so the image on the screen will not be confusing.
Furthermore, the ergonomics have only height adjusting features through which adjust the height of the monitor accordingly. And lastly, the Low blue light filter and flicker-free technology will help you work without causing strain to your eyes.
In our opinion, this is the best monitor if you have very little space for placing it on a desk. Moreover, this monitor is specialized in design and graphics as it has a CAD mode in it.
Further, display quality is great, you will get to experience the sharpness of the images and accuracy in colors with a very wide range of it. And most importantly, eye care technology will keep your eyes safe and prevent it from strain.
2. Dell Ultrasharp U2719DX
Staff Pick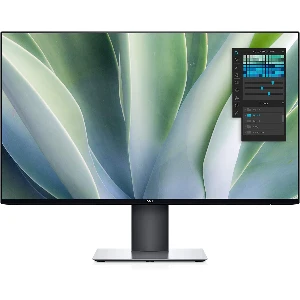 WHY DO WE LOVE IT?
The sleek frameless design of the monitor delivers an immersive experience.
Amazing color quality and resolution of the monitor.
Advanced ergonomics to keep you comfortable in your chair.
Pros
The attractive and sleek design of the monitor.
Amazing resolution and color quality.
Advanced ergonomics.
The Dell Ultrasharp U2719DX is a stylishly designed monitor with an amazing look. Attractively, it has a sleek design with ultra-thin bezels making the images on display look bigger and providing you with an immersive experience.
Therefore, it has a 27-inch display which is the most settling size of a monitor. And on top of it, the 1440p resolution, through which you will get 1.77 times more detail as compared to full HD. With such resolution, you will get sharp images, enough to see every detail.
Also, the color quality with 99% sRGB coverage has accuracy, and images look more realistic. Moreover, with the IPS panel, you will be able to look at the screen from any angle, and still, the image will be visible to you without any loss of color.
Furthermore, the ergonomic features are amazing. This monitor can tilt, swivel, adjust the height, and pivot into portrait mode for a comfortable setup. Plus, it has flicker-free technology, so you can work for as long as you want, and still, your eyes won't strain.
In our opinion, this is one of the best monitors for CAD. As you will be able to work with sharpness in the image displayed on the monitor, so you will be able to work with every detail in the images.
Additionally, the colors on the monitor are just as accurate as the ones on paper, so when you design or create graphics, you will not run into any issues. Moreover, with advanced ergonomics, you will be very comfortable working all day on your chair. As to conclude, this is the best monitor to buy for CAD.
3. ViewSonic VP2771
Budget Pick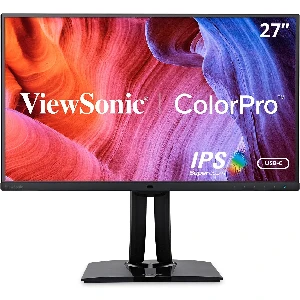 WHY DO WE LOVE IT?
Magnificent color quality ensures pictures look very realistic.
With an IPS panel, you will get wide viewing angles of the monitor.
Built-in Ambient Light Sensors.
Pros
Amazing frameless design.
Extraordinary color quality with sharp and crisp images.
Built-in Ambient Light & Presence Sensors.
Cons
Absence of ergonomic features.
The ViewSonic VP2771 is the best monitor 27 inches which is the perfect size for designing and creating animations and graphics. Also, the resolution of the monitor is great, as you can look at every detail of the image with clarity.
Plus, with 4.39 trillion colors, you will get extraordinary accuracy and precision of colors. And together with the IPS panel, you will get an unbelievable experience that will boost your overall work of yours. Moreover, the hardware calibration in this monitor ensures that the color displayed on the screen matches perfectly with the original file.
Which overall makes it an impeccable display for CAD(designing, animation, graphics). Additionally, its built-in ambient light and presence sensors help in adjusting the brightness according to your surroundings. Lastly, its frameless design delivers images that will look immersive and big.
To summarize the product, this monitor is specialized in colors. Because there are multiple features to enhance the quality, it delivers amazing life-like images. But the ergonomics of the monitor are quite disappointing, which as a result, will keep you rigid in your seat.
Further, the ambient lighting features will make your monitor perfect for any kind of environment. So overall, this is the best monitor for CAD if you are more concerned about the colors of the monitor and image quality.
4. LG 29WN600-W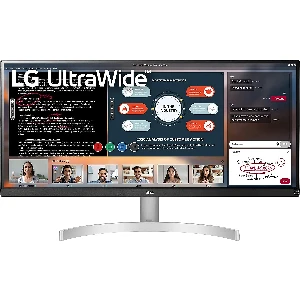 WHY DO WE LOVE IT?
Large screen size with the screen split feature allowing multitasking.
Built-in Eye Care Technology to prevent eye strain after long sessions of working.
Has wide viewing angles.
Pros
Large screen size.
Wide viewing angles.
Flicker-free technology.
Cons
Lacks ergonomic features.
The LG 29WN600-W is a great monitor with 29 inches screen size, which is very wide in size, ensuring an immersive experience. Moreover, with such a large screen, you can also multitask by jumping from one window to another for effective work and better productivity.
Looking to its resolution, which is 1080 pixels, is less according to the 29-inch screen. But with HDR10 compatibility, you will get enhanced colors resulting in good image quality overall. Also, this doesn't guarantee the crispness of the image.
Further, it has an IPS panel that allows accurate colors and wide viewing angles. So that you can move a little bit and look at the screen from any angle, and still, the image will look the same without any loss of colors.
In addition, it has a reader's mode, which reduces the blue light emitted from the screen to prevent eye strain. Lastly, it is flicker-free, so you can stare at the screen for a long time without irritation and causing eye fatigue.
Overall this is a great monitor with good screen quality and amazing 29-inch display size. You can enhance productivity by opening multiple windows side by side through the screen split feature.
Moreover, there are many features in this monitor which might enlighten you. However, if you are looking for a monitor not just for CAD purposes but also for other uses, then this monitor is just right for you.
5. hilips Computer Monitors 276E8VJSB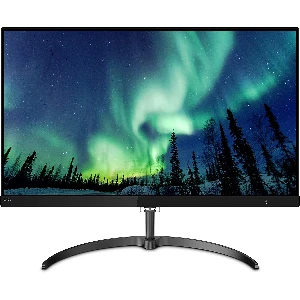 WHY DO WE LOVE IT?
Beautiful frameless design allows the images to look bigger.
Amazing quality and accuracy of colors in the monitor for more realistic images.
Crisp and sharp images with 4k resolution of the monitor.
Pros
Accuracy in colors of the image.
Sharp and Crisp images.
Flicker-free technology.
This is an amazing monitor with 4k resolution and 27 inches of resolution, delivering ultraclear and the most realistic images that professionals in CAD require. Moreover, this monitor ensures more realistic color reproduction with 10-bit color depth.
So you can serve your client with the best design possible. With the availability of 1.074 billion colors, you can be as creative as possible; you can convert your imagination into an image that will be visible to everyone.
Plus, the IPS technology ensures the colors are accurate from every angle on the screen. In addition, it also has a MultiView feature that lets you work on two windows simultaneously side-by-side, eliminating the need for multi-tasking in complex situations.
Lastly, its Flicker-Free technology helps regulate the brightness level, reduces flicker for more comfortable viewing, and prevents eye strain.
You might be looking for a monitor with great color quality, sharpness (crucial for work with CAD), and color accuracy, which this mon, it will fulfill. It might be lacking in ergonomics, but it will still surpass any other monitor in performance, features, and design. Overall, this monitor will be a great purchase for you.
Buying Guide to choose the Monitors for CAD
You can only rely on the buying guide to locate the right monitor when purchasing a monitor. Then you could select the product that is designed with detailed and accurate features that are appropriate for the future.
Screen size:
A screen and its size is the first thing to consider for graphics, as you see the screen first and then the internal functionality afterward. Thus, compromising on screen size would be absurd. As a result, you should make sure your screen is wide enough to display the image correctly.
However, the size of the cad monitor heavily depends on your cad software setup, so if you are working in a small office and have trouble using a full-sized monitor for CAD, you could always opt for a 24-inch monitor.
Having a 27-inch monitor is the most convenient choice, in my opinion. You don't need to worry about them taking up a lot of desk space or looking bulky, nor are they so small that they will burden your design process. Moreover, if the software boasts the ability to split the screen, that is nothing short of a blessing.
Inputs and ports:
All your convenient devices can be connected to a monitor via ports and inputs. Therefore, make sure the monitor you are considering has all the ports you need before you buy it.
DisplayPort, HDMI, USB, and other common inputs and ports are commonly found on computers. When buying a monitor, check that any port you require is available.
Colors and Contrast:
There is no connection between poor image quality and CAD monitors. Moreover, if you plan on using it for professional purposes, it must have brilliant colors and excellent sound. Monitors should have no trouble separating colors that look similar.
The contrast ratio shows how deep a monitor's blacks are – higher contrast ratios mean deeper blacks, which, in turn, mean better picture quality. Contrast is very important when it comes to picture quality (especially in a dark environment).
Resolution:
Screens with a 1080p resolution are standard. For CAD work, the resolution is sufficient. However, there is an increase in 4K monitors with 4,000 pixels. Colors are more accurate with a higher resolution, so productivity is better. One of the best things about buying the monitor is that you don't have to spend a fortune, as there are plenty of affordable options.
Panel Type:
Without a doubt, the best panel for CAD is the IPS panel! With their vivid color gamut yet sharp screen, IPS panels are the ideal choice for designing on AutoCAD. All lines will be visible without any blurring. In addition, IPS panels usually have wide viewing angles, so you can move around your desk and still maintain sharp images without losing colors.
Ergonomics:
When looking for a CAD screen, comfort is an important consideration. You must select the most comfortable setup to work effectively with the screen daily.
It would help if you chose a screen that offers adjustable height so you can adjust it to your liking. For the most comfortable view, the monitor should also be tiltable, pivotable, and swivelable.
Response time:
It is time it takes for pixels to transition between the two colors. Rapid response times result in sharper, more accurate images. Images can become blurry when the response time is slow.
Frequently Asked Questions
Do architects use what size monitors?
Being an architect, designer, or student, the minimum screen size you need in a monitor should be 24-inch with the highest resolution possible according to your budget.
How should I choose a monitor for CAD?
When choosing a CAD monitor, a number of factors must be taken into account.
1. Display Size.
2. Screen Resolution
3. Wide viewing angles
4. Accuracy in colors.
5. Monitor Response Time
In order to use CAD, do I need a 4K monitor?
Since computer-aided design demands accuracy and detail, 4K monitors will be appreciated. There is no better way to showcase your designs than with every aspect of the image presented in high resolution!
Which is the best monitor for CAD?
The most basic monitor for CAD today should offer 1920 x 1080 (HD standard). However, since the cost of UHD-1 monitors (3840 x 2160) has dropped so much, we recommend them – especially for larger monitors because they have four times the number of pixels.
What features should a CAD monitor have?
The monitor should have accuracy and a wide range in colors, viewing angles, eye care technology, and most importantly, an ergonomic build. Select a screen that allows you to adjust the tilt or height as necessary. Another important feature of CAD is the response time.
Are curved monitors good for CAD software?
Our honest answer would not be yes. Your straight lines will look curvy on curved color screens, which could be very distracting, especially if you're not familiar with CAD software. If you are working professionally, you should generally avoid curved monitors unless you want it for other uses.
CONCLUSION:
In this article, we developed a buying guide for everyone who is looking for the best monitor for CAD and addressed a few monitors which we think are best for the same. However, this article will help you in making an appropriate decision in buying the best monitor for CAD and CADD. The best monitor that we would recommend from the above list is…
BenQ BL2420PT: This is a great choice if you're looking for a convenient-sized monitor without compromising on quality.
OR
Dell Ultrasharp U2719DX: For maximum comfort and flexibility (with ergonomics) this is the best monitor. It will allow you to work and stay flexible at the same time.