5 Best Monitors for Graphic Designers
To help you excel in the graphic design profession this article will evaluate the best monitors for graphic designers.
Since most of your work is done on a computer, you'll need a monitor that will resonate with you and your work, which will challenge all the odds and help you create something powerful! In that case, you will need a monitor with all those features that fulfill your needs, and knowing what you need is in this article, so keep on reading.
To create great work, graphic designers must choose monitors that have the correct size, resolution, and color accuracy. The following article provides a comprehensive list of attributes, so you will know what you need in a monitor much more easily.
In addition, we have gathered some monitors which are known for graphic design with their amazing displays, keep on reading for the same…with ergonomics will provide flexibility and comfort, so you are able to work as long as you want.
5 Best Monitors for Graphic Designers
1. LG 27UK650-W
Best Pick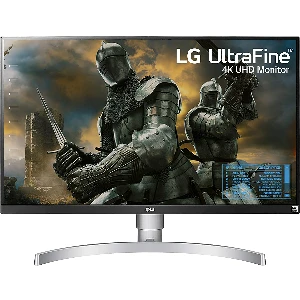 WHY DO WE LOVE IT?
Displays crisp and high-quality images with accuracy in colors.
It has wide viewing angles and a few ergonomic features to keep you comfortable in your chair.
Screen Split 2.0 feature, which helps you multitask and stay productive.
Pros
Excellent resolution and screen size allow multitasking.
Wide viewing angles.
Accurate and vibrant colors.
The LG 27UK650-W is a great monitor of 27 inches screen size with 4k resolution, which as a result, delivers crisp quality images. This will allow you to work on every detail of the image. Moreover, it has an IPS panel which means it has wide viewing angles through which you can watch the screen from any angle.
Also, having an IPS panel makes the colors of the screen look more accurate and vibrant. So the colors which you see on the paper will look exactly the same on-screen.
Additionally, it has an On-Screen control that enables you to adjust brightness, volume, picture mode presets, screen split 2.0, and many more features which are handy to personalize just through some clicks on the mouse.
Furthermore, the stand has some ergonomic features, such as tilting and pivoting.
To summarize, this is the best monitor. It has a great display quality which you, as a graphic designer, might appreciate the most in a monitor. Plus, it has a screen split 2.0 feature through which you can open other applications and multitask.
Apart from that, its 27-inch display has wide viewing angles and a few ergonomics, which together will keep you comfortable while working. Therefore this is the best monitor for graphic designing and a must-buy.
2. SAMSUNG 49-inch Odyssey G9:
Staff Pick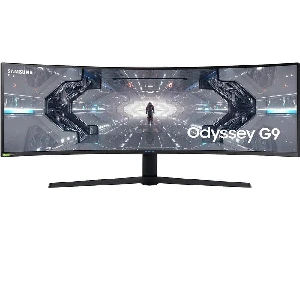 WHY DO WE LOVE IT?
Best known monitor for multitasking and boosting your productivity.
Ensures accuracy in colors.
Great replacement for your 2-3 monitor setup.
Pros
Massive screen with good image quality.
Accuracy in colors and decent contrast ratio
Amazing gray uniformity.
Handles reflection very well.
Cons
Lacks ergonomic features.
Narrow viewing angles.
The SAMSUNG 49-inch Odyssey G9 is a massive curved monitor with a 48.7-inch screen and 1440p resolution, which might seem less as compared to the screen size but still delivers great quality images. Uniquely this monitor has VA panels, that don't mean it lacks color quality, the Cutting edge QLED technology creates vivid colors with 125% + colors as compared to that of sRGB.
In this way, colors are reproduced precisely on the screen, so your screen will look identical to your paper. Although it has no ergonomics and narrow viewing angles, apart from that, with its massive screen, you can open numerous applications at the same time and multitask.
Also, this will allow you to stay productive as a designer and gives you more room for designing and creating. Further, it has a curved display which will reduce eye-straining as you don't have to move your eyes very far away, as its curved screen will give you updates from every corner.
In general, this one monitor should make your life so much easier if you normally require three monitors to work. You won't regret it.
In our opinion, this is the best-curved monitor. Although this monitor is best known for its gaming, other features such as color accuracy, massive screen size, and great resolution will not just display you the exact colors you need but also keep you productive, and you can multitask by opening lots of applications. Overall this monitor will be the best replacement if you require 2 or 3 monitors at work.
3. Dell Ultrasharp Up321 8K: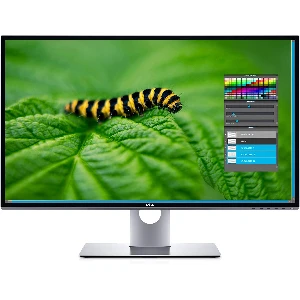 WHY DO WE LOVE IT?
A brilliant monitor of 8k resolutions, allowing the images to look as sharp as possible.
Has built-in Dell Premier Color Technology, which ensures a vast range of colors making images look more realistic.
It has advanced ergonomic features to keep you comfortable while working
Pros
Accurate, magnificent, realistic, and vibrant colors.
Integrated with high-quality IPS panels.
High and crisp quality images.
Amazing ergonomic features.
Cons
Very expensive.
Limited content of 8k resolution.
The Dell Ultrasharp Up321 8k is a brilliant monitor with 31.5-inch display size and 8k resolution delivering high and crisp quality images. So you can accomplish your detailed artwork or design.
Moreover, its Dell Premier Color technology offers a wide range of colors with which you can create realistic images and also be very creative with imagination and generate impeccable graphics.
It has an extraordinary color depth of around 1.07 billion colors which is more than 64 times more colors than a standard monitor! The color precision and gradation are visible in more shades, even in dark areas.
Thus the colors are very accurate and impressive, which as a graphic designer, will directly make your clients stick with you, plus you will attract more clients. Further, it has all the ergonomic features, such as tilting, swiveling, height adjustment, and pivoting into portrait mode.
Ensuring you complete flexibility and comfort while working, plus making your work much easier and on time when you are at your highest level of comfort.
To summarize, this is an excellent monitor for graphic design. The color quality is impeccable, with around 1.07 billion colors. Moreover, the images look sharp and realistic without making it obvious that you are looking at pixels; the images are life-like on this monitor so you can work on every detail.
Additionally, it has advanced ergonomic features so after working for long hours you won't have that feeling of rigidity or being jammed in one place. Overall this type of monitor gives wings to your passion and creativity. So if you have a good amount of budget, then this is the monitor for you!
4. Philips Computer Monitors BDM4350UC:
Budget Pick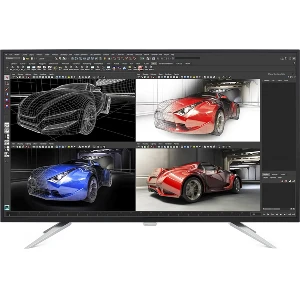 WHY DO WE LOVE IT?
Sharp delivery of images by the display.
Consists of more than 1 billion colors, making the image look vivid and realistic.
Additional features- MultiView technology and SmartConnect
Pros
Amazing crisp and life-like image quality.
178 degrees of wide viewing angles.
Built-in speakers.
Cons
Lacks ergonomic features.
The Philips Computer Monitors BDM4350UC is an expansive monitor of 43 inches and 4k Ultra High Definition resolution delivering high clarity in images. And its integrated IPS panel contributes to giving high-density pixels, making graphics and images come to life.
Moreover, if you have additional work where you have to use 3D graphics applications, lengthy spreadsheets, or financial-related work, then this display will work just fine for that too. Further, it has over 1 billion colors allowing you to create whatever graphics you want, resulting in vivid and life-like images.
Other than the pixels, the IPS panel allows you to be able to work by looking from any angle on the screen with its 178 degrees of wide viewing angles, ensuring your comfort and preventing rigidity.
Additionally, there are other features such as MultiView technology (through which you can watch live shows and work at the same time) and SmartConnect for 4k display; through these features, nothing can stop you from working.
Looking at the features and capabilities of this monitor, this is a good monitor for graphic designing. Although it lacks ergonomic features, its wide viewing angles will keep you comfortable as you can look at the screen the way you want.
Moreover, the Display has vivid colors, which create more realistic images so that you can serve your clients with their desired work. Overall this is a great monitor, and if not having ergonomics is not a problem, then this monitor is just for you.
5. ASUS ProArt PA32UCG-K: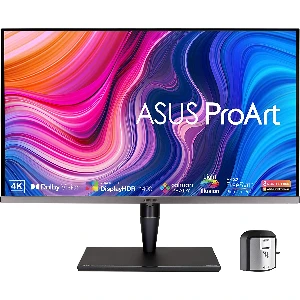 WHY DO WE LOVE IT?
Brilliant 32″ display with accuracy in colors.
Built-in flicker-free technology to prevent eye strain.
Has an amazing contrast ratio so that you can work in both dark and bright environments.
Pros
High contrast ratio.
Big display size.
Crisp and detailed images.
Advanced Ergonomic features.
The ASUS ProArt PA32UCG-K is 32 inches in screen size and 4k resolution displaying detailed and crisp images. This monitor is ideal for graphic designers; it has all those amazing features that will enable you to work with high-quality and detailed visuals.
Therefore, it's Quantum Dot Tech. And IPS panels together provide a vast range of colors, so you can play with its colors as much as you want. Moreover, it has a great contrast ratio which allows the deepest blacks and brightest whites so that you can work in the darkroom as well as in a room full of light.
Plus it also has flicker-free technology, so you can work for long hours and still won't hurt your eyes. Overall, this is a great monitor to buy.
To summarize, this is an amazing monitor with a great display, contrast ratios, advanced ergonomic technology, and much more. This will give productivity and accuracy in work and ensure that you provide efficient work for your clients.
Buying Guide to Choose the Monitors for Graphic Designers
We hope this guide will help you make up your mind if you are looking for a graphic monitor but are confused about how to choose.
Screen size:
The screen size might not be the number one thing that you look for as a graphic designer, but the size of the monitor really matters. If you are working on a big complex artwork with many details, then you have to decide what size will be good for your work.
However, we would recommend you around 27 to 32 inches of screen size for your artwork. But in case you want to multitask, then you might need a screen around 40″.
Display resolution:
For the resolution, we will recommend you start looking from 4k monitors. While designing, you might want to work on every little detail without any pixelation, and for that, high resolution is indeed a must-have in the monitor. You can go as much higher as possible with resolutions, but the least you must settle with is a 4k display.
Color Accuracy:
This is another very important factor to look at. In order to ensure that colors appear the same on-screen as they do on paper, the monitor must be capable of producing very accurate color displays. So to ensure it has a good color range, you should prefer an IPS panel.
Having a good IPS panel will allow you to see different shades of gray color. Also, IPS has wide-angle views, so you can stay flexible even while working. IPS panels deliver good color fidelity and brightness from the top, bottom, and sides.
Ergonomics:
While designing and editing, you might lose track of time and work for long hours. Subsequently, you will stand up with body aches due to lack of movement the whole time. So that's why ergonomics is very necessary to have in our monitor.
Frequently Asked Questions
Is it necessary for graphic designers to have 4k monitors?
As for graphic designers, the least resolution you need in a monitor should be 4k. Because these are perfect monitors for working on graphics in detail.
How do I choose a monitor for designing graphics?
To choose the right monitor for graphic designing, there are several factors that you have to consider while buying a monitor, such as its screen size, display resolution, color accuracy, a panel of monitor, ergonomic features, and much more. To know in detail, take a look at our buying guide, which will help you out.
Are Curved monitors good for graphic designers?
Curved Screen monitors and not bad for a graphic designer, but flat monitors are better. Curved monitors might not give you the most accurate presentation of the design like that of a flat monitor.
Are gaming monitors suitable for graphic designing?
If a Gaming Monitor has an IPS panel on its screen, then it will work just fine because panels other than IPS don't have wide viewing angles and color accuracy, which is needed in a graphic design monitor.
CONCLUSION:
This article is about graphic designing monitors, how to choose them, what to look for in a graphic designing monitor before buying it and what monitors are best to buy. We have compiled all the information regarding it, so you don't have to stress about it, so just go through all of it. Also, here are the 2 monitors we think are the best for graphic design:-
Dell Ultrasharp Up3218K.: This monitor has an amazing screen of 8k resolution resulting in crisp quality of images and accuracy in colors.
ASUS ProArt PA32UCG-K.: This monitor has all the features with a 4k display.