10 Best Projectors for Camping
Camping is an activity that is enjoyed by people of every age group alike. Be it young kids, millennial or older people, everyone has a liking for camping. But what if we share with you, to make your already adventurous camping even more entertaining? The medium being a portable projector!
Projectors undoubtedly add more flavor to your everyday life. Along with your day to day activities, your monthly camping trips would also become pumped up with enjoyment.
These projectors will definitely give you the best camping experience through enabling you to watch your favorite content, while camping or while having fabulous movie nights. So hold tight, because we have brought into your hands a list of 10 most viable projectors that you can use while camping.
10 Best Projectors for Camping
1. ANKER NEBULA CAPSULE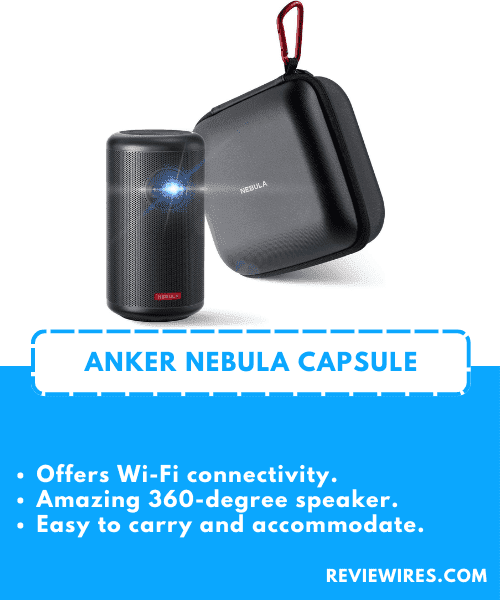 Features
Offers Wi-Fi connectivity.
Amazing 360 degree speaker.
Easy to carry and accommodate.
This Anker nebula capsule mini projector holds a resolution of 1280x720p and a 16:9 HD aspect ratio. With a brightness quotient of 200 ANSI Lumen, It offers an endearing range of colors and brightness to your favorite content. The projector is can-sized which enables the user to readily take it for camping and have "the entire cinema in your hands".
With a 360 degree 8 wattage speaker, this projector provides you with ambient sound effects. It will never let you miss any sound related details of your favorite movies, songs, shows, etc. Along with all this, the projector offers a battery life of four hours in one charge which will prevent any disruptions in your camp night.
Moreover, a projection size of 100" makes this projector extremely ideal for camping and movie nights. You can play content from your Smartphone, laptop or any device via the HDMI ports that are available. Additionally, it also has an app called "Nebula connect" that can be used to connect devices to the projector. It comes with a 12- month warranty and weighs 470g.
Pros
Supports screen mirroring.
Has automatic focus.
Keystone correction.
Supports app stores.
Cons
Software doesn't work effectively.
Netflix doesn't support remote control.
The Anker nebula capsule projector definitely has a lot of perks like its capsule-sized mini body, good speakers and a fairly good projection size.
However, it lacks a macro USB port and only has one mini USB port which can make it difficult to plug in some devices. The menu of connectivity might come off as clunky but it still does the work effectively. This projector is ideal for people who wish for a good travel and portable projector.
2. AKASO MINI PROJECTOR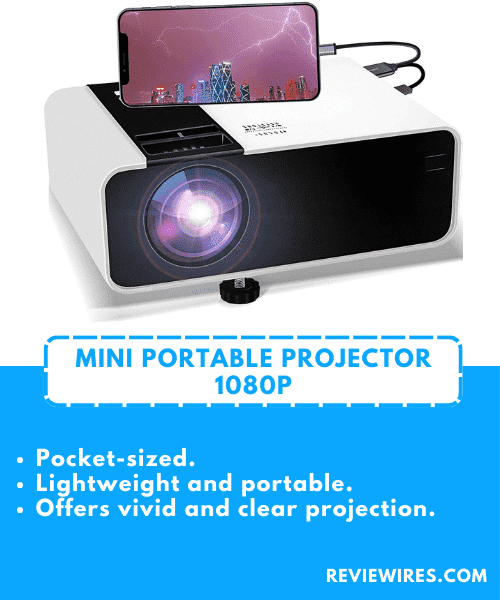 Features
Pocket sized.
Lightweight and portable.
Offers vivid and clear projection.
The AKASO mini projector supports an excellent display resolution of 1080p to provide you with high image clarity. It is a good phone projector that can be readily connected to your laptop, smart phone, gaming consoles and other multimedia devices of your choice through its USB, HTMI, AV and micro SD ports.
The projector has a built in 4000mAh battery that gives you a playtime of more than 2 hours in one charge. It has a ceiling mount and a USB hardware interface.
Furthermore, the advanced DLP technology and 150" enormous screen projection make it one of the best small projectors for movies.
Additionally, a weight of just 0.46lb which makes it ideal for outside activities like campaign, gaming or small gatherings.
This projector also supports screen sharing, photo sharing and streaming of your favorite shows, movies and songs. It offers an image contrast ratio of 2000:1 and also supports multiple and wireless connectivity.
Pros
Pocket size design.
Automatic keystone correction.
Offers Bluetooth connectivity.
Is very affordable.
Cons
Cannot play while being connected to the charger.
Cannot flip the pictures.
The AKASO mini projector is an extremely expensive projector for movies and small homes. We found the sound quality to be appreciable while the picture quality is extra appealing, vivid and crystal clear.
The stereo speakers function nicely but the screen may sometimes show rainbow effects. It has a relatively small size and can be used on the go.
In all, it is a great product to be bought if you are looking for a good portable mini projector for your small home.
3. NEBULA BY ANKER MARS II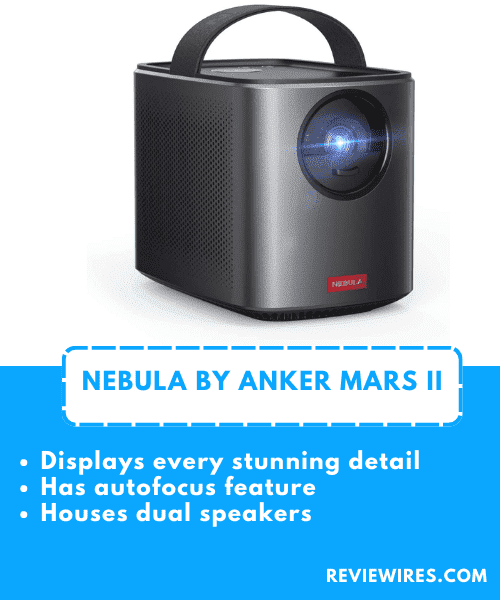 Features
Displays every stunning details
Has auto focus feature
Houses dual speakers
Nebula by Anker mars II has an extensive color and brightness quotient of 500 lumen which enables the buyer to behold beautiful and visually appealing image quality. It has DLP display technology and a USB hardware interface along with 720p resolution.
Furthermore, this projector can project images up to 100 inches which makes it an ideal mini portable projector. It offers blockbuster and immersive stereo sound, all thanks to the powerful dual 10 wattage speakers possessed by this projector.
In addition to this, it has a video play time of 3 hours per charge and an automated focus with an aspect ratio of 16:9. The projector can be plugged to your favorite devices like mobile phone, laptop, gaming console and Bluetooth speakers through HDMI and USB ports.
It can also be connected wirelessly through the nebula connect app and Bluetooth. You can also activate the mouse function through the remote control. The projector weighs 3.94lbs.
Pros
Sleek black body.
Has a top mounted carry handle.
Good color production.
OTA supported
Makes minimal fan noise
Cons
It is too pricey.
Has a slow auto focus.
According to us this projector nebula Anker mars II is consistent in terms of audio visual quality. The projector easily projects sharp images and makes automatic adjustments to them and delivers you with the finest image quality it can.
However, there are certain things that we are not a fan of, one of them being the outdated android 7.1 OS which can be slower in terms of connectivity and functionality.
It also has no android TV support and is comparatively larger than any other mini projectors. But if we ignore these and focus on its performance, it is a fairly good portable HD projector.
4. LG PF50KA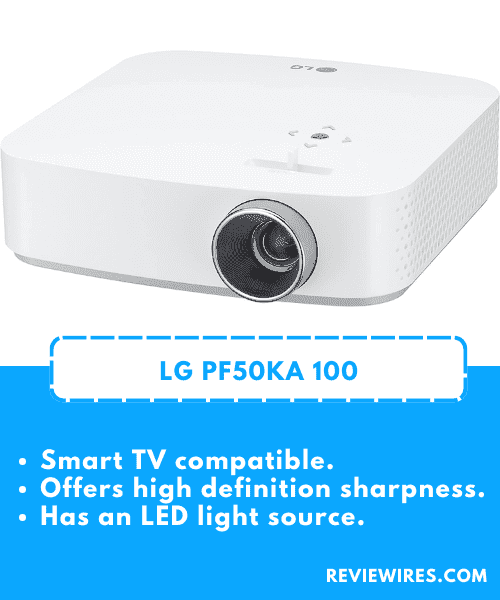 Features
Smart TV compatible.
Offers high definition sharpness.
Has an LED light source.
The LG PF50KA is a portable HT LED smart home theater projector with 600ANSI lumen brightness and color quotient. This makes it an ideal portable home theater projector that offers you premium quality of your favorite content in full 1080p high HD resolution.
This projector can project images up to 100 inches to give you a life-like experience while camping. In addition to this, It also has a feature of smart TV compatibility which lets you stream directly from your television screen.
The built-in battery of this projector can last up to 2.5 hours in one charge. You can also connect it to devices like laptop, smart phone and gaming consoles through its HDMI ports USB type-c connection.
Moreover, the additional lamp light of this projector is 30 thousand hours and accommodates a resolution of 1920 x 1080p. The projector weighs 2.2 pounds which makes it an ideal portable travel projector.
Pros
Cost effective
Easy to maintain.
Good native resolution.
Stylish body.
Cons
No zoom feature.
No keystone correction.
The LG PS50KA projector is a well built projector that offers great resolution and brightness. One of the perks of this projector is that it has a pre-installed Netflix, prime videos and many other apps.
Because of this you won't need any external device like chrome cast, Amazon fire TV stick, etc which undoubtedly is a plus point.
Though we would recommend adding an external Bluetooth speaker as the sound quality is not very loud and ambient. Overall, we found this to be a very good mini projector that can be used for camping purposes.
5. VIEWSONIC M1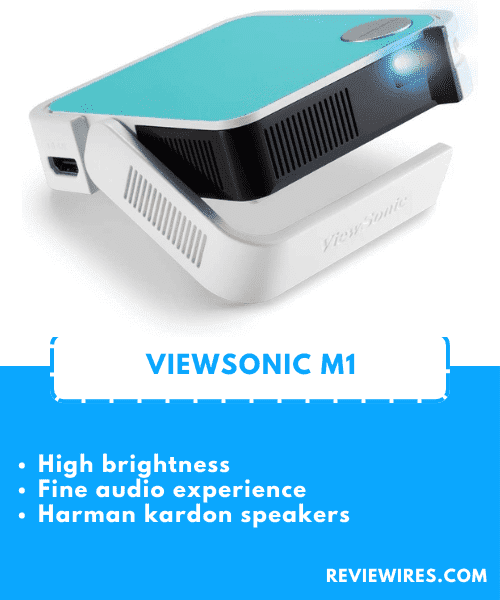 Features
High brightness
Fine audio experience
Harman kardon speakers
The ViewSonic portable projector is an IF design award winning LED projector that gives the user a resolution of 640 x 420p and has a brightness color quotient of 1200 lumens. . It has a built in battery with upto 2.5 hour power and an operational life of more than 30 thousand hours.
With a Weight less than 10 pounds, this little sized projector is bound to provide you with the best outdoor portable projector experience. It includes two USBs slots of type A and type C that will make connectivity to other devices like laptop, smart phones and gaming consoles.
The projector can project images up to 100 inches. You can also connect devices through a micro SD card slot to display your favorite multimedia content. Furthermore, the projector has built in dual Harman kardon speakers that will deliver the finest audio experience.
Pros
16 GB internal storage.
Extremely convenient to carry around.
Can be easily mounted.
Comes with a lens cover.
Cons
Has a Glitchy remote
Unlikeable color contrast.
We found this projector to be very well put together in terms of its compact size, however, the picture settings are really hard to adjust due to the comparatively small remote.
But the other features of this projector, like its kardon speakers, make up for the petty grievances we have with it. The autofocus feature is astounding and the quality is very sturdy.
Even though there are some blurred video ghosting problems, they are hardly Noticeable. In conclusion, this product is perfect for someone who wants a good portable projector.
6. KODAK LUMA 150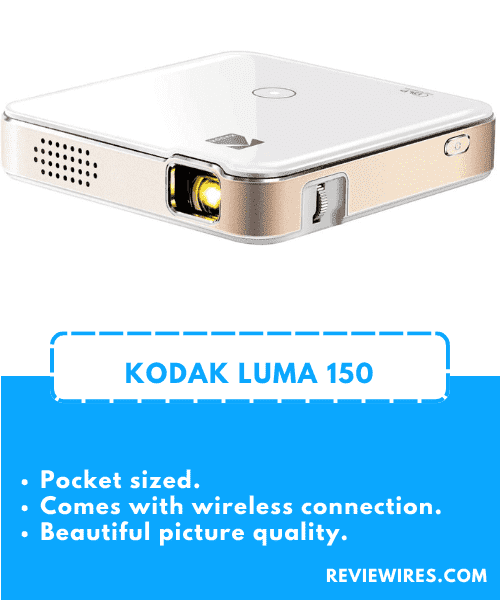 Features
Pocket sized.
Comes with wireless connection.
Beautiful picture quality.
This pocket projector produces very bright and vivid images due to its 854 x 480p 4k resolution. It has a contrast ratio of 1000:1 which offers crystal clear images in HD quality.
The projector has built-in speakers and an illuminated on board control. The said features will broaden up your sound requirements and provide you with ample volume and smooth functions.
The battery of this projector is rechargeable and runs up to 2.5 hours. This projector has HDMI and micro USB ports to connect with your devices like mobile phone, tablets, laptops and gaming consoles.
You can also connect these devices wirelessly via miracast. The projector weighs 1 pound only which makes it an extremely hassle free and easy to carry projector. Micro USB of this projector is rechargeable.
Furthermore, the projector can project images up to 150 inches. This feature enables us to cast life sized images to make our movie and camp nights even more fun loving.
In addition, the said projector will offer you a stunning 16:9 projection ratio. The device boasts 16 ansi lumen brightness LED lamps. This projector weighs 7.75 OZ and has a LED of 3000 hours.
Pros
Versatile viewing methods.
Ideal to play games in 4k.
Supports mobile to projector mirroring.
Is very easily portable.
Cons
Cannot screen cast Netflix.
Has a Short power cord.
This Kodak luma projector has top notch projection quality and along with that it comes at a relatively cheap prize. But to connect it to various streaming channels like Netflix, you would need an additional cable or another adapter.
The projector Is easy to set up but requires some major technicalities to run. It might not be the right projector for you to buy if you are looking for a solely entertainment based projector.
Nevertheless, this projector would be perfect for people looking for a low cost and portable projector.
7. ANKER NEBULA ASTRO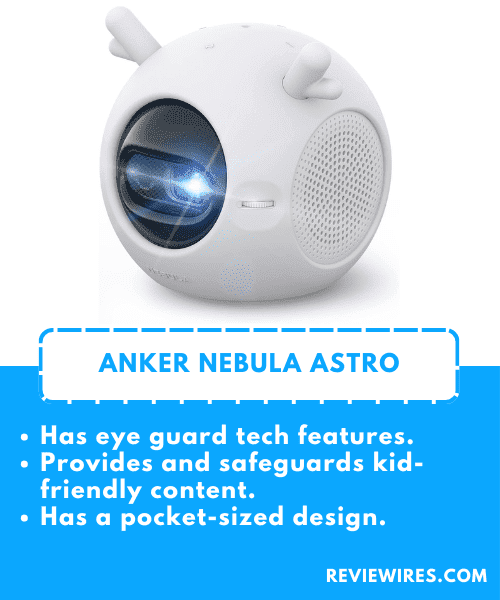 Features
Has eye guard tech features.
Provides and safeguards kid friendly content.
Has a pocket-sized design.
The Anker nebula Astro is a mini portable projector with a USB hardware interface. This projector offers the best cinematic experience with its 100 ANSI lumen brightness and native resolution of 854 x 480p. Moving further, this Projector can project images up to 100 inches and has ROM of 8GB.
Moreover, it can also work in Bluetooth speaker mode and has a charging time of 2 hours with 2.5 hours of battery life. An additional feature of this projector is its parental controls.
This would enable you to manage what your child watches and keep the content password protected. It has a bright DLP bulb and supports OTA, Wi-Fi, and Bluetooth.
Wired connections to your favorite devices like smartphones, gaming consoles, tablets via USB and HDMI ports. With a lamp life of 30000 hours and aspect ratio of 2:9 this is a power house of efficient functionality.
It also supports Netflix and Amazon prime video for you to stream your favorite shows. The projector weighs 13.1 ounces .
Pros
Has a customizable U I.
Offers an eye guard tech.
Small and compact body design.
Accommodates mirror cast feature.
Cons
This projector is costly.
Has a loud fan noise.
According to us this projector produces the sharpest images and has the smallest size. This makes it the best portable projector with high image quality.
The two speakers of the projector also produce ample and ambient sound. The only flaw this projector has is its high cost and a noisy fan which may cause disruptions in your camping night.
However, if used the high quality speakers easily camouflage the fan noise. Overall it is a very good projector for someone looking for a travel or movie projector.
8. NEBULA BY ANKER MARS II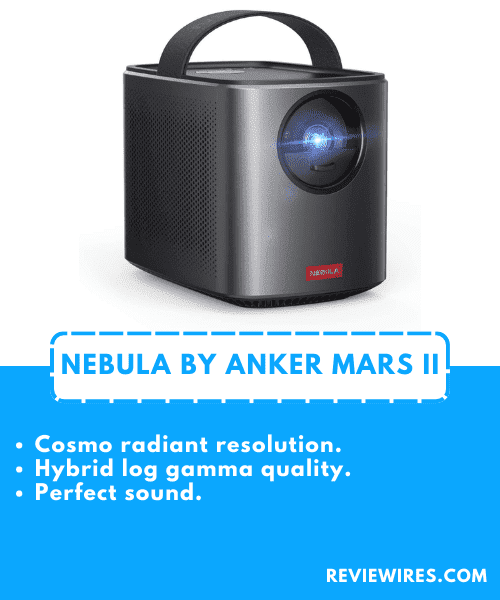 Features
Cosmo radiant resolution.
Hybrid log gamma quality.
Perfect sound.
The nebula by Anker mars projector has resolution of 1080p and 900 ANSI lumen image quality. This will provide you with the best HDR10 content of movies, sports, games in the vicinity of your room or camp night.
A projection size of 120 inches allows this projector to give you a cinema like experience. It also comes with the feature of digital zoom in which will make your content much clearer and readable.
An additional feature of this projector is its HLG i.e. Hybrid Log Gamma picture quality to bless you with crystal clear images.
Furthermore, additions to its features are its two speakers that are specially designed by DOLBY DIGITAL PLUS for 360 degree ambient and cinematic sound effects.
This projector also possesses android TV 9.0 and will let you choose from thousands of apps. This will help you stream your favorite content within the reach of your fingertips.
Your favorite multimedia devices like laptop, blu-ray players, smart phones and speakers can be connected to the projector through its USB and HDMI ports.
To connect them wirelessly you also have access to the wi-fi, Bluetooth or mirror cast features of this projector. The projector weighs 2 kg.
Pros
Has a keystone connection.
Supports google play
Video can be played in many formats
Has auto focus
Cons
Heavier than other mini projectors.
Does not support Netflix.
The anker nebula cosmos projector offers the best sound quality in comparison to its counterparts with an intense surround sound system.
It offers easy connectivity to other devices and would not cause you any trouble in mounting it. Though it is heavier than many other projectors, its projection quality easily outweighs its relatively large size.
In conclusion, this projector will be perfect if you want a good quality projector with maximum sound output.
9. ASUS S1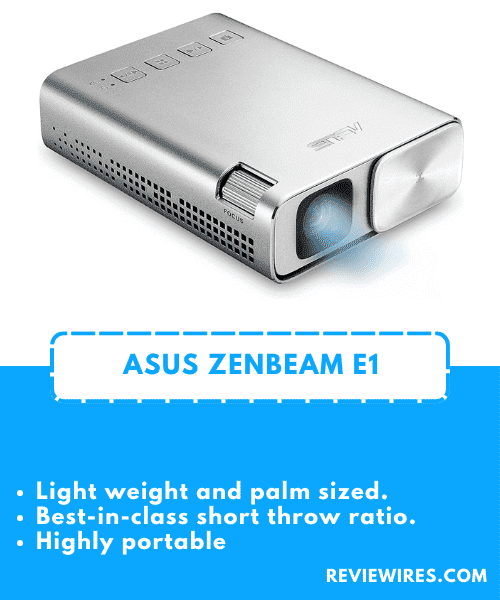 Features
Light weight and palm sized.
Best-in-class short throw ratio.
Highly portable
The ASUS S1 projector has a brightness quotient of 200 lumen and display resolution of 854 x 480p and only weighs 342 g which makes it easily portable. This projector has a built -in rechargeable battery that lasts up to 3 hours on one charge.
One of its salient features is that it can also act as a high capacity 6000 mAh power bank to enable you to recharge your phone easily while camping.
The HDMI and USB ports help you to connect devices like phone, gaming consoles, laptop to your projector. You can also stream your favorite content by connecting your projector to Amazon fire TV stick and chrome cast.
Moreover, this Projector can project images up to 100 inches and offers a short throw ratio of 1:1. It can also be mounted on a tripod stand.
These features make a very good all purpose projector. Additionally, the built in ASUS SONIC MASTER enhances speakers and provides high quality and authentic sound effects.
Pros
The projector is compactly sized.
Long battery life.
Comes with a carrying pouch.
Has a quiet fan.
Cons
Does not have digital file input port
Not compatible with iPhone.
The ASUS S1 has a very interesting size that is perfect for a light travel projector. The resolution and brightness of this projector is fairly good.
Along with that, speakers produce an appreciable amount of sound but you may need to attach an extra pair of external speakers.
We really liked the short throw ratio that this projector offers and also its cost effective nature. This projector is perfectly designed for someone looking up for a low cost and extremely portable small room projector.
10. MAGNASONIC LED POCKET VIDEO PROJECTOR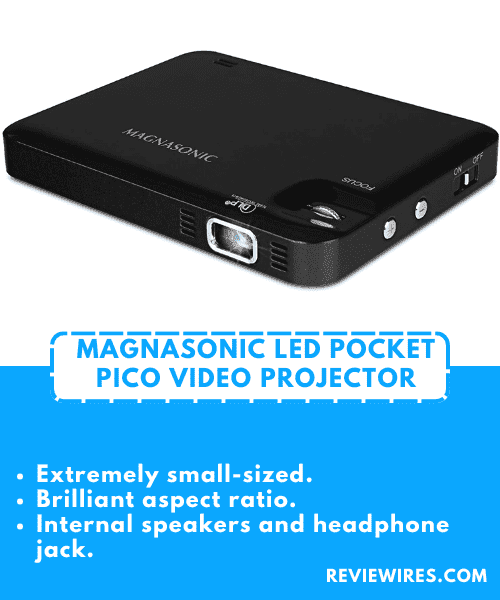 Features
Extremely small sized.
Brilliant aspect ratio.
Internal speakers and headphone jack.
The magna sonic LED is a pocket sized projector that will effectively bring you closer to an entertainment filled life. This projector has 640 x 360 pixel resolution and digital life processing technology that projects crystal clear and sharp images.
With a high contrast ratio of 1100:1 and a brightness quotient of 25 lumen, its pocket size design will provide you with maximum portability so that you can enjoy your movie nights and camping with your friends and family.
You can connect various multimedia devices to this projector through the micro USB and HDMI input ports along with that you can also connect your headphones or earphones through the audio jack present on the projector.
The projector comes with a tripod stand and has a projection size of 60 inches. It has a battery size of 2100 mAh and a battery life of more than 2 hours. The projector is powered by a micro HDMI hardware interface.
Pros
Smallest portable DLP projector.
Offers crisp projection.
Has a rechargeable battery.
Earphones can be connected.
Cons
Does not offer wireless connection.
Offers low brightness.
We found this MAGNASONIC projector to have a revolutionary compact design. But this projector is not ideal for meetings and presentations as it has a relatively low brightness quotient and less projection size.
The remote controlling feature of this projector is very helpful and this projector is ideal to be plugged and played during camping nights.
The speakers do not produce loud volume but we can use headphones easily through this projector. Overall, this projector stands out as the world's smallest DLP mini projector and is extremely cost effective also.
Buying Guide:
To buy the perfect projector for camping you need to pay heed to a certain amount of functions and features. Some of them are:
1. Portability:
To ensure that your camping goes hassle free and without any setup difficulties, opt for a projector with high portability.
2. Size:
Your projector neither needs to be a heavy duty one nor a large sized one. These factors will only make your projector difficult to accommodate. So go for a small-sized and compact projector.
3. Cost:
Be very aware of the price at which you are purchasing the projector. Don't buy very cheap or very costly projectors and instead choose a projector from mid-range of price.
4. Brightness and resolution:
A perfect projector has a high and extremely consistent brightness quotient. Buy a projector with relatively high resolution and brightness so that you always get the best picture and video quality.
5. Sound system:
Good quality audio output is as vital in a projector as its visual quality. Therefore, buy a projector with high quality speakers that provide you with ambient and surround sound experiences.
Why do we need projectors for camping?
Camping is considered to be one of the most indulging and entertaining activities. It is a family-friendly sport that requires the best of the best experiences and playtimes.
A projector will help you there. With a projector, you can make your gatherings and outings a lot more fun and endearing. You can watch movies with your family and friends or play collective, interactive and fun games with each other.
Along with that you can also reminisce about your past memories by playing videos, images and songs. Thus a projector can do wonders to the quality time with your family, friends and loved ones.
Benefits of compact camping projectors:
Projectors can be used for movie nights.
You can play your favorite songs using various applications offered by these projectors.
Spend meaningful time with your family and friends.
Have entertaining karaoke nights through these projectors.
Can be used as a medium to deliver playful and entertaining speeches.
Projectors are also less costly than televisions and offer higher projection ratio.
Frequently Asked Questions
Why do the projectors need to have a big projection size?
A big projection sized projector will project at a much better scale and will increase the readability of your content. Along with that it will give you a much better cinematic experience.
Where do I buy a good small camping projector?
You can buy a compact sized projector that is ideal for small rooms and for camping at many online shopping sites like Amazon, flipkart, etc. you can also buy a good projector from your nearest electronic store.
Do I need a screen to project?
No. a screen is not necessary to project the media you wish to watch. However, while camping you will definitely need a white sheet to project.
What resolution is the best for camping?
We would recommend a resolution and brightness of more than 300 lumens to be ideal for camping as the light is relatively dim during camping hours.
Conclusion:
In the given article, we have covered the compact, light-weight projectors for camping and a small room. These projectors will offer you with the best features and qualities you could ask for in an ideal projector and this list will surely guide you through which portable and small sized projector you should invest into.
In the end, we would like to recommend two products that we absolutely love and that would be best for your needs and requirements.
1. ANKER NEBULA CAPSULE
Offers the best brightness and contrast ratio and will suit your requirements of a compact and decently priced projector. It also has a crystal clear display that will enhance the visual qualities of your content and will definitely add brilliance to your camp nights and get-togethers. As an addition, the projector has awesome 360 degree speakers that provide ambience in the audio of whatever content shall please you. This projector is also cost-effective.
2. AKASO MINI PROJECTOR
With an enormously wide projection size of 150 inches, this projector is the best when it comes to projecting wide and vividly gorgeous images and videos. It is not that heavy and is also portable enough to be carried around and used on the go. Moving on, it also has efficient speakers to deliver you with terrific and supreme quality sound effects.