8 Best Projectors under $500
A projector is a very beneficial device and can really transform your movie watching experience to another level. Not just that, a projector can make a significant difference in your office presentations as well. Besides that a projector can be used for other wide range of purposes such as in a classroom, in weddings, in family functions and many more.
But you might be wondering that a good quality projector with good brightness and image quality will cost you an arm and a leg. You must be expecting that a projector with good quality will cost you at least in four figures.
However you will be surprised to know that you can also get a good quality projector with all the latest technologies without spending a huge amount. Here is an honest review of 8 best projectors under 500. These projectors are best in quality and will meet your standards in less than 500.
8 Best Projectors under 500
1. Epson Home Cinema 880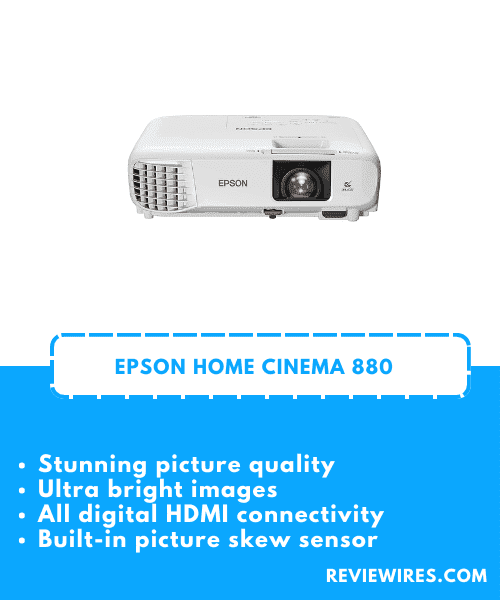 Features
Stunning picture quality
Ultra bright images
All digital HDMI connectivity
Built-in picture skew sensor
The Epson Home Cinema 880 is the brightest projector under 500 projecting ultra clear and razor sharp images. This projector can project bright and clear images even in ambient light and the image produced is also so giant. Moreover this projector is very portable and is the brightest portable projector at least at this price. Not just that this projector also has excellent and vivid colors.
In addition this projector has a resolution of 1080 pixels which is great at this price. The lumens of brightness it offers is remarkable. 3000 lumens is way too good, even better than most of the other costlier models. In fact it has not been a very long time since a TV also hardly managed to produce 3000 lumens of brightness.
Another remarkable feature is that this projector works on a lamp that too with an amazing life span making it a very durable projector. It is 6000 in normal brightness mode and in eco mode it gets double.
Furthermore this projector is really compatible and comes with one HDMI input and two USB inputs which is not bad at this price. It also comes with a 3.5mm audio input and you can attach an external speaker if needed. Although the quality of its in-built speakers is also decent.
Pros
3 LCD technology
Low fan noise
Full HD resolution
Flexible placement
The amazing brightness of this projector is what makes it the best projector under 500 and it is equally brighter for coloured as well as white images. 3000 lumens of brightness is absolutely great and is not available in any model at this price. Moreover the picture quality is also awesome and delivers a full HD resolution. In addition it comes with advanced 3 LED technology. These are some of the most stunning features that you get at a very negligible price making it one of the best options for you.
Along with that the contrast ratio is also great making the projector produce clear pictures even in a darker light source. It comes with a hassle free setup and has multiple connectivity options.
To sum it up the Epson home cinema 880 has the best features that any manufacturer can offer at this price. If you do not want to spend much then this is the best option for you.
2. WiMiUS P18 Projector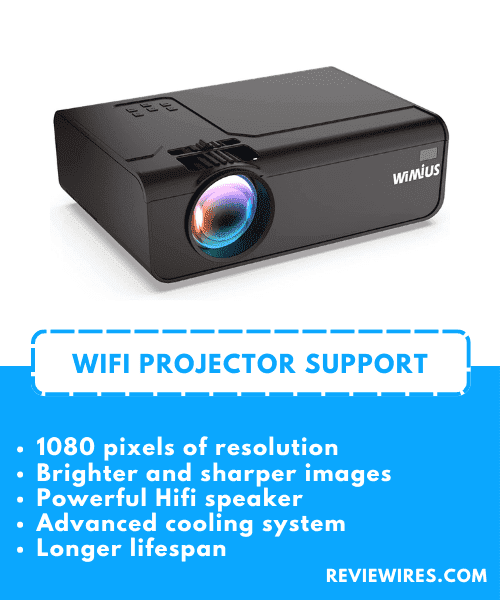 Features
1080 pixels of resolution
Brighter and sharper images
Powerful Hifi speaker
Advanced cooling system
Longer lifespan
The manufacturer of the WiMiUS P18 has launched this model with the view of providing the best picture quality to the consumers at a very affordable and pocket friendly price. In fact the brightness of this model has been increased by 20 percent. On the other hand the price has been reduced to make it more affordable.
The contrast ratio is as good as 4000:1 and helps in producing clearer pictures in both black and white. In addition it is 1080 pixels resolution enabled making it the best quality projector in terms of image produced.
Moreover it creates a giant size projector and has a projection scale of 20-200 inches. Not just that the sound quality is also great and it comes with dual stereo speakers. The sound quality is amazing and is enough to fill a medium sized room. In fact there is no need to connect any external speaker with it, saving your money even further.
Additionally this projector comes with an advanced cooling system that is two times more effective than other regular LED projectors. The lamp life is also remarkable and is 50,000 hors making this projector free from any maintenance and durable.
This projector is also very compatible and can be connected to a number of devices such as phone, TV, fire stick, PCs, notebooks, Chromecast, DVD players and many more. Icing in the cake is that the company provides lifetime warranty on this projector. Which is great as at this price most users feel that the product will not be durable.
Pros
Wide color gamut
Giant projection size
Lifetime warranty
Small size
You will not find a projector with a native resolution of 1920×1080 at a lower price than this. Even at a lower price this projector produces bright, clear and high quality pictures. The color accuracy as well as the precision of the image is of superior quality. Moreover this projector has a higher color gamut that it is no less than supercolour technology.
In addition this is a very compact and portable projector and hence is easy to take anywhere. The contrast ratio is great and it delivers good brightness and the contrast is completely life-like. Moreover the sound of this projector is also mind blowing. Overall this is a great projector and this is the best you can get at this price.
3. Yaber Y30 projector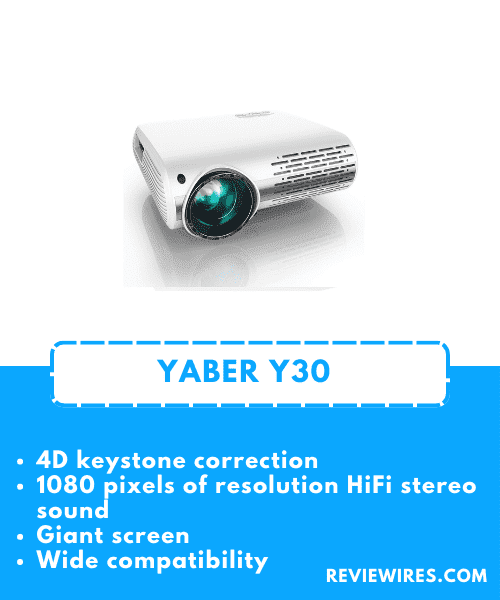 Features
4D keystone correction
1080 pixels of resolution hifi stereo sound
Giant screen
Wide compatibility
The YABER Y30 is the best projector available in the market right now for all those who are searching for the best projector for daylight viewing. The brightness of this projector is so high that it can project a clear picture even in bright sunlight. Moreover the 7000 lumens of brightness is one of the highest available in the market. In addition this feature is available at a very low cost. Most of the other projectors with the same features are way more costlier than the Yaber Y30.
Furthermore this projector is the first projector in the market to come up with the feature of vertical and horizontal keystone correction. This feature ensures that the image that is produced is always a standard rectangle. Hence the feature of keystone correction has rectified a problem most of the other projectors face.
The feature that makes the Yaber Y30 the best projector for daylight viewing is that it comes with the VGA video output. This feature helps in producing crystal clear pictures way more clearer than the one available in more costlier models. In addition this feature allows the projector to create a wide spectrum of colors even in bright sunlight making it the best projector for daylight viewing.
In addition to the best picture quality the projector comes with the best audio as well. It has built in 3W dual stereo speakers with the SRS sound system providing the best sound without attaching any external speakers. Moreover the projectors come with an ultra advanced and silent cooling system with 3 fans working simultaneously.
The lamp life of this projector is unbelievable and is 100000 hours. This is the best any projector at this price offers. Therefore this projector is pocket friendly and maintenance free. You can use these projectors for years without spending any money on its maintenance.
Besides these features the projector comes with 6 months back and 3 years repairing warranty. Not just that it comes with a lifetime free technical support making it the most convenient to use a projector for you. If you face any problem you can call the customer care anytime and they will be available at your service.
Pros
Built in speakers
Advanced cooling system
100,000 hours of lamp life
Wide compatibility
If you are looking for the best projector for daylight viewing then the Yaber Y30 is one of the best projector available in the market at a very decent cost. This projector comes with so many features that are not available in any projector in the same price range. It has the best video as well as the sound quality making it all in one model.
Moreover the best daylight viewing projector is the one with a lot of brightness. You will not find a projector with 7000 lumens of brightness at least in the same price range. Hence the projector produces clear and crisp images even in the bright sunlight making it the best projector for daylight viewing.
In addition the lifetime support that is offered by the company gives additional perks to you. This feature along with the amazing lamp life makes it easy to maintain and pocket friendly. Hence this is the best projector for daylight viewing and you should definitely buy it.
4. Kodak Luma 150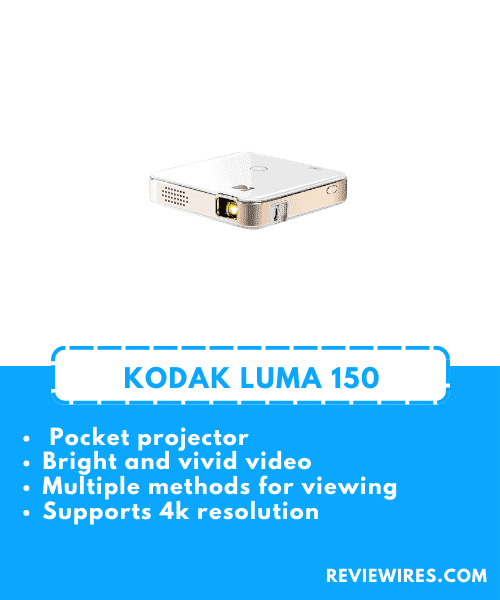 Features
Pocket projector
Bright and vivid video
Multiple methods for viewing
Supports 4k resolution
The Kodal luma 150 pocket projector is the premium subordinate to your smartphones and laptops and helps you create a theatre-like experience anywhere anytime. It is the most portable and compact projector you will ever find and can be easily fitted in your pocket.
As it is very tiny in size therefore there are certain drawbacks but by and large this is a great projector that lets you project a big screen anywhere with lots of ease. In addition the features that it provides are great according to its price making it the best deal for you.
There are so many mini projectors available in the market but none of them provides the kind of gusto the Kodak luma 150 does. It weighs just 1 pound and is very very portable. Most of the projectors are aimed at a certain audience but the Kodak luma 150 is perfect for movies as well as business presentations and also for any other need a projector can fulfill.
In addition to this the picture quality of this projector is great and has a resolution of 1080 pixels and is 4K. The brightness is also decent and is 60 Ansi lumens which is roughly equal to 420 lumens. The brightness is not as great as other projectors reviewed here but this is mainly because of the tiny size of this projector.
Movies will look excellent on this projector as it has a native 16:9 ratio display hence projecting a giant screen giving you a very dynamic experience. Furthermore the contrast is also decent and the screen size is 120 inches which is exceptional coming from such a small device.
Pros
Modern design
No rainbow effect
Rechargeable powerful battery
Cons
Brightness is not very great
This is the best portable projector that can be used for multiple purposes and is hence very versatile. This projector has great touch controls, DLP technology and near-universe device compatibility. All these features are excellent and you will not find them in a projector with such a compact size as well as with such a less price.
Not just that it can also play media for a SD card or through a USB and even has a provision of HDMI this means that this projector has very wide compatibility. Moreover this projector comes with a tripod and is hence even easier to operate.
In order to increase its portability the projector comes with a rechargeable battery with a span of 3 hours which is better than most of the other projectors. 3 hours of battery life is absolutely amazing and worth buying at this price. All these features make this projector a perfect projector under 500 and is hence a must buy.
5. BenQ MW535A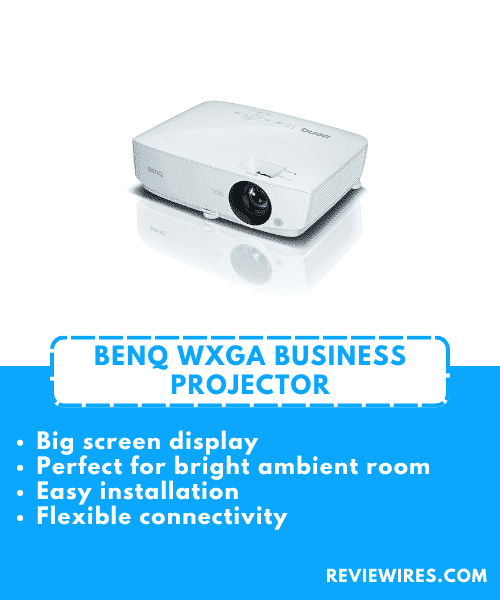 Features
Big screen display
Perfect for bright ambient room
Easy installation
Flexible connectivity
The BenQ MW535A projector is a very bright projector which is aimed specially for the business and education market. The brightness of this projector is 3,600 lumens and is designed specially for places where you can not control lightning. In addition to this the contrast ratio is 15,000:1 which is not at all bad for a DLP projector under 500.
This projector comes with a native resolution of 1280×800 which is decent. It is intended basically for a small conference room or a classroom with not more than 10-15 participants. The projector works on a mercury lamp of 210 watt. In addition the lifespan of the lamp is also great. It is 5000 hours in normal mode and 10,000 hours in eco mode. Moreover it is 15,000 hours in smart eco mode hence making this projector very durable and maintenance green.
Furthermore the screen size is also remarkable. It can project a screen between 30 to 300 inches diagonally which is exceptional. Along with the great picture quality this projector comes with easy setup and has a digital vertical keystone and also built in test patterns. This feature takes care that there is proper color as well as symmetrical shape to your projection. Additionally the auto power off switches off the device automatically after 20 minutes and hence further saves the energy.
Some of the drawbacks of this projector is that it comes with only a single 2 watt speaker. The sound of this projector is not so good and you need to attach external speakers with it.
Pros
Amazing display
Great lamp life
Offers digital zoom
3D availability
Cons
Sound quality is not so good
Fan is bit noisy
This projector is ideal for offices or conference rooms and is one of the best projector under 500. The image quality of this projector is exceptional with a very good brightness. Hence this projector works well even in a well lit room making it suitable for offices and classrooms. The projector is really durable with great lamp life and additional eco and super eco mode.
The sound quality can be ignored as you need to attach speakers with most of the projectors. Moreover the amount of brightness that this projector provides will not be available to you at this price. So this is a great value for money deal and you must go for it without thinking twice.
6. Brookstone wireless projector
Features
Wireless
Rechargeable battery
Dual built in speakers
Focus control
The Brookstone wireless projector is an extremely portable device with a minimal price and a decent sound quality. It is so small that it can easily fit into your pockets or your purse. Hence it is very convenient for you to carry it anywhere you want. The image quality is really good as per the price.
In addition this projector comes with a rechargeable battery that works uptown 2 hours which is also not bad and is a really great feature at this price. Moreover its battery can charge other devices via a USB hence it can even work as a power backup in case of emergency.
This projector works on LED technology and has a brightness of 2200 lumens which is pretty decent at this price. Although it is not as good as other big size projectors available in this range. Its internal DLP technology helps in producing greater contrast ratio which can help in producing great detailed pictures.
One drawback of this projector is that it does not get connected with an IOS device. In order to connect it with an apple device you need to connect it via an adapter. Another drawback is that there is no memory card or USB slot with this projector. Also the sound quality of the in built speakers is not so great and you need to attach external speakers with it.
Pros
DLP 4K UHD resolution
Compatible with variety of devices
Great contrast ratio
Cons
Adapters needed for non HDMI devices
This projector has great image quality and it works on a 3LCD chip which displays bright coloration results. Moreover there is no rainbow effect or any lag. Another great quality of this projector is that it is photo best. It produces razor sharp images with its 2200 lumen lamp.
Furthermore this projector has a great projection size of 120 inches. It comes with 8.3 million pixels which is too good for its price. You will not find a portable projector with such a great image quality at this price hence this is the best portable projector under 500.
7. ViewSonic PX700HD Projector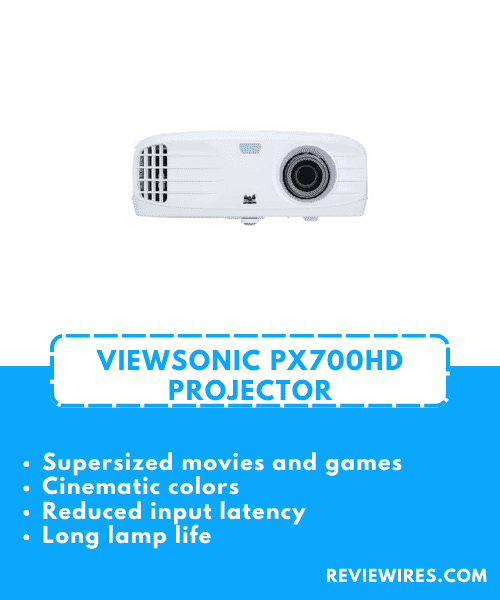 Features
Supersized movies and games
Cinematic colors
Reduced input latency
Long lamp life
The ViewSonic PX700HD projector is one of the best projector for gaming as well as for home entertainment. It is the best projector in terms of brightness, resolution and input lag. In fact it is very easy to set up and operate which makes it user friendly in a true sense.
This is a full HD projector with a resolution of 1080 pixels and a brightness of 3500 ANSI lumens. These features allow this projector to deliver crystal clear and razor sharp images with vivid and lively colors. Moreover the brightness and the less response time of this projector makes it a best projector for gaming.
Additionally the low input lag allows the game in command to appear on the screen as soon as you give it. This projector is hence best for gaming and has 3 times faster input. It takes your gaming experience to a whole new level.
Not just that the input latency of this projector is another factor that makes it ideal for gaming. The input latency has been reduced giving you an ideal environment for intense action gaming.
Moreover this projector can be used anywhere and it works well even in a well lit environment as the brightness of this projector is at its best. This projector is also equipped with ViewSonic exclusive color technology and due to this the projector produces real life like colors.
Pros
Dedicates sports mode
Ultra low input latency
Full HD 3D compatible
Exclusive super color technology
Cons
Lamp life is not very good
This projector is the perfect pick for you if you are a gaming enthusiast. In fact you will not find any projector with such a low input lag at this price. To get such a quality of gaming projector you would need to spend much higher. In addition it comes with a special dedicated sports mode that makes your gaming experience even more dynamic.
Moreover it is full HD and 3D enabled which means you can enjoy your games and movies in 3D view. The picture quality of this projector is best and you will not get such features in any other projector under 500. Therefore gaming is your passion and you do not want to spend much on a projector. This is the best pick for you.
8. BenQ TH585 1080P Home Entertainment Projector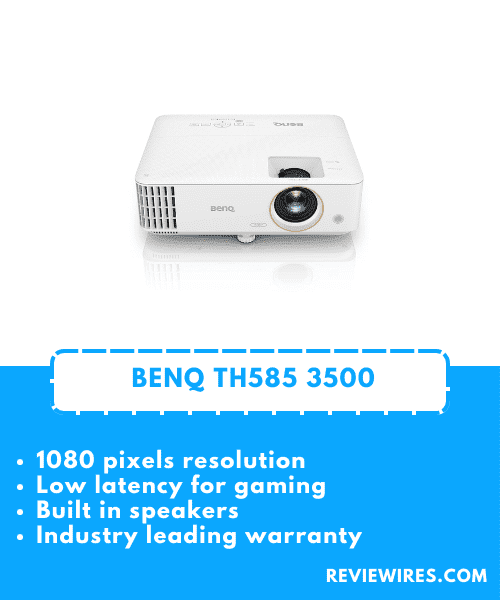 Features
1080 pixels resolution
Low latency for gaming
Built in speakers
Industry leading warranty
The BenQ TH585 is the lowest cost product of the manufacturer but it offers you a lot more than its cost. This projector is made specially for the purpose of home theatre which means that it is perfect for gaming as well as for watching movies. In addition it can work well even in ambient lighting as opposed to traditional home theatres that worked only in dark.
For gaming this projector offers ultra low input lag which helps the projector to project your command within microseconds. Moreover there is an additional game picture mode that helps in projecting the shadow details in dark corners. It also offers accurate color accuracy and contrast suitable for movies.
Additionally this projector is extremely portable and can be held in just one hand. Hence it is easy for you to carry it anywhere you want. Moreover its contrast ratio is 15000:1 making it the best projector under 500. It will also allow you to experience blu-ray video and HD broadcasting .
Furthermore it comes with BenQ eco cycle system which helps in eliminating electricity waste and also reduces power-up wait. It has a lamp life of 10,000 hours and above it there is a smart eco technology analysis which saves upto 70 percent of lamp life.
Pros
Digital connectivity
Vertical keystone correction for perfect alignment
Great lamp life with smart eco technology
Triple adjustment feet
Cons
No smart TV functionality
If you are looking for a projector for gaming or movies in ambient light and in addition you do noy want to spend more than 500 then the BenQ TH585 is the best option for you. This projector is best in terms of input lag and image quality. Additionally it has great lamp life and is hence durable. Also it is compatible with a variety of input devices making it user friendly. Its keystone correction makes it even easier to set up.
This projector offers a lot for its price and is hence the best projector under 500 and you should definitely get it.
Frequently Asked Questions
How much brightness should a good projector have?
Brightness of a projector basically depends on the purpose for which you are buying it. An indoor projector has less lumens of brightness whereas an outdoor projector has more lumens of brightness. A projector suitable for all spaces must have at least 2000-4000 lumens of brightness.
Which color screen is best for a projector?
A white or gray screen works the best with a projector.
Can I project the screen from my phone?
Yes a projector can be connected to your phone via USB or if your projector is wireless than also via Bluetooth.
Conclusion:
The consumer market of projector has a lot to offer ranging from best budget projectors to the cheap budget projectors. There are a wide range of projectors offering great brightness, contrast ratio, image quality, sound and many more amazing functions. It sometimes becomes very hard for the users to find the best projector for them from all these wide varieties of options. Hence here all the best projectors under 500 have been overviewd for your convenience so that you can choose the best one for you without any confusion.
All these projectors come with the best and latest features and offer superior performance. None of the models reviewed in this article is going to disappoint you. So just choose the one that is best for you from this list and you will not regret buying it.