A gamer can be one of two types. Casual gamers are one group. Due to this, they would rarely play games and therefore do not require a lot of advanced features. Alternatively, there are people who are professional gamers who need all the advanced features in a monitor.
The BEST gaming PC with the best gaming performance for an excellent gaming experience can be hard to find. Any missing feature will result in poor performance of the game.
It is very expensive, however, to buy monitors that are specifically designed for gaming, and will also break our bank account. . So for that reason, we have compiled this article that will help you find the right monitor for gaming that is under 300 dollars and has the right features.
Therefore, keep reading to gain knowledge about gaming monitors and how to decide which monitor you should buy…
Buying Guide- How to Choose Gaming Monitor Under $300
There are certain features to look for while buying a monitor under 300, these are as follows:
Display Size and Resolution:
It is important to look at the screen size along with the resolution of the monitor to make sure that it has a decent pixel density so that it does not suffer from blurring and its images look sharp.
As for the example, 1440p is a better choice for 27-inch monitors. But on the other hand, 4K resolution on a 27-inch monitor will overkill the display.
Refresh Rate & Response Time:
Refresh rates and response times are the key factors for showing how many times per second the display is able to draw a new image and the time it takes to shift from one color to another color. Therefore, a high refresh rate monitor has a slower response time. As a result, the image is updated much quicker with a high refresh rate monitor. The time it takes pixels to change colors is much shorter.
However, the 60Hz refresh rate and a 5ms response time will get the basic job done for most of your day-to-day tasks and standard gaming BUT for excellent gaming, you will need a higher refresh rate and low response time.
Panel Type:
Gaming professionals still prefer TN panels, since they are responsive and have quick pixel response times. However, a TN panel has few limitations likewise- viewing angles which are narrow, low contrast, color uniformity, and color accuracy.
Panels made of IPS technology have superior color performance and a greater viewing angle, but poor contrast.
In addition to offering strong contrast, VA panels are ideal for content that contains dark shades.
Adaptive Sync:
Adaptive-Sync technology is intended to improve the visual experience by reducing screen tearing and stuttering. Therefore, FreeSync or G-Sync is the feature that is popularly used in single-player games on a monitor which helps in providing an outstanding gaming experience.
7 Best Gaming Monitor Under $300
1. GIGABYTE M27Q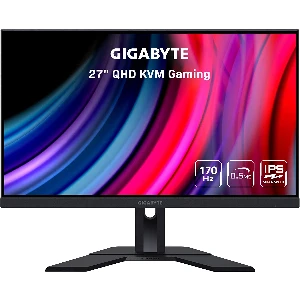 WHY DO WE LOVE IT?
The great screen display of 27 inches, 1440 pixels, and an IPS panel.
Built-in AMD FreeSync and Eye Care technology.
High refresh rate and very less response time.
Pros
Large screen and high resolution.
High refresh rate and response time.
Low blue-light and flicker-free technology.
Cons
Low contrast ratio.
Very few ergonomics.
Without a doubt, this is the best monitor for gaming under 300. With 1440 pixels of resolution the 27-inch screen size of the monitor together with its IPS panel makes the images look crisp without blurring of images.
It's AMD FreeSync technology helps in smooth gaming without tearing of images. Moreover, the refresh rate and response time are 170 Hz and 0.5ms resulting in detailed display quality with a smooth and fluid gaming experience. Also, the ergonomic features have titling and height adjustment features so you can personalize them accordingly. Furthermore, to protect our eyes the monitor also has eye care technology in which the blue light wavelength of the monitor is reduced to prevent eye-straining so you can play games for as long as you want.
In our opinion, this is the best monitor to buy as it has the necessary features that a gaming monitor requires. You will get all the comfort and flexibility through this monitor. Although it lacks the swiveling feature which might not be that important as you are getting other amazing features at such a price.
2. AOC CQ27G2
WHY DO WE LOVE IT?
Brilliant curved display with 27 inches and 1440 pixels of resolution of the screen with very thin bezels.
Fast refresh rate and response time.
VA panel which has wide viewing angles.
Built-in blue light filter technology.
Pros
High refresh rate and quick response time.
High contrast ratios resulting in deep blacks.
Excellent and vibrant colors.
The AOC CQ27G2 is a great monitor under 300, as its 1440p resolution with 27 inches of display provides an amazing gaming experience. With a 144 hertz of refresh rate and 1ms of response time, every frame is rendered sharply and in a smooth flow, so you can line up your shots accurately and appreciate its high speed and all the inputs are displayed quickly on the screen.
Thus, its VA panel displays use an advanced technology that gives you extra-wide viewing angles of 178 degrees which makes it possible to view the screen from almost every angle. Also, this panel helps the images look vibrant and life-like.
The AMD FreeSync Technology ensures that the monitor's refresh rates are synchronized, which delivers a tear-free and fluid gaming experience at the highest performance. Moreover, its curved design will enhance the way you play your games and will help further immersing yourself in the action.
To summarize, it is a fantastic curved monitor which is right within the range that everyone can afford. It has features such as AMD FreeSync Technology, fast 144Hz refresh rate and 1ms response time, curved design, VA panel for wide-viewing angles, and FlickerFree and Low Blue Mode Technology all together make it a great monitor. We will definitely suggest you buy this monitor if you are looking for a curved one within 300 dollars.
3. Dell S2721Q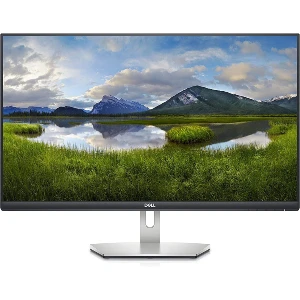 WHY DO WE LOVE IT?
Designed with 3-sided ultra-thin bezels.
IPS technology together with 99% sRGB color coverage resulting in wide viewing angles.
It has FreeSync support and G-SYNC compatibility that reduces screen tearing and blurring.
Pros
Large screen and high resolution
Great ergonomics.
Fast response time.
Cons
The refresh rate is limited to 60Hz only.
The Dell S2721QS is a great budget 4k monitor with 27 inches of screen size resulting in sharp images and texts. Its IPS panel and great color coverage make its viewing angle wide and AMD FreeSync technology helps in a smooth gaming experience.
Not just that the FreeSync technology also helps in reducing the screen tearing or blurring of images which will make the performance of your monitor impeccable. Moreover, the three-sided ultra-thin bezels make the display look sleek and avoid distractions while gaming.
The refresh rate of this monitor is limited to 60hz, but it shouldn't be an issue as the gaming in 4k is still quite demanding for some people. Therefore its widescreen is best for multitasking so you can play games and at the same time you can open other applications.
In our opinion, this is a great monitor for gaming but it still lacks the fast speed of response time and has a standard refresh rate. But other than that this monitor is excellent for multitasking so you can open many applications at once. If you are a casual gamer and not the professional one then this monitor is just made for you!
4.ViewSonic XG2402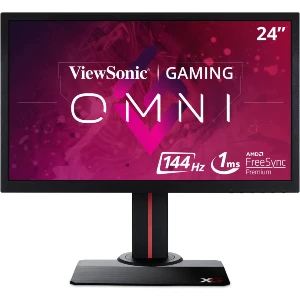 WHY DO WE LOVE IT?
Convenient 24inch display with 1080 pixels of resolution.
With advanced ergonomic features to keep you moving and comfortable.
The excellent refresh rate of 144 hertz and quick response time of 1ms.
Pros
Best gaming experience. 
Quick response time and high refresh rate.
ColorX feature for customizable visual mode.
Cons
Poor dark room performance.
ViewSonic XG2402 is a great monitor of 24-inch screen size and 1080p resolution, which is quite small in size but the resolution is very well suited for such a small-sized display. Due to which there will be no blurry or tearing of images.
It has the ultrafast 1ms of response time and 144 hertz of refresh rate so it will hardly take a blink of an eye to see the shift from one color to another, also your screen will draw new images 144 times in a second.
Therefore, response time and refresh together will give you the edge in all your gaming quests. Moreover, the AMD FreeSync technology helps in enabling smooth frame rates so you can enjoy fluid, flicker-free, and stutter-free images.
Further, this monitor is fully ergonomic, you can adjust the height, pivot it into portrait mode, swivel, and tilt it according to your comfort. Additionally, this monitor also has a feature called ColorX for customizable visual mode for gaming. Overall this is the best monitor for gaming under 300 and you should definitely buy it.
To summarize it is the right monitor if you are looking in a small size as its display size is 24 inches. Although it is small in size still the display is perfect with 1080p resolution. Moreover, it has excellent motion handling because of its fast response time and high refresh rate.
Although this monitor does not have the best viewing angles, it has advanced ergonomic features so you can adjust it accordingly for comfort and flexibility. Overall, at such a price this is the best monitor in the most convenient size you can ever buy!
5. GIGABYTE G27Q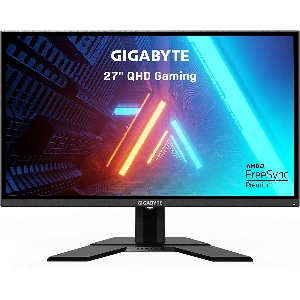 WHY DO WE LOVE IT?
An amazing display with wide viewing angles and sharp images.
Built-in eye care and flicker-free technology and speakers with amazing sound quality.
Backed by AMD FreeSync technology for smooth and fluid gameplay.
Very high refresh rate and quick response time.
Pros
Excellent refresh rate and response time.
An amazing display of 1440p resolution and 27-inch screen size.
Backed by AMD FreeSync technology. 
Built-in low blue light and flicker-free technology. 
The GIGABYTE G27Q is an amazing gaming monitor with a 27 inches wide display and 1440 pixels resolution. It has an IPS panel which means it has wide viewing angles, but it has low contrast ratios that make blacks appear gray in the dark environment.
Besides that, it has a quick response time of 1ms and a high refresh rate of 144 hertz which results in a quick change in colors of images and drawing 144 new images every 1 second. In addition, the IPS panel helps in wide viewing angles, and its AMD FreeSync technology helps in smooth gameplay.
Moreover, this monitor has multiple features to enhance your gaming experience such as Black Equalizer, which allows you to have more details of the dark side. Aim Stabilizer- it reduces the motion blur so can have better visual clarity and aim your target.
Dashboard- reveals information like clock speed, temperature, CPU voltages, etc without blocking your game. And OSD Sidekick- that allows you to set the display options with keyboard and mouse.
Furthermore, the ergonomics have a height adjustment and tilting feature, a low blue light feature for your eye health protection, flicker-free technology to prevent eye strain, and clarity in the quality of sound.
Looking at its features, pros, and cons, it is an amazing monitor with numerous features that will together give you the ultimate gaming experience. Not just that, this monitor also has eye care technology to protect your eyes from harmful blue light wavelengths and flickering of the screen. Although it has low contrast ratios, if contrast ratios are not a problem to you then this is the best monitor for gaming under $300.
6. AOC CQ27G1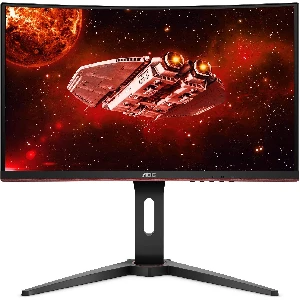 WHY DO WE LOVE IT?
Elegantly curved display with ultra-thin bezels on the 3 sides.
Built-in flicker-free and eye care technology.
Quick response time and high refresh rate.
Pros
High contrast ratio.
Accuracy in colors of the display.
Curved display.
The AOC CQ27G1 is an amazing curved gaming monitor with QHD 2k 1440p resolution and 27-inch widescreen that allows you to view greater detail with more spacing, in crisp and vivid visuals. This brand is very well known for its VA panels as it has wide viewing angles and is best for gaming.
Moreover, it has the fastest 144 hertz of refresh rate and 1ms of response time delivering the fastest gaming performance. And the AMD FreeSync technology allows smooth and fluid gameplay. Also, FreeSync helps in no stuttering or tearing of images that will help prevent your eyes from irritation.
Furthermore, you can expand your view with multiple monitor setups as it has ultra-thin bezels which are almost seamless. In addition, the flicker-free and low blue light technology help in minimizing eye strain and fatigue so can have intense gaming sessions for long hours and still be comfortable.
Lastly, its curved design provides an immersive gaming experience so that you can see every detail on the screen without too much movement of your eyes.
Under $300, we think this is a great curved gaming monitor! It has all the features a professional gamer needs in a monitor. A beautiful curved display, a wall-mountable monitor, ergonomics, and AMD FreeSync for fluid gaming are also factors to consider.
However, this is the perfect curved monitor if you want to stay below $300. Not only will you be able to save a lot of money, but also get something very valuable.
7. Sceptre C305B-200UN1.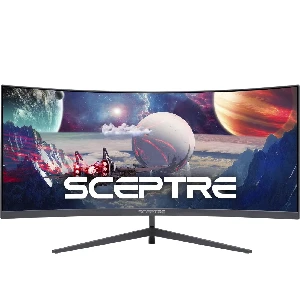 WHY DO WE LOVE IT?
Uniquely curved and beautiful display.
Backed by AMD FreeSync technology for smooth and fluid gaming.
Built-in eye-care technology to prevent eye-straining.
Pros
At a convenient price.
Rich pixel density and high contrast ratio.
Backed by AMD FreeSync.
Cons
Only one ergonomic feature(tilt-only).
The Sceptre C305B-200UN1 is a 30″ Curved Gaming Monitor with a 2560 x 1080 Full HD Resolution display. Having 1080p on a large screen size like 30 inches is not a very good idea but this monitor also has HDR400 which enhances the dynamic contrast ratio and illuminates colors up to 50% brighter than SDR while displaying profoundly clear dark colors. Together with the VA panel you get a higher contrast ratio with more vivid brightest and the darkest shades.
Further, the refresh rate of 200 hertz gives the gamers an edge of visibility as the transition of images is so quick leaving no blurred images. Plus, it has AMD FreeSync technology, you will enjoy smooth and fluid gaming performance.
Moreover, the Blue Light Technology reduces your monitor's blue light to protect you from eye fatigue, irritation, and strains. This enables you to work on your documents, watch movies, or play games more comfortably for extended periods. Lastly, there are numerous features such as anti-flicker, built-in speakers, VESA wall mount, and thin bezels for an ultimate gaming experience.
To summarize, this monitor is one of the best gaming monitors and the best part is that it is right within your budget. From curved screen to the fastest refresh rate, this monitor will give you an extraordinary experience in gaming. Although it may lack ergonomics except tilting, overall this monitor is for gaming under $300.
Frequently Asked Questions
What's the difference between 60Hz, 144Hz, and 240Hz?
The higher the hertz is, the more often your monitor will refresh the screen. The difference between 60Hz, 144Hz, and 240Hz is that of speed. For example, if your monitor's refresh rate is 60 hertz then the 60 new images will form in one second. 
Which size of a monitor is better, a 24-inch or 27-inch?
Of course the bigger the size, the better it is. When it comes to gaming you should opt for a 27 inch one for bigger and better visuals. 
How do I choose a Monitor size?
The size of your monitor is totally dependent on your budget, so if you have a good amount of budget then you should spend it on a bigger monitor size for an extraordinary gaming experience.
Is FreeSync worth it?
Yes. Having FreeSync technology in your monitor helps in the smooth flow of the game. It reduces the tearing and stuttering of the screen so you can enjoy the game without being interrupted.
CONCLUSION
Choosing the right monitor will make a huge difference in your gaming experience, and to help you find that right monitor, we've put together this list of the best gaming monitors for under 300 dollars along with a buying guide.
You will be able to determine what features and elements you really require in a monitor by using the buying guide. Since all the given monitors are best for gaming and are under 300, here are the two best monitors to choose from:
What makes this monitor best is its massive curved screen which will make you more addicted to games but at the same time will protect your eyes.
This is the fastest curved monitor which will deliver a smooth and amazing gaming experience.