Curved monitors are well known for providing an immersive view to users. It gives the most enjoyable experience that while staring at its screen, you will forget all the things going on in the surroundings.
We normally look at the real world, which is 3-dimensional. However, curved screens expand on peripheral visions creating an image on the screen that looks like a real-life object.
Therefore this phenomenon attracts us to curved screen displays so that we can enjoy a more realistic experience.
Moreover, the curved screens limit the distortion while looking at the screen as they are designed in such a shape everything is aimed at the viewer. As a result, we are more comfortable than that of the flat screen.
It allows the viewer to take in everything at once instead of stressing your eyes and causing strain. Other than that, the curved monitors offer a large perceived field of view.
Overall, curved monitors are the best to buy because of their many benefits. To help you figure out what aspects to look at in it and to buy the best-curved monitor, we compiled a buying guide and a list of the best-curved monitors.
4 Best Curved Monitor
1. SAMSUNG 49-inch Odyssey G9
Best Pick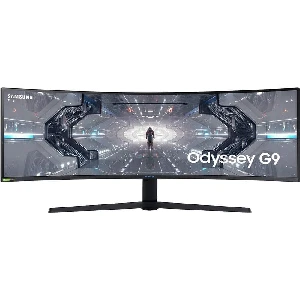 WHY DO WE LOVE IT?
The screen is massive, and its curve matches the curve of the human eye, providing an immersive experience.
Have a great resolution and HDR range, making images look sharp.
Best known curved monitor for gaming.
Pros
Massive screen with crisp images.
Very fast response time.
1000R of curvature, giving an immersive experience.
The SAMSUNG's Odyssey G9 curved monitor is a massive monitor with a 49-inch display and 1440 pixels of resolution delivering an immersive experience with its huge display.
Plus, the curvature of the curve is 1000R, which matches the curve of the human eye, which, as a result, provides maximum immersion and reduces eye strain by letting your eyes take in everything on display at once.
Moreover, it has cutting-edge QLED technology, which allows the deepest blacks and vivid colors. Overall it ensures pixel-perfect picture quality and a high class of reproduction of colors with 125% more color space.
Further, the refresh rate of 240 hertz allows a change of 240 images every second, which, as a result, prevents the blurring and provides clarity in video games especially.
Additionally, its fast response time of 1ms makes the technology take in information quickly and display it on the screen. Overall this is the best-curved monitor, which will also help you in staying productive with its 32:9 ratio and open multiple windows at once.
In our opinion, this is the best-curved monitor you can buy as it has a massive screen size and great picture quality. Moreover, the curvature of the monitor matches the curve of the human eye, which together delivers an immersive experience.
Also, the display ratio is 32:9, giving you the most space with MultiView so that you can stay productive. However, this monitor is quite expensive, so if you have an ample amount of budget, then you should buy it.
2. Dell S3221QS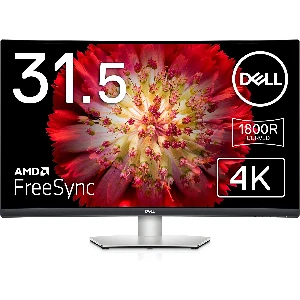 WHY DO WE LOVE IT?
Designed with sleek and ultra-thin bezels.
Best curved monitor for the office, gaming, and watching movies.
Flexible ergonomics for more comfort while working or staring at the screen.
Pros
Great contrast ratio
Amazing screen size with 4k resolution.
Precision and clarity in the text.
Very thin bezels
The Dell S3221QS is a great convenient-sized monitor of 32 inches and 4k resolution, which together will let you enjoy incredible, immersive, and detailed images with clarity. Especially its curved display with 1800R screen provides a wrap-around view for an immersive movie experience as it expands your field of vision and lets you take in every detail that is displayed on the screen.
And together with the 4k display makes the images look sharp and crisp; you get to see every detail of the image. Moreover, it has a decent color accuracy with sRGB color coverage, plus its contrast ratio is high, which overall will give you life-like images.
Other than that, it has a built-in eye care technology that reduces the emission of blue light from the screen resulting in more work done without eye-straining.
Also, it has a flicker-free screen which also prevents eye fatigue Overall, this type of monitor is most beneficial for professionals like graphic designers, as they have to work with colors and details with precision. This monitor will fulfill all our needs, and having this type of monitor will also bring ease to our day-to-day activities.
Overall this is an amazing curved monitor with a 1800R screen that will prevent stressing your eyes and provides amazing clarity in images with fine detail.
So if you are a graphic designer, you can work with colors and details of the picture and serve your clients with the best. However, it will also work fine with gaming and reading. Therefore this monitor will be the best choice for you.
3. LG DUAL QHD Monitor
Staff Pick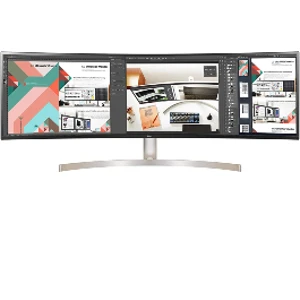 WHY DO WE LOVE IT?
The gorgeous design of the monitor.
Amazing ergonomics to keep you flexible.
Additional features to enhance the overall performance.
Pros
Amazing gradient handling.
Excellent display for productivity.
Great gray uniformity.
Cons
Brightness could've been better.
The LG QHD Monitor is a gorgeously designed dual QHD monitor with a 49-inch massive display that gives you so much space to open other windows so you can multitask and be productive. Therefore it has 70% more pixels as compared to a normal 32:9 FHD monitor with 1080p.
Moreover, the HDR 10 technology makes the colors on display look more dramatic and enjoyable. Moreover, the ergonomics are pretty good, it can tilt, swivel and adjust the height. This will keep you comfortable in your chair.
Furthermore, it has numerous other features, such as an ambient light sensor, which will adjust the brightness according to the environment. And on-screen control, which will display a control window with just one mouse click. Also, the ratio of this monitor is quite perfect, which will serve a good amount of display.
In our opinion, this is the best 49-inch monitor as you can work with many windows open on this monitor. Besides being large, its curve makes you feel comfortable viewing details in it.
Overall it might be pricey due to its size, but it will give you an amazing experience in multiple fields. So if you have a nice amount of budget, then you should buy this monitor.
4. BenQ EX3501R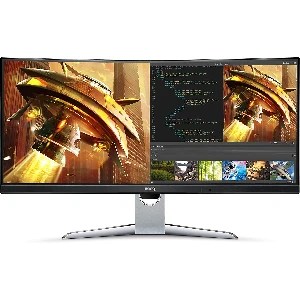 WHY DO WE LOVE IT?
Quite a big size the monitor.
Amazing clarity of images.
Backed by FreeSync technology to give a smooth and tear-free performance.
Pros
Amazing screen size.
Great design of the monitor.
Backed with FreeSync technology.
The BenQ EX3501R is an excellent monitor of 35 inches, which is quite big. And 1440 pixels of resolution with HDR support delivers high-quality images which are sharp enough for clarity. Since the curvature of the monitor is 1800R, gaming on this type of monitor will give you an immersive experience.
Moreover, to prevent the tearing and breaking of images, this monitor is backed by AMD FreeSync, which will keep a smooth flow of images and ensure you a fluid experience. Also, the 100 hertz of refresh rate forms about 100 new images every second, so the images won't look so blurry, and you can see every detail.
The curve of this monitor is designed in such a way that it will keep you in the center of action where you will forget everything and put all your focus on the screen. And while you are staring at the screen for a very long time, you must look at the comfort of this monitor and what features can make you comfortable.
Due to that concern, the height adjustment and tilting of the display will be enough to keep you flexible and watch in comfort.
Overall this is a great curved gaming monitor and also can be used in the office or at home for work. Moreover, it has features to prevent eye strain, too, such as low blue light mode and flicker-free technology.
Which nowadays is a must-have in a monitor. Due to having few ergonomics, you will be comfortable in your chair while working for long hours. To summarize, this is the best-known curved monitor and is adequate with its size and display quality, and you should look forward to buying it.
Buying Guide to Choose the Curved Monitor
There are end numbers of curved monitors that are launching day by day. In the masses of options, it is hard to find the ideal monitor that fulfills all your necessities. Due to that, we have created a list of features that you should look at in a monitor and decide accordingly what features you require.
Display Size:
Probably the first thing you'll see on the monitor is its size. And while deciding the size of your monitor what you should really look at is its pixel density as it impacts its quality.
The most adequate size of a monitor should be 27 inches, you can also buy a larger monitor with a size of 30 inches to 49 inches.
But keep in mind that low resolution with a bigger monitor size will give you blurry images. So if you are higher, make sure it has high resolution.
Resolution:
Resolution is the quality of the monitor determined in the form of pixels in width×height format. A monitor's resolution decides if the picture will be blurry or sharp. The minimum pixels you need in a monitor is around 1920 × 1080 ( known as 1080 pixels), which is full HD.
Besides that, QHD or 4k will deliver even sharper images. The higher pixel your monitor has, the more shaper images it will display. On the other hand, if you have a small budget, then you may not qualify for higher screen resolutions.
Refresh Rate:
Display refresh rate refers to how many times per second the display is capable of drawing a new image. It is measured in Hertz (Hz). A higher refresh rate equals better, smoother, less choppy images on the screen.
Gamers usually demand a high refresh rate with 120 hertz to 144 hertz. On the other hand, 60 Hertz is the standard rate through which you can perform the basic work. So if you are not interested in gaming, then 75 hertz will be ideal for decent performance.
Response time:
Another aspect, especially for gamers. If you are a gamer, you would want to have very little response time, as response time indicates a monitor's time taken to shift from one color to another. Video games or fast-paced videos can cause motion blur due to longer response times.
You're likely to see a maximum response time of 5ms from gaming monitors, while the fastest monitors can have a response time of 0.5ms.
The curvature of the monitor:
When selecting a curved monitor, this is an important aspect to consider. Monitor curves, or the radius of the monitor, are measured in millimeters and can be determined using the letter R.
Keep in mind, however, that a lower number indicates a larger curve. Consequently, you should take this factor into consideration when selecting a curved monitor.
Viewing Angles:
It doesn't matter if you are using your monitor for performing a task, reading, gaming, or working in an office; having wide viewing angles is a necessity for everyone. It is possible to have a wider viewing angle with a curved monitor if its curve is larger.
A screen's distortion or maximum light projection can sometimes make it difficult to see visuals from an angle. This issue is eliminated when the monitor is curved.
Aspect Ratio:
The ratio between the width and height of the monitor is called the aspect ratio of the curved monitor. It is usually best to use a 16:9 aspect ratio for most purposes because it provides a wider viewing area, is affordable, and improves the viewing experience.
There are other ratios you can use, too, like 21:9, 4:3, etc. In addition to the aspect ratio, the monitor's resolution is also affected by it.
Frequently Asked Questions
What Are the Benefits of Curved Monitors?
There are many benefits of a curved screen monitor such as-
Curved Monitors provides an Immersive Experience with its curved display.
Curved Monitors help in eliminating the distortions and gather your focus at the screen.
They are more comfortable for your eyes and as it allows you to take in all the information on the screen at once without straining your eyes.
As light directs from all angles toward the viewer, curved monitors cover a broader field of view
Curved monitors come in various resolutions. What should I be looking for?
Monitors must have a minimum resolution of 1920 x 1080 pixels (also known as full HD) to qualify. Additionally, 4k or QHD will produce sharper images than HD. You will see more shaper images on your monitor with higher pixels. In contrast, if you have a low budget, you may lack the ability to upgrade the screen resolution.
Conclusion:
In this article, we have addressed the buying guide of best-curved monitors and a few monitors themselves which are best among lots. The buying will help you know what functions different features perform, so you can look for those features that you want to use.
In all these monitors the one that we thought is the best-curved monitor is Dell S3221QS. This monitor has all the features, great screen quality and most importantly you can use it for gaming, office work and for home as well.