Wireless Earbuds – Ranking the Top 5 Most Popular
Do you want to upgrade your headphones to wireless earbuds but are unsure of which product is the best for your money? This post will describe the pros and cons of 5 of the most popular wireless earbuds.
Why Choose Wireless?
Wireless earbuds have multiple benefits, and only a few drawbacks. Everyone has experienced the frustration of untangling cords, and no cords get quite as tangled as headphone cords. Wireless removes this hindrance, and further alleviates you of this frustration by not having a cord interfere with whatever you may be doing while wearing them. The main drawbacks are that they are easier to lose, and also require you to charge them before use. If you keep good track of your belongings and are good at staying on top of keeping them charged, then they serve as a wonderful upgrade over your old, corded earbuds or headphones.
Looking for a headset instead? Check out our post about wireless headsets here.
ZONWOO Wireless Earbuds
Bluetooth 5.3 headphones 88H playtime with 1800mAh charging case, IPX7 waterproof over-ear earphones with ear hooks built-in microphone earbuds for sports, running, and workouts.
The Zonwoo wireless earbuds contain a battery life of up to 8 hours per full charge, and the charging case can overcharge the earbuds up to 11 times, allowing for 88 hours of play time, making them perfect for listening to music and audiobooks while running, biking, hiking, working, driving, etc.
With their soft and flexible ear hooks, the Zonwoo earbuds stay locked in place even during intense physical activity.
The 5.3 Bluetooth technology ensures a fast, stable, and efficient transmission. With the 10mm driver, the earbuds produce incredible sound quality with deep bass and no distortion of sound to immerse you deeply into your Audio World. Their ability to filter noise ensures the purest voice quality, allowing other people to hear you perfectly clear on phone calls.
After the initial connection to your device, these earbuds will automatically pair with your device upon being taken out of the charging case. They also allow you to answer/reject/hang up calls on either earbud, allowing you full access to their capabilities with only one bud. Change volume and tracks via the volume up and down buttons on the side of the earbuds.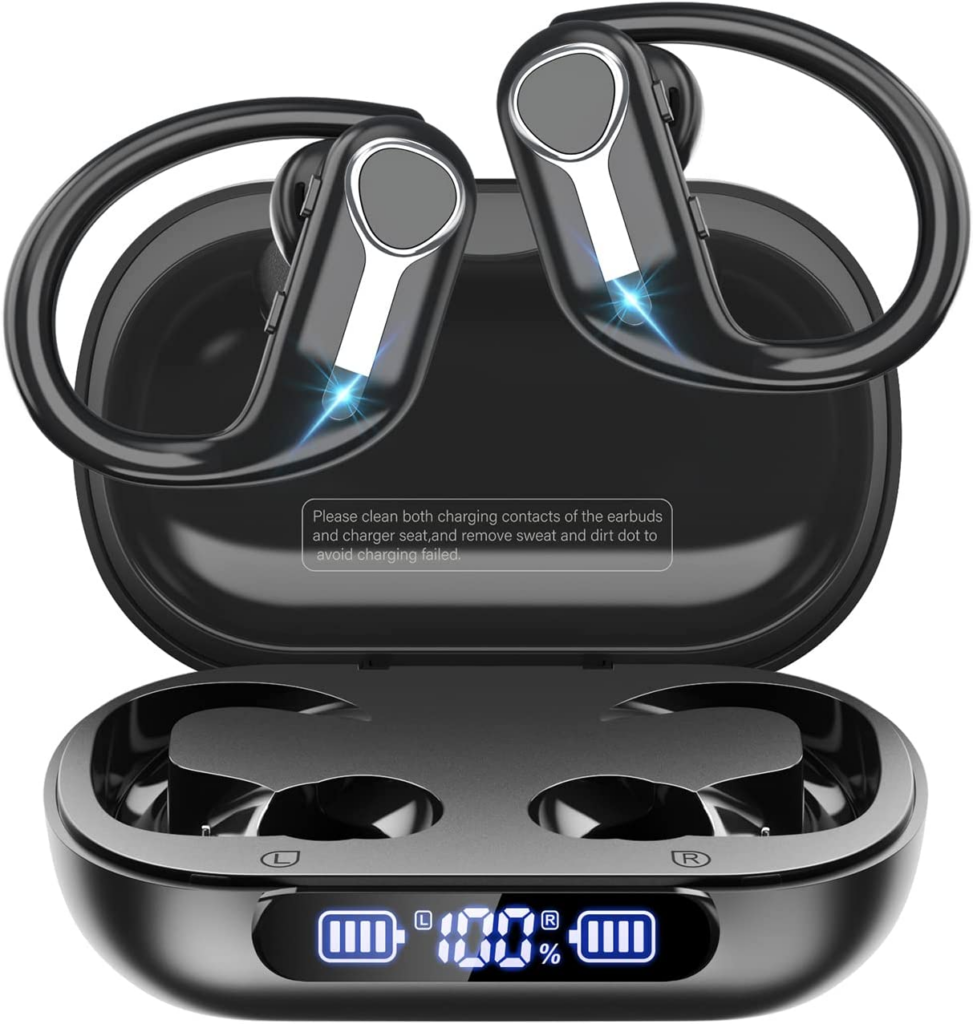 OLATOO Wireless Earbuds
Bluetooth 5.3 headphones with charging case, touch control in-ear stereo earphones with mic for Android/IOS cellphone, sweatproof cordless earphones for running, workouts, etc.
Each earbud responds easily to light touches, and they each control different actions, such as pausing/playing, skipping or going back to the previous track, adjusting volume, accepting phone calls/hanging up, and voice assistants.
These earbuds will automatically pair after the first pairing thanks to Bluetooth Version 5.3. Stereo headphones with included microphone create great sound isolation, crisp highs, solid middles, and deep bass take your listening experience to the next level.
The sleek white design is ergonomically made to fit snuggly into your ear and stay secured during workouts.
The battery life allows for 5-6 hours of continuous usage before they need to be recharged in the convenient charging/carrying case.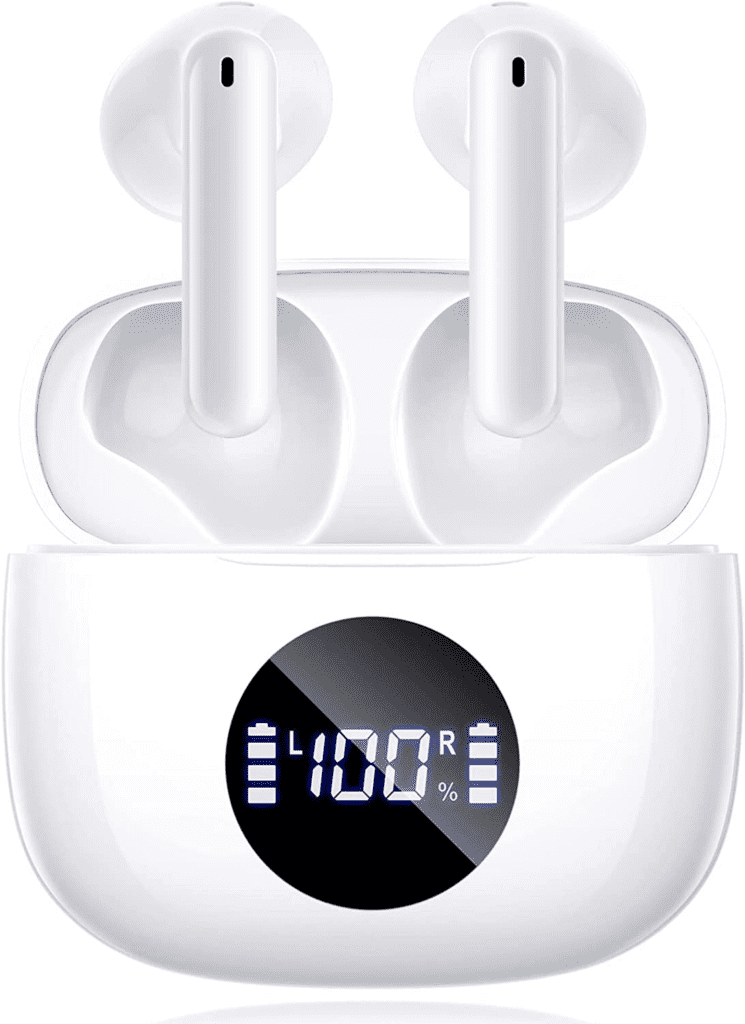 HIYDOO Bluetooth Headphones
True Wireless Earbuds 91Hrs Playback With 1800mAh charge case for android phone charging, small in-ear earphone with mic for iPhone, TVs, computers, and laptops. These earbuds have an impressive battery life of up to 91 hours. With 11mm large driver and balanced sound, these earbuds deliver rich bass, powerful and clear high frequencies, and a midrange that is more natural, these earbuds will make your experience come to life.
Thanks to easy auto-pairing, once they are connected for the first time, all it will take is pulling them out of the charging case to automatically connect them. Their connection to your devices can hold up to 33 feet, and thanks to the newest Bluetooth technology you will experience faster and more stable connections.
These earbuds are designed to stay in place, whether you are just sitting and listening to music, or if you are doing physical activities. They come with 3 different sizes of silicone ear tips, ensuring that at least one size will be perfect for you.
KTGEE Wireless Earbuds
Bluetooth 5.3 headphones 40Hrs playtime with charging case, IPX5 waterproof stereo in-ear earphones with microphone for iPhone, android, sports, workout, and gaming. These earbuds can last up to 8 hours on 50-60% volume but can last up to 40 hours of continuous use with the compact charging case.
With 13mm speakers these earbuds deliver powerful, clear bass, mids, and treble that immerses you in the music. The built in microphone in each earbud ensures call noise cancellation to give you clear and realistic sound. They also offer one step auto pairing, and more stable transmission with lower power consumption. Bluetooth version 5.3 also grants the devices extended range with uninterrupted calling and music.
TOZO A3 2023 Upgraded Wireless Earbuds
Bluetooth 5.3 half in-ear lightweight headsets with digital call noise reduction, premium sound with long battery life. These earbuds hold a charge for 5 hours at half volume, and with only 10 minutes of charging they will last for 1.5 hours. The Bluetooth connection for these earbuds is extra strong, allowing for continuous, uninterrupted pairing within 30 feet of each other. With the testing of over 1,000 people's ear canals, the design is made to fit almost everyone's ears.