5 Best Monitors for Eye Strain Prevention and Prolonged use
Have you ever experienced pain or soreness in your eyes after spending an extended period of time sitting at your computer? More than that, do your eyes suffer from irritation and itchiness after staring at your monitor? These are the symptoms of EYE STRAIN!
Initially, it starts with spending too much time staring (usually reading, working, programming, or gaming) at screens that give off damaging light.
While using your computer, you tend to blink less, and the movement of your eyes increases while staring at a wide screen resulting in itchy, dry, red, and teary eyes. However, it is because your monitor is lacking protective features, such as a blue light filter or eye care technology and not being the best computer monitor for eye strain.
Therefore, it is not an option to stop working or never work on the computer. Instead, you can replace your old monitor with one of the best monitors for eye strain that have all those additional elements to prevent your eyes from straining. 
There are tons of monitors out there that prevent eye strain, but we have compiled a list of 5 of the best computer monitors for eye strain currently available on Amazon.
1. LG QHD 32″
WHY DO WE LOVE IT?
It has a reader's mode technology which reduces the blue light while reading.
350 nits of brightness deliver advanced images with enhanced color.
Comes in 24″, 27″, and 32″.
Wall mountable.
The LG QHD is quite a large monitor with a display size of 32 inches giving more room to work with.
The Screen resolution of this monitor is 2560 x 1440 pixels with an HD Display. In addition to it, the panel type of this monitor is IPS which altogether makes its display great.
Other than that, this monitor also offers other features such as reader's mode which is designed to help alleviate eye fatigue by reducing its blue light.
AMD FreeSync reduces screen tearing, flicker, and stuttering by managing the refresh rate, allowing for effortlessly smooth gaming.
Furthermore, the monitor is also VESA compatible which gives you the freedom to take it off the desk and hang it on the wall.
Pros
VESA compatible.
Built-in reader mode.
Cons
No height or swivel adjustments.
To summarize the details of this monitor, this monitor is specifically for those who work at an office and have a lot to read on the screen. Because there are multiple options of eye care in reading mode helping in the prevention of eye strain and fatigue, and makes it one of the best monitors for eye strain currently on the market.
However, this monitor will prove to be the best monitor for eye strain if you are looking for office work with a lot of reading.
2. SAMSUNG U28E590D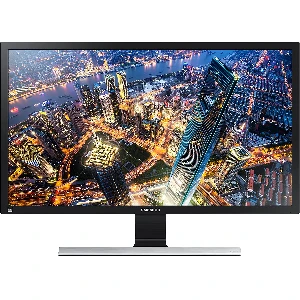 WHY DO WE LOVE IT?
It has a wide viewing angle so you will be comfortable in front of it.
Has eye care technology that prevents eye strain.
Gives excellent performance in gaming or watching Netflix.
The SAMSUNG U28E590D is a great monitor as it has a screen size of 28 inches with 2k resolution which will give you crisp images and reduce your eye fatigue by not stressing your eyes.
Since its response time is just 1ms with AMD FreeSync so you don't have to keep staring at the screen while waiting to see your added inputs as it reduces image tearing and stuttering during gaming.
Plus it has a 60 hertz of refresh rate to keep the images of your screen updated for about 60 images per second! However, it has a sharper viewing angle so you can stay flexible and comfortable in front of the monitor and it will not affect your eyes.
Offering a PIP 2.0 feature will keep you productive by opening other applications so you can multitask too. Furthermore, the eye care technology which reduces the blue light wavelength of the screen will keep you using the computer for an extended time.
Pros
Built-in Eye Care technology
Quick pixel response
Excellent performance
Cons
No height or swivel adjustment
Lack USB port.
In our opinion, this monitor is just right for you if you are looking for a monitor that provides very high performance in gaming and watching your favorite streaming services.
Since it has eye care features and wide viewing angles, this will allow you to keep using your computer for an extended time without feeling tires. This monitor is approved as the best monitor for eye strain as of 2022.
3.ASUS ROG Swift PG329Q
WHY DO WE LOVE IT?
Backed with Eye care features
Have good ergonomic features.
Low motion blur sync
Without a doubt, ASUS ROG Swift PG329Q is a great monitor with its 32-inch display size and 1440p resolution creates great visuals.
Together with G-sync and ASUS extreme low motion blur sync lighting technology, this monitor provides ambient lighting that can be synchronized through other Aura-enabled components.
Especially, its 16:9 aspect ratio viewing angle ensures comfort and a lack of straining that will prevent your eyes from tiring as quickly.
In addition, its refresh rate is 165 hertz which gives a fast and fluid gaming experience by generating about 165 images per second.
Moreover, the response time is 1ms so you won't have to keep waiting for the outcome of the inputs you made which help you in the prevention of stressing your eyes.
Pros
Very quick response time.
Excellent features including AuraSync, ULMB, etc.
Ergonomically desiged.
Cons
Very pricey
Lacks screen pivoting.
Looking at the features, pros, and cons this is a great monitor to buy. Therefore, it has all those features you may be looking for to take care of your eyes.
Also, it will give you a fast and excellent experience in gaming and also in watching movies, the image quality is great. And above all, the screen is curved so you don't have to move your eyes much to see every detail.
4. ASUS VL279HE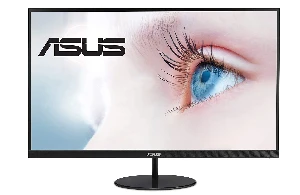 WHY DO WE LOVE IT?
The monitor has a Great display with vibrant colors.
It has a wide viewing angle.
Fast gaming experience.
The ASUS VL279HE is a beautifully designed monitor with 27 inches of screen size
and 1080p resolution. Since it features Adaptive-Sync/FreeSync technology support with up to 75Hz refresh rate, so it reduces frustration lag, motion blur and also gives a smooth gaming experience.
Backed with eye care technology, which will help in preventing eyes strain from using a computer for long hours.
Plus, it has a wide viewing angle so you won't move a little here and there to stay flexible and comfortable. Moreover, the refresh rate is 75 hertz which is pretty good for a fast gaming experience on the monitor.
Pros
Only 1ms of response time.
Have Eye care technology.
Slim and beautifully designed monitor
Cons
Its Aura Sync adds price not the performance.
Overall this is a great monitor but if you have a limited budget then this might not be a monitor for you. Thus, it has all the beneficial features to take care of your eyes which makes it one of the best monitors to reduce eye strain.
You can see the screen from any angle as it has a wide viewing angle, which will keep you flexible and comfortable in front of the screen. Pair it with a comfortable gaming chair and you may never want to leave.
5. BenQ ZOWIE XL2411K
WHY DO WE LOVE IT?
Advanced ergonomic features.
Backed with blue light technology.
Comes in 24″ and 27″.
Backed by a 3 year warranty.
The BenQ ZOWIE 24″ has a great display with 24 inches of screen size and resolution which makes it a great display. Moreover, it has a blue light filter technology that reduces the blue light wavelength that can harm your eyes and make them red, tiring, and painful.
With the help of a blue light filter, you can do your work for an extended period of time. Since it has a refresh rate of 120 hertz and a response time of 1ms, the gaming performance will boost to a higher level.
Furthermore, the ergonomics of this monitor are great, you can tilt, swivel, pivot up to 90 degrees, and adjust its height. Similarly, the small base allows plenty of room for gamers to get their setups just right.
You can personalize the viewing angle according to your preference. Also, it's blue light filter is a great feature to have in a gaming PC so you will not get eye fatigue while playing games for a long time.
Overall, this monitor is great for you with all its ergonomic features, wide viewing angles, high contrast ratio, and high refresh rate which all make it a great monitor for gaming.
Backed with eye care technology, it's blue light filter makes it one of the best monitors for preventing eye strain.
BUYING GUIDE – How to Choose Best Monitor for Eye Strain
First, we have to know the causes that lead to eye strain.
Using and viewing a computer from the wrong distance and angle.
Screen glare.
Your posture while using a computer.
Poor lighting.
Blinking less than normal.
Flashy and flickering lights
The environment is too dim or bright.
Moving eyes too much to see the details on widescreens.
Features to keep in mind while buying a monitor to prevent eye strain:
Monitor Size
The size of a monitor may affect the time in which you can use the computer without straining your eyes. Having a massive monitor means you have to move your eyes more to watch everything over an extended period leading to eye fatigue and tiredness.
On the other hand, a very small-sized monitor will have low resolution and small images mean you have to focus more which too will lead to eye-straining.
So the question is what is the right size?
Well, if you want a monitor for your desk to be the right size, you will want one to be around 20-22 inches. With that kind of size, you will have adequate space between your eyes and the screen which is ideal for work. In case the videos with high quality are what you prefer then 27-30 inches would work just fine for you.
Therefore the size of your monitor is dependent on its intended purpose.
Ergonomic design
Having ergonomic features in the monitor is so much better for vision and overall health. Since we keep looking at the monitors in one direction for a very long time it makes our eyes strain and body ache too.
To prevent this you should opt for a monitor with ergonomic features such as swivel, tilt, and height adjustments, and also landscape to portrait mode view.
This results in more comfort and less eyestrain for as long as you keep working or watching on the monitor.
Response time, viewing angle, and contrast
Response time of a monitor means how long a monitor takes to understand the given input and display it. Slow response time can cause a disparity between what you are doing and what you are seeing.
The viewing angle is how you look at the screen. If you have a proper setup where you are sitting right in front of the screen then there is no problem but looking at your screen while having lunch from another direction might be a problem leading to eye strain.
Contrast of the monitor means the vibrancy and the number of hues of colors that a monitor is capable of showing. Having a high contrast monitor contributes to darker blacks and brighter whites. Therefore higher the contrast ratio, the better the display, resulting in a better view of images
Refresh rate
Refresh rate means how often your monitor will refresh the image on your screen. If a panel refreshes 60 times per second, then the refresh rate is 60 Hz.
Low refresh rate results in flickering. As an outcome, your eyes have to work harder to piece together the flickering on the screen. Thus, leading to eye strain.
Blue light filter
Blue Light filter is a preventive measure adopted by the monitors, phones, and other devices which emit blue light. Blue light is a type of short wavelength that is high-energy light emitted by the screens of monitors and other devices.
Moreover, it has a negative effect on our sleep as well as the vision of our eyes. Exposing ourselves to blue light before bed leads to restlessness, and disrupted sleep patterns.
This feature should be very important to have on your monitor especially if you spend your time in front of the screen at night.
Free sync
Freesync Technology is an AMD system that helps in providing stability to the frames from stuttering and breaking of images due to lack of synchronization.
Since instability in the frames will create a problem for people having eye strain, this is a technology to get rid of it.
Frequently Asked Questions
Which monitor is best for the eyes?
Monitors which have appropriate eye care technology, wide viewing angles, and good ergonomics are the best monitors for eyes.
Are curved displays beneficial for the eyes?
Yes, curved displays are beneficial to the eyes. As ou can watch everything on the screen in detail and you dont have to move or stress your eyes much.
What is the best LED or LCD monitor?
If we are talking about eye safety, image quality, and power consumption then LED displays are far better than LCDs, as LED's backlighting is significantly more compact and eye-safe as compared to that of LCD's.
Conclusion
To summarize, this article is for those who are confused about buying the best monitor for eye strain. Eye strain is becoming common day by day that makes it essential to be aware of what kind of features are necessary for your monitor before buying.
Here we brought you several monitors which we think are great if you are concerned about your eyes. Our eyes are the essence of our body and sensitive at the same time, we need to treat them accordingly and these monitors will do just that.
Above all the other monitors, these are the 2 best monitors we would recommend for you:
LG QHD, this monitor is best for office work and reading.
ASUS ROG Swift PG329Q, this monitor is best for gaming as well as protecting your eyes.