10 Best Home Theatre Projectors
You would choose a home theatre projector over television for numerous reasons. TVs can't compare to the size of an image projected by a projector.
A projector will be very helpful if you plan to watch movies outside with your friends. Projectors are great for watching movies indoors as well, giving you the cinematic experience.
The best thing you can do for yourself in this pandemic situation is to get a projector. It is not safe to watch movies outside, and most of you probably miss the experience of seeing movies in a cinema. You should definitely get a home theatre projector to bring the movie theatre vibes into your home.
You might get confused as to which is the best home theatre projector for you, considering the variety of options available.
Therefore, we have compiled a list of the ten best home theatre projectors to help you out. With this review, you can choose the best home theatre projector without any unnecessary doubt.
10 Best Home Theatre Projector
1. Epson Home cinema 2150: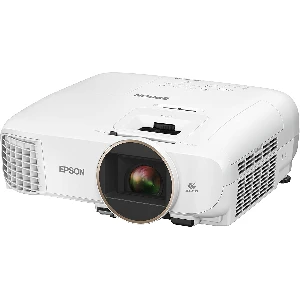 Why we love it:
Very bright
Widescreen full HD view
Amazing dynamic contrast ratio
Wireless screen mirroring
Regarding image quality, the Epson Home Cinema 2150 is the best you can get at this price. The image it produces is giant, the color reproduction is vivid, and it has the best image quality.
The projector's LCD technology also produces a clear image even when it projects 130 inches of video. This device has a 1080-pixel resolution, which further enhances the image quality.
One drawback you will find with this projector is its brightness. It is not as bright as most other projectors, rated at least 3000 lumens.
However, LCD makes a low lumen count appear brighter and more vibrant than a DLP projector with a similar rating. With some ambient daylight, you can watch this, but not when there is unfiltered light coming inside from a window.
Speakers built into 2150 deliver a lot of power. There is a noticeable volume, and you do not need to attach external speakers.
Another disadvantage is that the fan is quite loud and gets hot. Because of this, it is not a good idea to sit right next to the projector during a movie.
The Epson 2150 has automatic keystoning, so it's easier than it may seem. With keystoning, the image can be straightened out, so the projector doesn't have to be parallel to the wall.
Manual controls for focus, zoom, focus shift, and keystone are much easier to operate than digital controls. There is a 1.6x zoom lens, which is more than what you get on most projectors in this price range.
Pros
Bright, colorful image
Lens shift
No DLP rainbows
Cons
Average contrast
Noisy fan
Epson is likelier to fit in many households than its competitors in the same class. It is because it has a wider zoom range so that it can be placed farther from the screen and because it has a feature that is not common among its counterparts: vertical lens shift.
For example, you can put the projector behind the sofa rather than on the floor. The LCD also doesn't have the DLP rainbow effects that some people find irritating. Don't hesitate to get this home theatre projector; you will love it.
2. Kodak Luma 150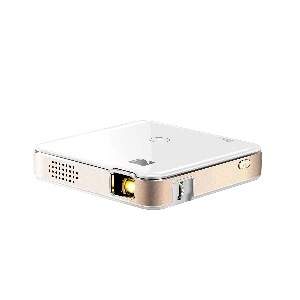 Why we love it:
Pocket projector
Bright and vivid video
Multiple methods for viewing
Supports 4k resolution
The modal luma 150 pocket projector adds the perfect assistant to your smartphone and laptop and will give you a theater-like experience wherever you are. One of the most portable and compact projectors ever, it fits in the palm of your hand.
Since it is so tiny, there are a few disadvantages, but generally, this is an excellent projector that can project large screens wherever you are. Moreover, the features it offers and its price makes it an excellent buy.
The Kodak Luma 150 mini projector differs from other mini projectors on the market. Despite its small size, it is extremely portable.
Most of the projectors are aimed at a certain audience. Still, the Kodak luma 150 is perfect for movies, business presentations, and any other need a projector can fulfill.
Aside from this, the image quality of this projector is excellent, and it features a resolution of 1080 pixels and a 4K resolution.
Also, the brightness is decent and is 60 ANSI lumens, which is roughly equal to 420 lumens. Due to the tiny size of this projector, its brightness does not match those of other projectors reviewed here.
You'll be able to watch movies in excellent quality on this projector due to its 16:9 ratio, which gives you a very dynamic experience. Besides that, the contrast is decent, and the screen is 120 inches wide, which is impressive for a device of such a small size.
Pros
Modern design
No rainbow effect
Rechargeable powerful battery
Cons
Brightness is not very great
One of the best portable projectors with multiple purposes and, therefore, very versatile. The DLP technology, great
touch controls, and close-to-universal device compatibility make this a fantastic projector. This list of excellent features can't be found in a projector of the same size or price.
Moreover, this projector also supports SD cards, USB, and HDMI, which means it is very compatible with many devices. It also comes with a tripod, making operation even easier.
Unlike most other projectors, the projector's rechargeable battery provides a 3-hour runtime.
This battery has a 3-hour life, which is amazing and is well worth the price of this product. Having all these features makes this projector an excellent home theatre projector.
3. Optoma HD146X: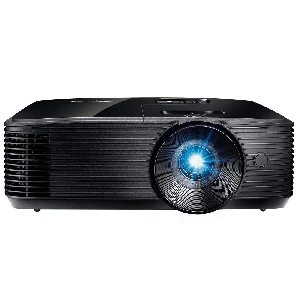 Why we love it:
Cinematic picture quality
Perfect image alignment
Fast response time
More image depth
In terms of specs, the Optoma HD146X is almost identical to the Epson 2150, but it is less expensive. It costs $549. Although its brightness rating is 3600 lumens, DLP technology means that it is not as bright as 2150.
The tone is darker, and there is less vibrancy. In addition, the screen is also a DLP, not LCD like 2150, so it doesn't have the same sharpness.
"Vivid" and "cinema" modes are much better. You should remove your shades if you watch during the day, especially if there's no screen.
Additionally, setting up and installing this projector is a breeze. Due to its small size and lightweight, it is a great choice. A second feature is the 1.3x manual zoom and vertical lens shift. The projector also supports a wireless display.
Having five color modes enhances the image quality further. There are many options to choose from, and they're all made to meet your specific needs.
The only downside is that the screen shows a persistent green bias in the brightest mode. Aside from that, the overall picture quality and image quality are excellent.
Pros
Built-in speakers of 5 watts
Exceptional contrast ratio
Warranty of 1 year
High Dynamic Range and High-Level Graphics
Cons
In brightest mode, the screen has a green bias
All those who would like a 4K UHD projector but do not have a great budget should consider this projector.
The picture quality is excellent, and the sound is decent. The projector will make your movie-watching experience at home feel like a theatre experience.
In terms of features, this projector is one of the most affordable to provide 4k resolution. Currently, other projectors in the market with 4K resolution are quite pricey. In short, the Optoma projector delivers good picture quality at a reasonable price.
There are some drawbacks when you receive such cutting-edge technologies at such a price.
However, they are insignificant as they don't affect the picture quality much. This one is the best projector for low-budget people who still want the best quality picture.
4. View Sonic 4K Portable Home theatre projector: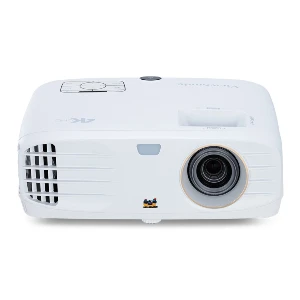 Why we love it:
Smart wi-fi connectivity
4k ultra HD resolution
Easily portable and lightweight
Built-in Harmon Kardon Bluetooth speakers
Solid-state LED technology
The ViewSonic True 4K UHD Projector combines 4K resolution with smart wi-fi connectivity features to make it the best short-throw projector ever produced.
Its lightweight design can be easily carried anywhere and offers the best cinematic experience. Despite its 2,400 lumens brightness, the display creates clear pixels in complete darkness or in an open area with direct sunlight.
Netflix series can now be streamed online anytime and anywhere thanks to the built-in Wi-Fi. Furthermore, there is an option to connect to Amazon Alexa or Google Assistant.
Additionally, the screen size can be increased up to 150 from close range. Because of this, it is one of the most popular home theatre projectors available today.
Pros
Versatile setup
Premium audio
Portable design
Lamp free projection
Flexible connectivity
Cons
The remote quality is not that good.
Would you like to enjoy a great cinematic experience from your home and are looking for the best home theatre projector? From Sonic View, you have to check out this amazing projector.
The picture quality is excellent, as well as the brightness. Its sound quality is just as impressive as its picture quality.
Millennials will love its additional wi-fi features. You must consider purchasing this awesome short throw projector by ViewSonic if you are looking for an all-in-one TV, home theater, and play station replacement.
5. Boss Multimedia projector: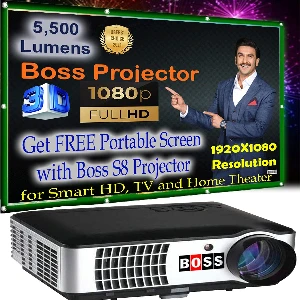 Why we love it:
An award-winning projector
60,000-hour LED lamp
Featuring a large 10-foot display
Ports with multiple options
Bright and clear
Your home theater experience is enhanced with the smart projector Boss S8. A large 10 feet image can be projected from a short distance, making it one of the best home theatre projectors.
There are many ways to play video, including pen drives, USB cables, mobile devices, laptops, and computers.
Also, it has multiple ports where you can use external devices like a USB cable or pen drive. In addition, the projector has a remote control, a power cable, an audio-video cable, and a warranty card.
As an added benefit, you can enjoy the largest possible picture in the comfort of your home with this projector.
Pros
Short-range projection
Warranty of 1 year
It also works on inverters
Resolved in high quality
Cons
A little pricey
It has no laser feature
Home theatre projectors don't come any better than this one. The display quality is excellent, as well as the sound is amazing.
Almost all the latest features are included in this unique product. You can also use it for educational purposes if you need a projector for your home.
A movie or show that you enjoy watching on the big screen will be a joy to watch with this projector. This home theatre projector is one of the best and is highly recommended.
6. Brookstone wireless home theatre projector: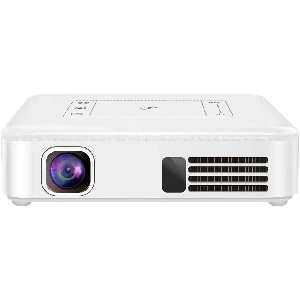 Why we love it:
Infra-structure
Rechargeable batteries
Built-in dual speakers
Focus control
With its minimal price and decent sound quality, the Brookstone wireless projector has exceptional portability.
Because it fits in your pocket or purse, you can easily carry it around. Due to this, it is very convenient to carry it anywhere you want. As far as the price goes, the quality of the image is good.
In addition, this projector can be recharged for up to 2 hours, which is a great feature for this price. A USB port allows it to charge other devices, so it can even serve as a backup power source.
A 2200 Lumen projector with LED technology this price comes with decent brightness even though it's not as good as other big screen projectors in this price range.
By using internal DLP technology, it can produce higher contrast ratios that result in more detailed pictures.
It does not connect with an IOS device, so this is a drawback of the projector. If you want to connect it to an Apple device, you have to use an adapter.
This projector has no memory card or USB port, which is a drawback. Additionally, the built-in speakers don't produce very good sound quality, and you will need external speakers.
Pros
DLP 4K UHD resolution
Compatible with a variety of devices
Great contrast ratio
Cons
Adapters needed for non-HDMI devices
Despite the projector's great image quality, it uses a 3LCD chip that displays bright color results. In addition, the rainbow effect and lag are absent.
This projector also boasts great photo quality. A 2200-lumen lamp on this projector produces very clear and crisp images.
The 120-inch projection size of this projector is also impressive. It has 8.3 million pixels, which is too good for its price. This best portable home theatre projector has the best image quality at this price.
7. Yaber Y30 home theatre projector: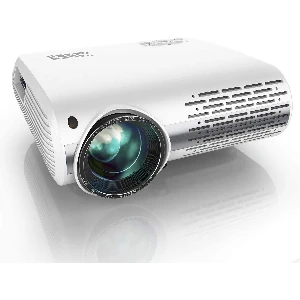 Why we love it:
4D keystone correction
1080 pixels of resolution HiFi stereo sound
Giant screen
Wide compatibility
For those looking for the best home theatre projector available on the market today, the YABER Y30 is your best choice. Even in bright sunlight, this projector can project a clear picture.
Furthermore, the 7000 lumens are among the strongest on the market. Additionally, this feature is extremely affordable. Other projectors with similar features are significantly more expensive than the Yaber Y30.
This projector is also the first on the market that comes with the ability to correct keystones in both vertical and horizontal directions.
The standard rectangle image produced by this feature is always the result. The keystone correction feature of this projector has thus eliminated a problem common to most others.
The Yaber Y30 has a VGA video output, making it an ideal projector for daylight viewing. With this feature, you can get clearer pictures than those with more expensive models.
Moreover, it produces a wide spectrum of colors even in bright sunlight, making it one of the best projectors for viewing in daylight.
Besides featuring the best picture, the projector also has the best audio. The built-in stereo speakers with the SRS sound system provide the best sound without connecting external speakers.
In addition, these projectors feature an ultra-advanced and quiet cooling system with three fans.
The lamp life on this projector is unbelievable, 100000 hours. For this price, you cannot get a better projector.
The projector is maintenance-free and pocket friendly. Using these projectors for years without spending any money on maintenance is possible.
Apart from these features, the projector comes with a 3-year warranty and a 6-month return policy. This projector comes with lifetime technical support and is very easy to use. Anytime you face a problem, you can call the customer service number, and they will be glad to assist you.
Pros
Built-in speakers
Advanced cooling system
100,000 hours of lamp life
Wide compatibility
A great projector for home theatre is the Yaber Y30, which is available at a very affordable cost and is the best projector you can buy.
There are so many features on this projector that cannot be found on any projector in the same price range. All of these features are in one model, and it has the best video and sound quality.
8. GRC Mini projector: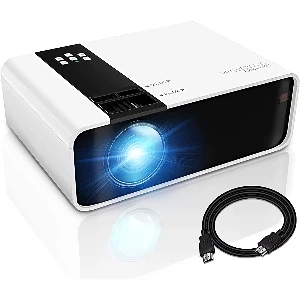 Why we love it:
High-definition 1080p performance
Support for multiple interfaces
Exceptional audiovisual performance
Stability unmatched
Long lamp life
With this projector, you will get the best value for your money. It has a relatively low price compared to the features it offers. A projector like this can be the answer if your budget is tight.
A mini projector that's light, small, and portable, making it easy to carry around. Moreover, it features a high contrast ratio of 3000:1 and supports 1080p resolution, providing the best picture quality.
The short throw distance makes it an ideal projector for small rooms. A projection distance of 1-5 meters is provided, and its projection size ranges from 32-200 inches.
A variety of interfaces are included with the projector, including HDMI, USB, TF, AV, and VA. You can connect any device to the GRC projector, regardless of size.
Further, the GRC projector can project in several ways: in front, back, and wall. Many options inside your home allow you to turn it into a mini-theatre. With a high-fidelity speaker, this projector is also perfect for outdoor projection.
Furthermore, this projector has a trapezoidal correction of 15 degrees, both positive and negative. Projectors with this feature have less distortion, resulting in a clearer image.
Its lamp life is excellent at 45000 hours, meaning that it will allow you to use it without any maintenance for more than 30 years.
It is, therefore, the most affordable and best projector for your small room. Also included is a remote control range of up to 5 meters.
Pros
Compact and pocketable
Integrated high-adjustment screw
Multi-Platform compatibility
Projectors in this price range are not known for their picture quality, but this one is one of the best. If you don't have much money to spend, this is a good projector for you.
It is not the best speaker, but it is the least you can expect for the price. The projector is compatible with an external speaker, so now you are ready to go.
9. Android 7.1 mini projector: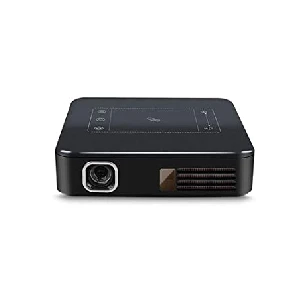 Why we love it:
Mini projector for pocket
Utilizes DLP technology
Multi-device compatibility
Technology based on Bluetooth
Android 7.1 mini projectors are made primarily for iPhones and android phones and are extremely lightweight.
In terms of weight, it's the lightest projector on the market at 0.58 pounds. One of the things that make it the best projector under $300 is its ultra-compact size.
Even though this projector is small, it has numerous other features. It uses DLP technology, making the pixels ultra-clear compared to most other large-screen projectors.
The lamp's life is 30,000 hours, and it doesn't need a lot of maintenance, making it a pocket-friendly lamp.
The only downside is that it can't be used outdoors as it only projects clear images in a dark room. At the same time, this feature makes it underutilized, its other features more than compensate for it.
Pros
Easily transportable
Using wireless technology
Excellent battery backup
Cons
Images cannot be projected outdoors.
The Android 7.1 mini projector is an excellent choice if you want a highly portable home theatre projector.
Unlike most mini projectors, this one features some great technologies. Android 7.1 is the best choice if you want a mini projector that has an affordable price.
10. WOWOTO A8 Pro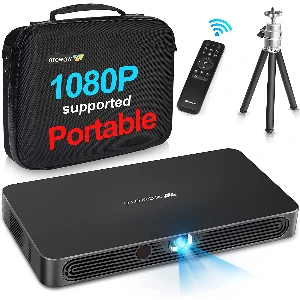 Why we love it:
Portable mini projector
Display with Full HD resolution
Correction of keystone automatically
A projection of 150 inches
With all the latest technologies, the Wowoto A8 pro is the latest projector on the market. It has an updated android 6.0 version, making it the best home theatre projector.
The A8 pro comes with this version, usually found in more expensive projectors, making it one of the most affordable projectors available in the market.
Additionally, it is extremely portable due to its ultra-lightweight design and 4.29-pound weight. The device is also wireless and has Bluetooth functionality, meaning that there are no wires to get in the way. Furthermore, it also features a mirroring function, which makes connecting it to multiple devices extremely convenient.
In addition, this projector displays clear HD pictures and clear pixels. Despite being so inexpensive, it projects an image so clear and precise that it is impossible to match.
Also, this projector has a system for automatically correcting keystone distortion when a projector has a trapezoidal image, as seen with many other projectors. As a result of this feature, this projector is unique and the best home theatre projector.
In addition, this projector can be used outside and indoors, making it ideal for multitasking. The lamp life is also extended, making the projector easy to maintain.
Pros
Elegant display
Wireless connectivity
HD clarity
Short throw lens
Cons
Battery backup is average
WOWOTO A8 pro is one of the best home theatre projectors. Its compact design and many uses make it an excellent projector available at a very low price.
What to look for in a home theatre projector
Brightness or Lumens: Brightness, of course, is crucial. Brighter screens are better for the user. Using it in a bright room should consider a projector with a higher lumen count.
Lumen counts of 2000+ are considered sufficient for dark rooms. A lumen count of over 3000 is recommended for use in a well-lit room.
Throw Ratio:
A throw ratio identifies the size of the projected picture from a given distance on the screen. The larger the image to be projected, the smaller should be the throw ratio of the projector.
HDMI Connectivity:
An HDMI connection feature is an essential feature for any home theatre projector. HD audio and video can be transferred over this signal.
The majority of modern projectors come with this feature, but one must make sure to look out for it when purchasing.
Resolution:
The resolution of your projector directly impacts the quality of the image displayed. With a higher resolution, the pixel count in your image increases, and the quality of the image also increases. Therefore, you will enjoy your game more.
Frequently Asked Questions
Q. For a projector to be good, how much brightness is required?
You should buy a projector based on the purpose for which you are buying it. The brightness of an indoor projector is lower than that of an outdoor projector. Brightness requirements for projectors suitable for all spaces must be between 2000 and 4000 lumens.
Q. When choosing a projector screen, which color is best?
The best screen to use with a projector is white or gray.
Q. Is it possible to project the screen from my phone?
Certainly, a projector can be connected to a phone via a USB cable or wirelessly if it is a wireless device.
Q. Is Netflix compatible with my projector?
Several projectors can connect to the internet and have apps like Netflix. Without such a feature, you may even mirror your laptop or phone through the projector with a Netflix subscription.

Conclusion
Suppose you want the big, cinematic experience of watching a movie or sporting event but don't want to purchase a 75-inch 4K TV. In that case, home theater projectors can be a great solution (and can even be relatively inexpensive).
The best projectors can produce images as large as 100 inches, while some models can produce projections as small as 40 inches – depending on how much room you have on your wall.
We understand if you're reluctant to install a projector over a TV because of the setup and installation hassles.
It is easier than you'd expect to set up a projector, and the benefits – including truly large, bright, and impressive images – make them worthwhile.
Regarding projectors, there is a lot to consider: lumens, laser or lamp-based, DLP or LCD, 1080 or 4K, short-throw, zoom lenses, and projection size…
There are a lot of things to consider. Most importantly, you should look at the ease of setup, audio quality, and price.
A home projector can be DLP, LCD, LED, LCOS, or laser. This review varied from a $530 projector that uses a laser light source instead of a bulb to a $2,800 projector that uses DLP and LCD types.
A dedicated home theater projector can be much more expensive. We tried to keep the budget as reasonable as possible for this review. We also have a few models with 4K, but most of the models we reviewed max out at 1080p.
One of our top picks is the $899 Epson Home Cinema 2150. You'll get a bright, clear image, excellent speakers, and an easy-to-setup LCD projector.
Even though all the projectors discussed in this article are of the highest quality. As a result, you will not regret choosing any of them. You should pick the one that meets your needs the best.