5 Ultimate Curved Gaming Monitors
Curved gaming monitors are a very popular choice among gamers and if you have the budget then this list of 5 ultimate curved gaming monitors is a must read. If you have a smaller budget, certainly continue reading this article, but do check out our article on buying curved gaming monitors on a budget.
A big advantage of curved monitors is they do a better job than flat monitors of mimicking a three-dimensional experience. The real world appears to us three-dimensionally and a curved screen incorporates our peripheral vision thus creating more immersive images. These more immersive images create much more intense and enjoyable gameplay.
Another often overlooked benefit of curved displays is they can be better for your eyes because the curvature keeps all images equidistant from your eyes. This means your eyes don't have to work quite as hard thus reducing eye strain.
Overall, curved monitors are a great option because of their many benefits. The criteria used to choose this list of ultimate curved monitors include: 1) Size – it has to be big. I.e. – The Samsung Odyssey Ark listed below. And 2) Technology – must be the latest and greatest. So let's check out our list of the 5 ultimate curved gaming monitors and our buyer's guide at the end giving basic features to look for when buying a curved monitor.
5 Ultimate Curved Gaming Monitors
SAMSUNG 49-inch Odyssey OLED G9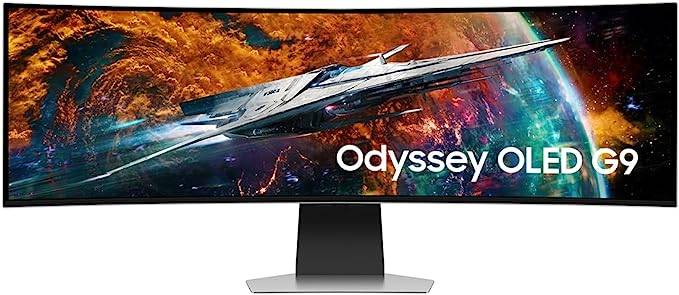 49″ Dual Quad High Definition OLED
1800R Curvature
Neo Quantum Processor Pro
5,120 x 1,440 pixel display resolution
Response rate of 0.03ms and 240Hz refresh rate
AMD FreeSync Premium Pro
This monitor is the latest release from Samsung and certainly comes with all the latest premium features and technology. First off, this is a massive monitor, especially; if you're used to playing games on much smaller screens. The display is a large 49″ OLED with 5,120 x 1,440 pixel display resolution. With the advanced Neo Quantum Processor Pro, Samsung says, every frame on the OLED screen is instantly analyzed and optimized for maximum quality creating colors, shades, and contrast so bright and brilliant, it makes an undeniable difference in gameplay.
There is no denying that this is a blazing fast display with a super fast 0.03ms response time and a 240Hz refresh rate giving you an advantage over game players with less capable monitors.
Last but not least, the monitor comes with AMD FreeSync Premium Pro which creates tear free, stutter free, and low latency high dynamic range (HDR) gaming and is usually only found on premium displays like the Samsung Odyssey OLED G9.
Alienware 34-inch curved gaming monitor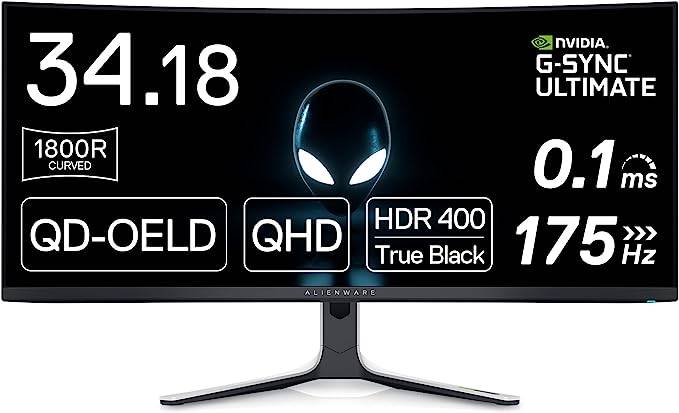 34.18″ Quantom Dot-OLED
1800R Curvature
3,440 x 1,440 pixel display resolution
Response rate of 0.1ms and 175Hz refresh rate
NVIDIA G-Sync Ultimate
This 34.18″ monitor from Alienware may not be the largest monitor on this list but it may be the coolest looking. The display showcases Quantum Dot Display Technology enabling a slim panel display and it delivers a superior color performance with a higher peak luminance and greater color gamut range vs WOLED (White OLED).
The display is NVIDIA G-Sync Ultimate certified which means ultra-low latency gameplay, support for HDR and cinematic color, plus smooth, tear-free gaming.
Also of note, the display has response rate of 0.1ms and a 175Hz refresh rate creating smoother gameplay and clarity for a faster in-game reaction time.
Finally, there is the unique design expected from Alienware products. Alienware describes the new design features as jaw-dropping and it's hard to disagree. The features include a sleek QD-OLED curved 1800R panel integrated into the Legend 2.0 ID, plus customizable stadium loop OLED AlienFX lighting. The panel also includes 360 degree ventilation for improved heat dissipation, improved cable management and a new centralized OSD joystick to make settings adjustment easier. Bottom line this is a cool looking display that also delivers exceptional performance.
Acer Nitro 37.5″ Curved Gaming Monitor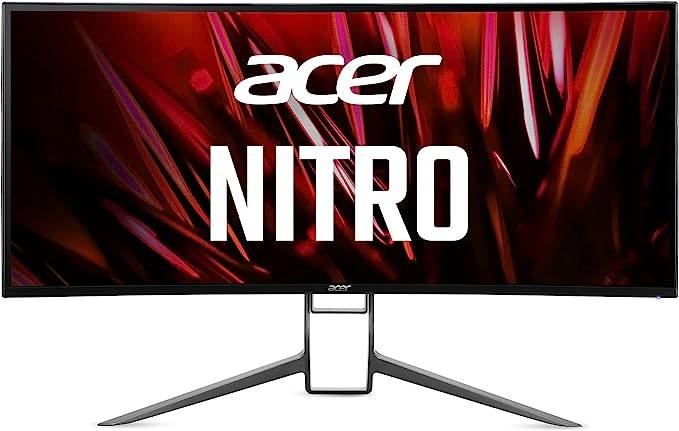 37.5″ UltraWide QHD+
2300R Curvature
3,800 x 1,600 pixel display resolution
Response rate of up to 0.5ms and 165Hz refresh rate
AMD FreeSync Premium Pro Technology
This Acer Nitro is another recent 2023 release and as expected with each of the curved monitors listed comes with the latest in technology and performance. This display is 37.5″ UltraWide QHD+ , has a 2300R curvature and a display resolution of 3,800 x 1,600 pixels creating sharp picture quality.
With a 165Hz refresh rate, response time of up to 0.5ms, and AMD FreeSync Premium Pro, frame rendering time is shortened with lower input lag. And of course, AMD FreeSync Premium Pro helps eliminate screen tearing providing the smoothest gaming experience.
A final note about this monitor is that it is a VESA Certified DisplayHDR 600 display. This industry standard specifies HDR quality – including luminance, color gamut, bit depth and rise time.
Samsung Odyssey Ark 55″ Curved Gaming Monitor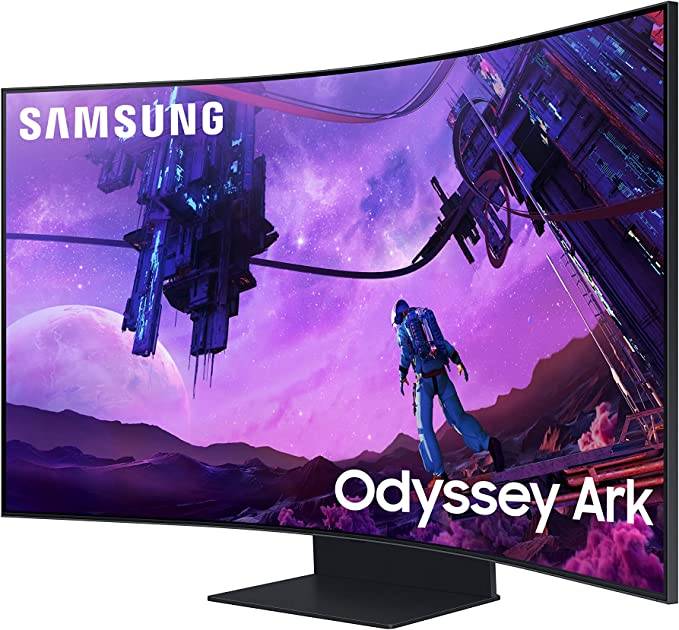 55″ 4K UHD Curved Gaming Screen
1000R Curvature
3,840 x 2,160 pixel display resolution
Response rate of up to 1ms and 165Hz refresh rate
AMD FreeSync Premium Pro
Cockpit Mode
Multi View
This Samsung Odyssey Ark is frankly a lot of monitor. All the features included with this monitor are truly amazing and the list about doesn't come close to listing them all. Honestly, if money is no objective this might be the monitor for you.
Let's start with the obvious, this is a huge display at 55″ inches. Be forewarned, you will need another person to help you unbox this beast. The display has a 165Hz refresh rate, a 1ms response time, and curvature of 1000R. Two unique features are Multi View which allows you to play up to 4 screens at once and Cockpit Mode where the screen can be rotated vertically to create a novel sense of world-blending immersion. Cockpit Mode is further enhanced by the ambient Eclipse Lighting.
Additionally, the display has Neural Quantum Processor which is an AI-powered processor combining 20 multi-layered neural networks creating an AI-enhanced 4K gaming experience. The AI-powered processor cleverly analyzes images to restore every detail, pixel by pixel, while also automatically adjusting brightness, contrast amplification and optimizing the resolution. And of course, the display comes with AMD FreeSync Premium Pro and HDR10+. HDR10+ is a high dynamic range video technology that adds dynamic metadata to HDR10 source files.
Finally, a couple of additional unique features worth mentioning are the Ark Dial and Sound Dome Technology. The Ark Dial is basically a solar-powered mouse allowing quick and simple access to a variety of display functions. Sound Dome Technology consists of four corner speakers and two central woofers producing a 60W 2.2.2 channel with the lowest 45Hz notes of any gaming screen or sound bar. AI Sound Booster and Dolby Atmos take it all to the next level, surrounding you in a three-dimensional soundscape that teleports you inside the gaming world.
Corsair XENEON FLEX 45″ Gaming Monitor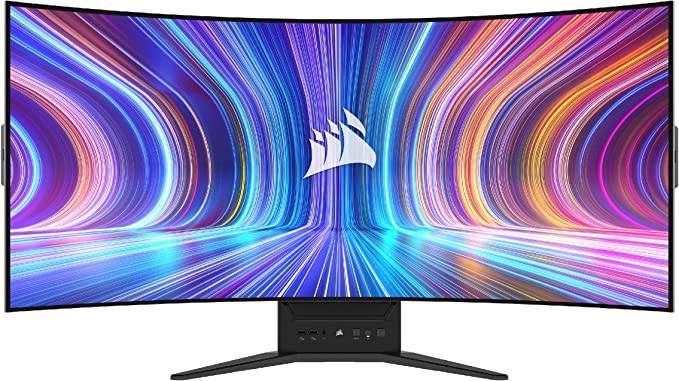 45″ OLED WQHD Bendable Display
Flat Screen or 800R Curvature
3,440 x 1,440 pixel display resolution
Response rate of up to 0.03ms and 240Hz refresh rate
AMD FreeSync Premium and NVIDIA G-SYNC compatible
This Corsair XENEON FLEX 45″ OLED display is unique because it is the first bendable monitor (manufactured by LG Display) on the market. So even though Corsair may not be a household name LG certainly is and should give a level of comfort for the quality of the display. This display then can be used as a flat panel for certain tasks and then curved to 800R for gameplay.
From a performance stand point, the display is very competitive with a 240Hz refresh rate and a response time of 0.03ms made possible by LG OLED technology. The display is both NVIDIA G-SYNC compatible and AMD FreeSync Premium certified, ensuring less screen tearing and low latency regardless of your graphics card.
Lastly, the display includes the latest technology for flicker free gameplay and certified low blue light technology protecting both the panel and your eyes.
Conclusion
Each of the panels listed above have the capability of dramatically enhancing your gameplay with the latest and greatest in display technology. It really comes down to how big of a display you want, a fast response rate, a fast refresh rate, AMD FreeSync and/or NVIDIA G-SYNC and how much money you are willing to spend.
Buyer's Guide to Choose a Curved Monitor
Here is a simple list with the most common attributes you should consider when purchasing a curved monitor.
Display Size: 
Probably the first thing you'll consider is the size of the monitor. This is the easy part as there are numerous different sizes available.
Resolution:
Resolution is the quality of the monitor determined in the form of pixels in width×height format. A monitor's resolution decides if the picture will be blurry or sharp. The minimum pixels you need in a monitor is around 1920 × 1080 ( known as 1080 pixels), which is full HD.
QHD, UHD, OLED or 4k will deliver even sharper images. Typically the higher pixels a monitor has the sharper the images will be.
Refresh Rate:
Display refresh rate refers to how many times per second the display is capable of drawing a new image. It is measured in Hertz (Hz). A higher refresh rate equals better, smoother, less choppy images on the screen.
Gamers usually demand a high refresh rate with 120 hertz to 144 hertz. On the other hand, 60 Hertz is the standard rate through which you can perform basic work like surfing the internet or viewing email.
Response time:
An important attribute, especially for gamers is response time, as response time indicates a monitor's time taken to shift from one color to another. Video games or fast-paced videos can cause motion blur due to longer response times.
You're likely to see a maximum response time of 5ms from gaming monitors, while the fastest monitors can have a response time of 0.5ms or less.
The curvature of the monitor:
A monitor's curve, or radius, is measured in millimeters and can be determined using the letter R.
Keep in mind, however, that a lower number indicates a larger curve. Consequently, you should take this factor into consideration when selecting a curved monitor.
Viewing Angles:
It doesn't matter if you are using your monitor for performing a task, reading, gaming, or working in an office; having wide viewing angles is a necessity for everyone. It is possible to have a wider viewing angle with a curved monitor if its curve is larger.
A screen's distortion or maximum light projection can sometimes make it difficult to see visuals from an angle. This issue is eliminated when the monitor is curved.
Aspect Ratio:
The ratio between the width and height of the monitor is called the aspect ratio of the curved monitor. It is usually best to use a 16:9 aspect ratio for most purposes because it provides a wider viewing area, is affordable, and improves the viewing experience.
There are other ratios you can use, too, like 21:9, 4:3, etc. In addition to the aspect ratio, the monitor's resolution is also affected by it.
Frequently Asked Questions
What Are the Benefits of Curved Monitors?
There are many benefits of a curved screen monitor such as-
Curved Monitors provides an Immersive Experience with its curved display.
Curved Monitors help in eliminating the distortions and gather your focus at the screen.
They are more comfortable for your eyes and as it allows you to take in all the information on the screen at once without straining your eyes.
As light directs from all angles toward the viewer, curved monitors cover a broader field of view
Curved monitors come in various resolutions. What should I be looking for?
Monitors must have a minimum resolution of 1920 x 1080 pixels (also known as full HD) to qualify. Additionally, 4k or QHD will produce sharper images than HD. You will see more shaper images on your monitor with higher pixels. In contrast, if you have a low budget, you may lack the ability to upgrade the screen resolution.