It is very important to find a perfect projector mount for you because no matter how good the quality of your projector is, its picture quality ultimately depends on its location. Therefore you should find the best projector mount for your projector and should not look for just cheap options.
Different kinds of projectors need different kinds of mount. Moreover the location also plays a role in choosing the right mount. For instance there are different mounts for big rooms and small rooms. You can either go for a ceiling mount or a wall mount that totally depends on your projector and space.
Just like the projectors there are thousands of mounts available in the market to choose from. You must be wondering which one to buy as all of them claim to be the best. Therefore to make your task of choosing the best projector mount here is an honest review of the top ten projector mounts in the market currently. All of them are of the best quality and you can choose any from them depending upon your needs.
10 Best Projector Mount
1. Vivo universal adjustable white ceiling projector mount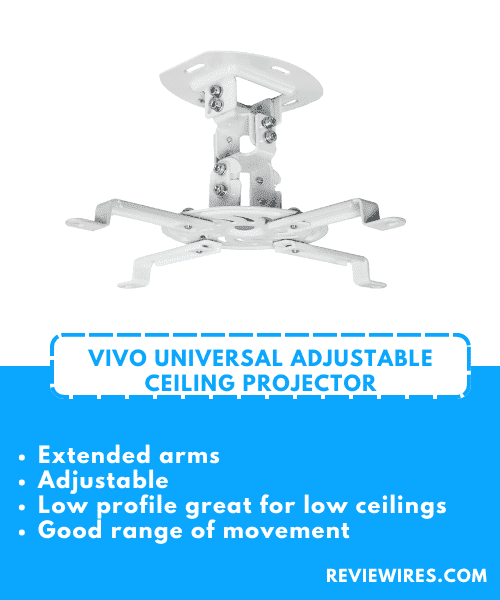 Features
Extended arms
Adjustable
Low profile great for low ceilings
Good range of movement
The Vivo VP01W is a very basic projector mount that is extremely easy to install and can work with almost all projectors that weigh less than 30 pounds. It is much less costlier than other factory mounts and is hence affordable as well as pocket friendly.
This is a low profile standard mount and is best for ceilings with standard height. It can be tilted at a decent range and even has swivel motion. One drawback that you will encounter is that it has no height adjustment. Although it is a universal mount and can be used with almost all the projectors.
Moreover it is a low profile mount hence it is very unlikely for you to notice it once it is installed. It places your projector about six inches from the ceiling and is made mainly of two parts one is the ceiling mount and the other one is the projector mount and the two parts are tightened together using a bolt.
The hinge through which the two parts are connected provide movement to the projector and through it you can adjust the projector towards the screen. In fact the entire assembly can rotate on the axis of the bolt and hence a wide variety of projectors can be attached to it. These features made this mount universal and suitable for almost all projectors.
Furthermore the installation of this mount is really easy and you just need to tighten the bolt of two pieces together and attach it to the ceiling. Although the installation is easy, adjustment of the mount might be a bit tricky.
The mount is inexpensive and hence the material used is not that substantial. But it is good enough to be durable and is perfect according to the price. It is a value for money deal and has a decent value as per the basic mount.
Pros
Sturdy construction
Super clean look
Has universal bracket
The Vivo VP01W is a decent amount that gets the job done at a very affordable amount. It is neither the most easy to adjust mount nor very sturdy but it gives you value for money. This mount will work best for you if your ceilings are not too high.
In fact you should consider its price as the icing on the cake as there is no projector mount available in the market at such a low price. The ones that are available are of very low quality. Therefore this one offers the best deal and if you have a low budget then this is the best projector mount for you.
2. Monoprice 106529 projector mount
Features
Great compatibility
Can support up to 50 lbs.
30 degree pan and tilt adjustment
360 degree rotation
It is a very well designed projector mount and its top plate is very strong. The screws provided are pretty much unnecessary as most ceilings are stone slabs, false ceilings and possibly plywood. The manufacturer has tried to prepare it for a "kind" of thick ceiling.
Moreover this projector mount is absolutely gorgeous. It's just the mount for the projector, not the entire mount. Additionally it is quick and easy to dismantle and has a great design.
The additional perk you get with this ceiling mount is that the manufacturer provides lifetime warranty on it. Hence you can completely trust the brand as they are giving so much assurance to you. Another great feature of this mount is that it can bear upto 50 lbs of weight which is commendable.
Maintenance of this projector is equally easy as its installation. It can be easily released from its position and can be cleaned easily. For further ease this mount comes with a 30 degree pan and tilt adjustment so that you can adjust your projector as per the direction of the screen.
Furthermore this mount gives you a hassle and chaos free setup as after its installation all the wires are concealed. Therefore you get a very neat and tidy look with this projector mount.
Pros
Three feet vertical extension
Ability to tilt and swivel as needed
Concealed cable management
Cons
Installation is little hectic
The price of this projector mount is negligible as per the price and you will fall in love with the kind of versatility it provides. It is a telescopic ceiling mount and has all the great features you would want in your mount.
This mount comes with a universal mounting bracket and three feet vertical extension which helps in easy operation of the projector. Additionally you can move the projector as per the need as this mount is very flexible.
One drawback is that its installation is a bit hectic but once installed it is the most versatile projector mount and you can buy this if you are looking for the best projector mount at a very affordable price.
3. Kanto P101W Universal Projector Mount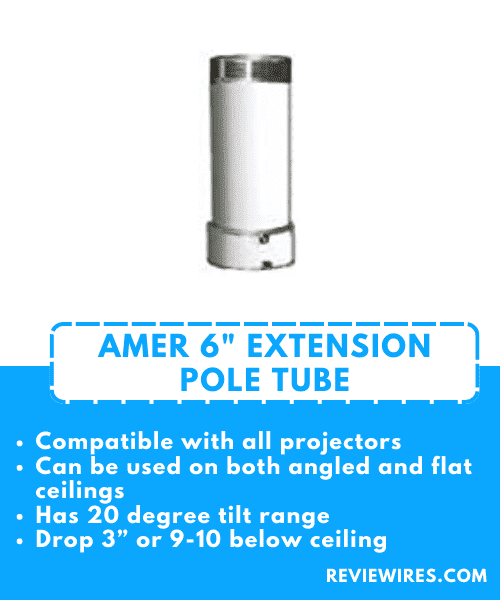 Features
Compatible with all projectors
Can be used on both angled and flat ceilings
Has 20 degree tilt range
Drop 3" or 9-10 below ceiling
This projector mount is most commonly made for your bedrooms, drawing rooms or offices. Although the best purpose that it will serve is as a mount for home theatre projectors. After its installation it is very easy to operate. Its flexibility helps in moving the projector easily as per the need. Moreover it comes with a 360 degree ball swivel that makes it even more flexible. Also its tilt capability and also its ability to extend between 9-12 between the ceiling makes it more versatile.
With this mount you also get all the tools you need for its easy installation. It comes with a set of extension arm lengths and projector mounting hardware which means you get everything ready to go during its installation.
Not just the functions of this mount are amazing, in fact it comes in a very smart design. It is powdered coated with a beautiful white gloss. This mount suits your decor and makes it look even more vibrant and soothing to eyes.
The installation of this projector mount is very simple. You only need to attach your plate to the ceiling after that the optional extension tubes may be added. And you are done, it is simplest to install.
Furthermore this projector is universal in the sense that it can be attached easily to any projector. It comes with 4 mounting arms attached to the tilt head and additional four extended arms are available in the box.
Pros
Easier on eyes
Elegant design
Includes extension tubes
This Mount helps your projector to attach to the roof and save floor space and hence give your room a cleaner look. Therefore this mount is much easier on the eyes of you and looks very neat and clean. It comes with a 20° of up/down change and 360° of tilt which means that this mount can be acclimated to coordinate with the area of your screen, regardless of whether your roof is somewhat shifted.
The price of this projector is also affordable and is decent as per the features it provides. One drawback that you will face with this mount is that it can not take weight more than 22 lbs. but it works well with any projector less than this weight. Most of the modern projectors are portable and less than this weight so it is perfect for modern use.
4. Peerless-AV PRG-UNV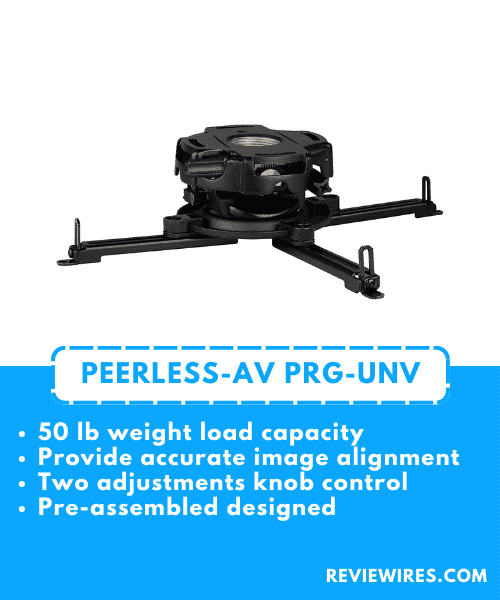 Features
50 lb weight load capacity
Provide accurate image alignment
Two adjustments knob control
Pre-assembled designed
The Peerless- AV PRG-UNV is a heavy duty universal mount that is compatible with almost all the projectors. It is easy to install and also after installation easy to adjust. In addition this mount has the ability to handle the heaviest and bulkiest projectors also.
Along with this projector you also get thumbscrews for easy pitch and roll adjustment. If you have high ceilings you can also get a clear shot at your screen as it comes with standard pipe thread.
The spider universal plate that comes with this ceiling mount helps in attaching any projector with this mount. Hence it is the most compatible and versatile of all the other projector mounts discussed in this review article.
Additionally the thoughtful design of this projector mount makes it very easy to use. The most amazing feature you will notice is that the pitch and rolls are adjusted by the big bolts instead of small nails. This feature helps in holding the projector without loosening or tightening any screw.
The setup process of this projector could not be any more easier. It comes with a painless setup process that takes very few minutes to complete. Its highly flexible design is what makes this projector mount stand out among all the other mounts reviewed here.
Pros
Universal spider adapter
Horizontal wrench access slots
Precision gear
Easy installation
Cons
No side to side adjustment
This projector mount is a little costlier but the features you get with this are commendable. It is very durable and once installed it will work for a lifetime without any problem. Therefore you can consider this as a one time investment. If you are looking forward to building a high quality home theater experience then this is the best projector mount for you.
Its robust body is what makes it great and more reliable than other cheap models. Its ability to work with a wide range of projectors is what makes it the best projector mount. If you are ready to spend a good amount and want the best features then just go for this one without thinking twice.
5. Vivo extendable projector mount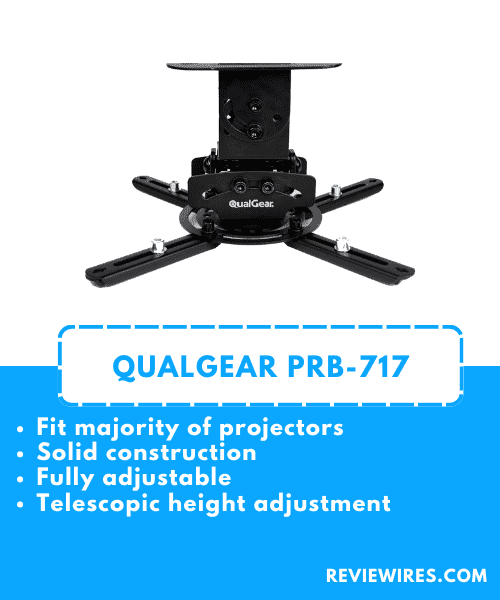 Features
Fit majority of projectors
Solid construction
Fully adjustable
Telescopic height adjustment
This is a universal mount that works well with all the projectors and it comes with an exceptional amount of flexibility. It is so flexible as it contains telescopic height adjustment, adjustable mounting arms, and also has the ability to swivel, tilt and rotate. This means that after the mount is installed it can be moved as per the requirement of the projector and the screen easily.
Moreover this projector has been made to be a utilitarian mount instead of being an aesthetic one. It is made up of a sturdy steel body and has three separate pivots that help in easy movement.
Additionally this projector comes in three parts, the ceiling mount, the telescopic arm and the projector mount. The telescopic arm makes this projector so flexible it can be attached completely to the ceiling and can even be hung perpendicular directly in front of the screen. This is the greatest feature of this mount. Through it you can even rotate your projector 360 degrees and can tilt and swivel it for upto 15 degrees.
The extendable arm is 15 degrees when not opened and is 23 inches when fully opened. This mount also provides seamless wire management as there is a big hole above this flexible arm through which all the wires can be connected.
Pros
Versatile mounting options
Extendible mounting arm
Internal cable management
Cons
Hardware is not organized that well
If you are looking for a extendable projector mount then this is the best projector mount for you. This is a universal projector mount and can be fitted to almost all the projectors. Moreover it can hold more than 30 pounds of weight as it is made of a very sturdy steel metal.
Additionally it is very easily adjustable and is extremely flexible. The look of this projector mount is also decent and it looks very smart in your drawing as well as the conference room. All the hardware tools needed in its installation are also included in its packing.
6. DYNAVISTA Full Motion Universal Ceiling Projector Mount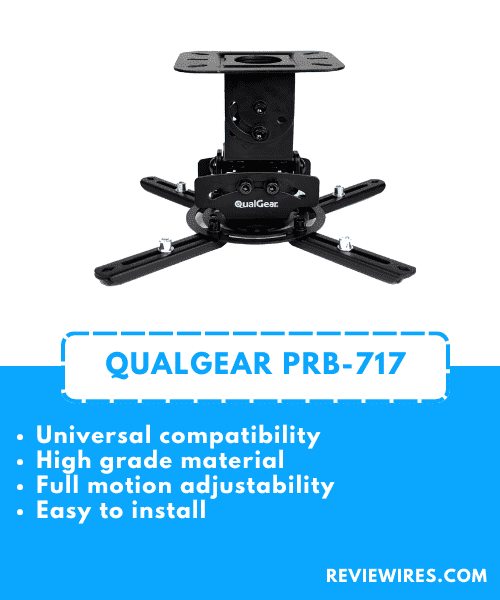 Features
Universal compatibility
High grade material
Full motion adjustability
Easy to install
The DYNAVISTA projector mount is a universal mount and is widely compatible as it supports all the projectors. This mount can be used only on a flat ceiling and hence this can also be considered as one of its drawbacks also.
In addition to its wide compatibility this projector mount is made up of high graded material. It is made up of premium quality and is made up of very robust and heavy steel which gives this projector extraordinary strength.
Along with that this projector is also very flexible and can be adjusted as per the screen easily. It can tilt 25 degrees up and down with a lot of ease. Also it can swivel 90 degrees from left to right and can also rotate 360 degrees. Therefore this mount hit all possible viewing angles making it easy to use. Furthermore this mount comes with a 43.6 inch extendable arm and when closed it is 23 inch.
This projector is also extremely easy to install as it involves very few steps with quick release hooks. They can be attached and detached easily by tightening and loosening the bolte.
With this mount you also get all the necessary hardware along with the instructions booklet. Also the mount with it is also pre assembled and hence is very easy to install.
Pros
Full rotation
Heavy duty steel
Pre assembled and easy to install
Cons
Works only with flat ceilings
If you are looking for a full motion projector mount then this is the best projector mount for you. It is very flexible and is very versatile. Its full 360 degree rotation and tilt and swivel is what makes it stand out from other projectors.
Moreover its installation is hassle free and hence this is the best projector that is easy to install as well as easy to operate. This projector is compatible with all the famous brand projectors and is also affordable. If this projector mount satisfies your needs it is best for you just to get it.
7. QualGear Pro-AV Projector Mount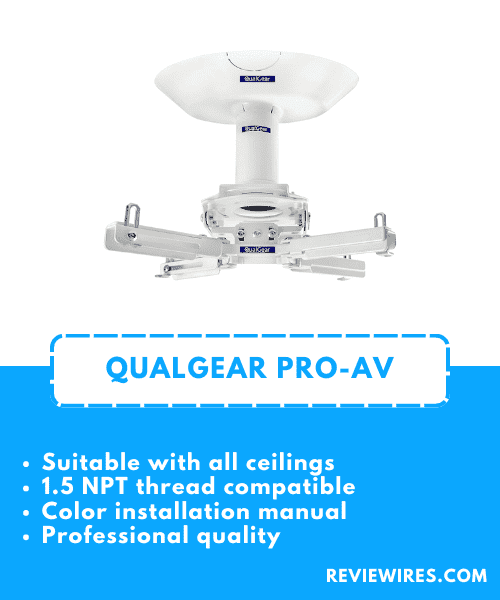 Features
Suitable with all ceilings
1.5 NPT thread compatible
Color installation manual
Professional quality
This is a professional grade projector mount with a 3 inches long and a 1.5 inches NPT threaded pipe. In addition it has a value ceiling adapter. It is an extremely flexible projector mounted at 45 degrees of tilt. Additionally this projector mount comes with a compatible and customizable design as its NPT threaded pipe system can be extended as per the need.
In addition it can also be customized with a cable extension management. The complete kit of this projector mount contains 3 components. It includes a full color manual, pre sorted hardware pack, and ceiling drilling template.
This projector can be attached to ceilings and also to wood beams, concrete slabs and metal beams. Therefore it is compatible with all kinds of ceilings making it the best projector mount.
In fact this projector mount works well with projector of any size and weight and is very robust. This is a 4 point mount and uses a 3 point configuration. There are also many alignments and adjustment options in this mount and hence making it perfect for all uses.
Pros
12 adjustment points
High weight capacity
5 years warranty
Cons
Bolts included with it are low quality
This projector mount is yet another affordable as well as good quality mount available in the market. It is one of the very few mounts that can handle any amount of weight. Hence you can connect any projector with it making it truly universal.
Additionally it has such a wide range of adjustment options that makes it the best projector mount. It can be tilted and rotated up to a wide range of angles and hence is very flexible. This is the best projector mount and is totally recommended. You can buy this projector without thinking twice.
8. Amazon basics tilting projector mount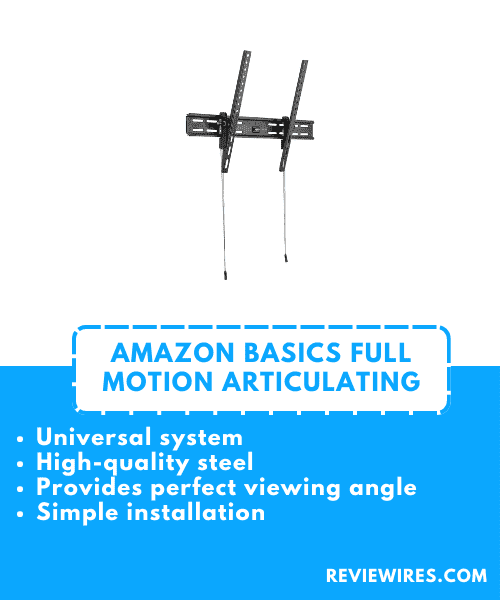 Features
Universal system
High quality steel
Provides perfect viewing angle
Simple installation
If you have a very tight budget and want the best projector mount at a very negligible price then the amazon basics projector mount can be a very good option for you. This projector is the most durable and stable option for all those with a low budget. Its features are far better than its price and hence this is the most budget friendly projector mount.
This projector comes with a triangular mount and also there is a list of detailed instructions provided with it. In addition it comes with a number of screws and bolts and you do not need to get anything separately. Also the installation process is much easier than other projectors but it can be a bit time consuming.
One tricky part you will find about this projector is that it is extremely difficult to remove it once installed. Hence it is best suited for permanent placement. The amazon basic mount also provides flexible installation. Furthermore this mount can be used as both ceiling and wall mount with an amazing range of motion for swiveling as well as tilting. Hence this projector is flexible enough to suit the needs of your screen placement.
The gap between the ceiling and the mount is also decent enough. It is inches and hence provides great motion. It does not bang in your head while walking, maintaining the perfect balance.
Pros
Stainless steel
Good distance between ceiling and mount
Can be used as both ceiling and wall mount
affordable
Cons
Difficult to remove once installed
If you are looking for the best projector mount then this is the most cost effective mount for you. You can get this within just 30$ which is far less than other good quality mounts. Low cost does not mean it lacks any functions. In fact its features are too good according to the price. You can get this projector mount without thinking too much, this is the best deal ever.
9. Wali DVD DVR VCR wall mount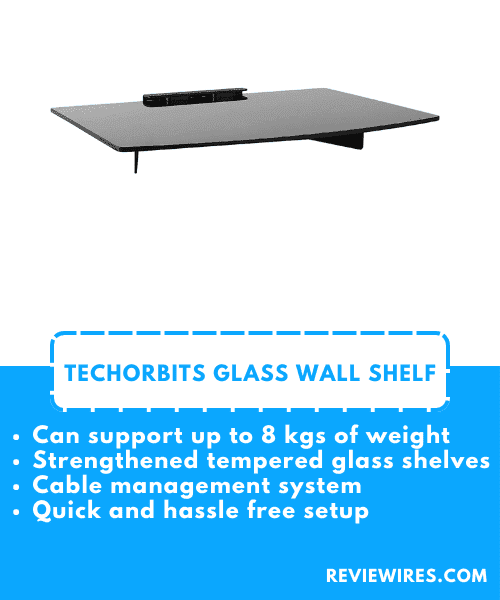 Features
Can support up to 8 kgs of weight
Strengthened tempered glass shelves
Cable management system
Quick and hassle free setup
This is the most simplest projector mount you will get. This is nothing more than a simple shelf over which a projector can be placed. If your room is of small size and you are looking for a wall mount that can be attached directly to your back wall then this is the most simplest and low cost wall mount.
Talking about the build of this mount, it comes with a black floating shelf with strengthened tempered glass. In addition this projector mount can be used for even placing your speakers, DVD or any equipment less than 8 kgs. It helps in freeing up the floor space in your room and makes your room look hassle free.
The slim plate of this mount remains 19 mm away from the wall and allows you to hide all extra cables behind it. Therefore it makes your room look so tidy and clean, free from all the chaos. Additionally it comes with adjustable shelf length therefore you can adjust it as per the height of your screen.
Not just that this is a very smart wall mount and has a black coated sleek look. It looks really very royal in your room and gives your entire setup an aesthetic touch. The tempered glass adds on to its look and also provides safety to your devices.
Pros
Provides clean look to your room
Adjustable
Extendable up to 3 shelves
Cons
Can not carry more than 8 kgs
If you are looking for the simplest device for your room then this wall mount is the perfect fit for you. It is the slimmest wall mount as well as the smartest. This will give a very royal look to your drawing room and will enrich your experience with the projector. It is a very eye-catching wall mount that comes with great simplicity.
In addition this mount can be extended till 3 more rows so that you can place your other devices also such as the speakers with your projector. Moreover the setup is easy and it comes with all hardware tools needed in installation. Also the instruction manual that comes in the package also gives clear instructions making the installation even easy.
This projector suits the best with portable and compact projectors as it can not take much weight. This is one drawback you will find. But most of the projectors available today are very compact and if you are someone with a compact and lightweight projector this can be the best wall mount for you.
10. Elitech short throw projector mount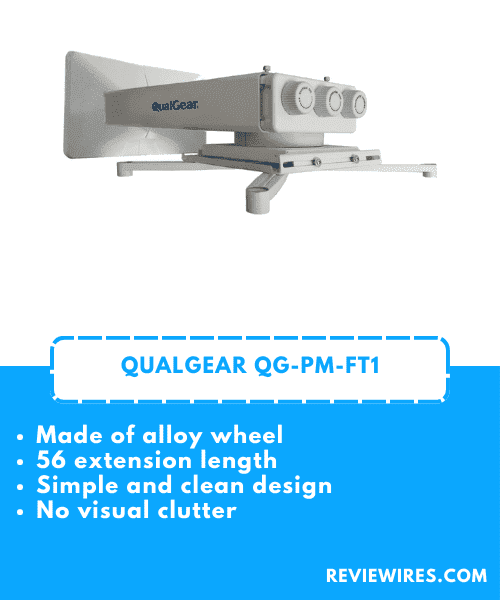 Features
Made of alloy wheel
56 extension length
Simple and clean design
No visual clutter
This projector mount comes in a very smart enriching look. Its black coating looks absolutely amazing when attached with a home theatre projector. It is the most beautiful projector as it looks like a perfectly round black tube coming out of the wall. It's simple design is its most amazing feature.
There is no visual clutter when it comes to this elitech short throw wall mount. It is best suitable for a short throw projector and for small rooms. This is attached to your back wall and the projector is placed on it.
Additionally this wall mount comes with a 56 inch extension length which is actually one of the longest available in any projector mount. Therefore this is yet another feature that makes this mount stand out among others.
The throw of this mount is limited to 56 inches when placed on the same wall as the screen but if you place it on the side wall the throw distance can be increased. This can be done by adjusting the keystone correction of your projector.
Pros
Short length can be increased
Affordable
Royal look
Robust quality
Cons
Bolts are visible after installation
This is yet another wall mount projector mount that has the most simplest design. This wall mount is very affordable and will not cost you an eye and a leg. Anyone can afford it. Moreover it has the longest extension than any other projector mount. Therefore this is the best projector mount for anyone with a short throw projector and low budget. Just go for it.
Frequently Asked Questions
Which is the best place to mount a projector?
Where to mount a projector depends completely on your projector, space and screen placement. A projector can be mounted either on the screen or on the wall. Mostly short throw projectors are mounted on the wall. Also wall mounts work best in small rooms. On the other hand long throw projectors work better with ceiling mount and also in big rooms ceiling mounts work better.
How to choose the best projector mount for yourself?
When choosing a projector mount you must look for the weight, adjustability and extendibility of the mount. The choice of your mount depends completely on your projector and your space.
How far should a mount be from the ceiling?
There is no standard length of how far a projector mount should be from the wall. It completely depends on your screen placement and room size and also the height of your ceiling.
Conclusion:
This list contained all the best projector mounts available in the market right now. There is no projector mount with decent level quality that has been missed. Therefore you can pick anyone from this list as per your needs and you will not be disappointed. This is going to be the best decision you have ever made.
Before buying a projector mount there are certain things you must consider. Firstly you should choose whether you want a wall mount or a ceiling mount. There are mounts that can work as both also so that depends completely on your choice.
Second thing you must consider is the weight capacity. Not all mounts can take heavy weights. So just know how much your projector weighs and then buy a mount accordingly.
The third thing to consider is adjustability. You must ensure what kind of a ceiling or wall you have and the mount you are choosing can be fitted on that ceiling or wall.
Fourth and the last thing to consider is extendibility. You must ensure that your mount can be tilted and swiveled at any angle to adjust your projector according to the screen.