Hey, are you looking for a 1440p/ 2k monitor? You are just at the right place. We know what it is like to add "1440p monitors" or "best 1440p monitor" in your search engine and get hundreds of 2k monitors as a result.
This directly creates confusion in choosing the one, plus understanding which monitor is the right one and will fulfill our needs.
With that said, we brought you a list of features (buying guide) that are necessary to look at while buying a monitor. And other than that, we have compiled a few monitors and reviewed them on the basis of their features, look, and comfort. With the help of this article, you can decide which monitor you should actually buy.
6 Best 2k 1440p monitor
1. ViewSonic VX3276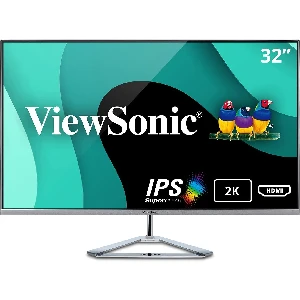 WHY DO WE LOVE IT?
The amazing frameless design of the monitor.
Its 2k resolution displays brilliant pictures with very much clarity.
Built-in eye care technology to prevent eye strain
Pros
Bright and crisp quality images.
Great productivity.
Built-in eye care technology.
Cons
No height adjustment in the stand.
The ViewSonic VX3276 is a 32-inch, frameless monitor making the images look very large and without distortions. Therefore its ultra-slim display design makes the images on the screen blend seamlessly in the surroundings.
In multi-monitor setups, you will have a seamless viewing experience. Moreover, the 2k resolution delivers razor-sharp images with no distortion and with ultimate clarity.
Also, through the IPS panel technology, you can look at the screen from every possible angle, and still, you will not lose any colors.
Further, the eye care technology in it, which is flicker-free and blue light technology, will help you reduce eye strain. Overall this is a great 1440-pixel monitor to buy.
In our opinion, this is a great monitor which displays amazing picture quality. Its amazing screen display with sleek and ultra-thin bezel design delivers amazing large images making it look realistic.
Overall it is a great monitor for multiple uses, so whether you want a monitor for the office, watching movies, or gaming, this is the best 1440p/ 2k monitor for you!
2. LG QHD Monitor:
Best Pick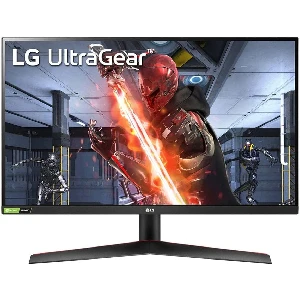 WHY DO WE LOVE IT?
A high and fastest refresh rate for boosting your gaming experience.
Amazing display quality delivering crisp images.
Enhanced colors with accuracy with HDR10 compatibility and sRGB 99%
Pros
Excellent response time.
Has wide viewing angles. 
Fast refresh rate.
The LG QHD is a great monitor specialized in gaming. Its 1440p resolution with a 27-inch screen size delivers crisp quality images with clarity. Moreover, it has a refresh rate of 144 hertz, giving you a brilliant and smooth gaming experience.
Also, the response time is 1ms which allows an incredible speed for gaming. Together with HDR10 compatibility and sRGB 99% ensures that you get enhanced colors on display with accuracy for a great experience.
Also, it is G-SYNC compatible so reduces the tearing of the screen as well as minimizes the stuttering. A black stabilizer enables this monitor to provide a heightened vision for enhanced gaming and an advantage over its competition.
Above all, its stylish design is virtually borderless, which delivers an immersive display.
Overall this is the best 1440p monitor. It is well known for its gaming features and technology. You will get numerous features to boost your gaming experience with its speed, display, and response time. If you are interested in buying a gaming monitor at 1440 pixels, then this is the way to go.
3. GIGABYTE G27Q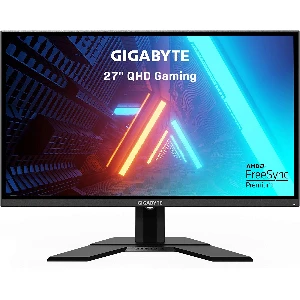 WHY DO WE LOVE IT?
Built-in eye care technology to protect your eyes.
Fastest monitor with 144 hertz of refresh rate.
Wide viewing angles keep you comfortable by looking at the screen from any angle.
Pros
Great picture clarity.
Excellent response time.
Fast refresh rate.
The GIGABYTE G27Q is a 27-inch monitor which is most compatible with 1440p resolution. Also, an IPS panel is integrated into this monitor, making it possible for you to look at the screen from every possible angle.
Moreover, the refresh rate of this monitor is 144 Hertz which means the frames will change 144 times in a second. It gives an amazing experience while gaming. Plus, the response time is 1ms, together with G-SYNC compatibility providing you with the smoothest and most fluid gaming experience.
Further, the 120% sRGB color gamut will provide very much accuracy in colors. Also, it has good ergonomic features through which you can tilt and adjust the height of your monitor for your own comfort. And lastly, the built-in eye care technology with a low blue light feature and flicker-free technology protects your eyes from strain.
In our opinion, this monitor is just for you if you are looking for a 1440p monitor for gaming, as it has excellent features which are required while playing games.
Other than that, it has amazing accuracy in colors which is an important part one looks at and has wide viewing angles to keep you moving. Overall it is a great monitor at a great price, so go for it.
4. BenQ EX2780Q
Staff Pick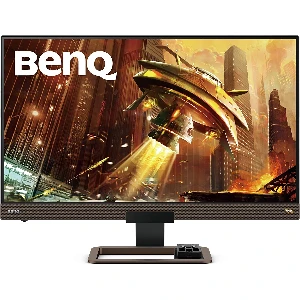 WHY DO WE LOVE IT?
Screen size and display resolution have perfect combinations.
The fastest refresh rate to prevent blurring of images.
Wide viewing angles- IPS panel ensures that you can look at the screen from any angle.
Pros
Very high and fast refresh rate.
Wide viewing angles. 
Amazing speaker quality.
The BenQ EX2780Q is an impressive monitor with stunning image quality. Therefore its 27-inch screen size is best with 1440p resolution as their combination forms amazing images with so much clarity that you can differentiate every object on the screen.
Moreover, its HDRi offers extraordinary saturation and color experience to provide you with life-like images. Also delivers very vibrant images to give you amazing experiences for watching movies, gaming, creating graphics, and much more.
Furthermore, it has exceptional sound, and the DSP and speaker let you personalize the experience for much more intensity than never before.
Overall this is the best 1440p monitor you can buy. As it has many features with which you can enjoy gaming, movies, and office work too. Although it specializes in providing you amazing gaming experience, you can also do your office and complete the tasks.
5. ASUS TUF Gaming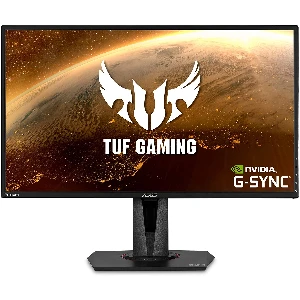 WHY DO WE LOVE IT?
Built-in eye care technology to protect your eyes.
High refresh rate that will display every detail, even in fast-paced videos.
Advanced ergonomic features keep you flexible.
Pros
Extraordinary ergonomics. 
Very quick at responding.
High refresh rate.
The ASUS TUF is a monitor with the highest refresh rate of 165 hertz, which will change the frame 165 times in just one second, making sure that you can see every movement in the game very precisely. Plus the G-SYNC compatibility of the monitor will give you a tear-free experience.
Also, it has 1ms of response time which is very, so whatever you add as an input; the monitor will take 1ms to reflect it on the monitor. Moreover, eye care technology helps in minimizing eye fatigue.
Further, the ergonomics of the monitor are amazing as it has height adjustment, tilting, swiveling, and pivoting features to accommodate any desk. And additionally, the monitor also has HDR10 technology for enhanced colors and brightness.
This is one of the best 2k monitors. You will be much more comfortable due to its flexible ergonomics, which you can personalize accordingly. Moreover, this is a fast-paced monitor in which you can work at high speed, and still, the images won't be blurred. Instead, you can watch every detail on the screen.
6. Dell Gaming S2716DGR
Budget Pick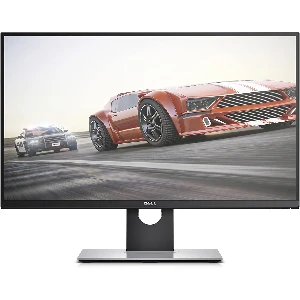 WHY DO WE LOVE IT?
Amazing monitor for both office work and gaming.
Provides fast performance in gaming and day-to-day tasks.
Crisp quality with clarity in images.
Pros
Amazing overall performance.
Advanced ergonomics.
Excellent connectivity and design of the monitor.
Cons
Lacks colors when viewed from different angles.
The Dell Gaming S2716DGR is a great monitor specially designed for serious gamers. Therefore it has 27 inches of display which is perfect, together with 1440 pixels of resolution, which provides a sharp experience.
Such a display will immerse you in its stunning edge-to-edge gameplay. However, the motion in gaming is usually blurred in other monitors but not with this monitor as it has NVIDIA G-SyncTM technology and a refresh rate of 144 hertz, which together contribute to giving amazing clarity in fast-paced motion.
Moreover, you will also have the benefit of vibrant and vivid images on the screen with 16.7 million colors. Therefore, the images you see look realistic. Further, the setup of this monitor is totally adjustable, as it has ergonomics that have tilting, pivoting, swiveling, and height-adjusting features and compatibility.
Thus, maintaining your comfort in the office chair, is crucial in your office monitor. Hence, this monitor will also do that job for you.
Overall this is the best 1440p monitor as it is best for both office work and gaming as well. With this monitor, you will experience sharp and undistorted moving images, making it great for gaming performance.
Plus, with such advanced adjusting capabilities of the monitor (ergonomics), you will be very comfortable preventing body aches and eye strain. However, if loss of colors due to looking at the screen from different angles is not a problem, then you should buy this monitor.
Buying Guide to Choose the 2k 1440p monitor
Every day, new monitors with 1440p resolution are being released. With so many options available, finding the perfect monitor that suits your needs can be challenging. As a result, we have compiled a list of features you should look for in a monitor and determine what features you need accordingly.
Screen Size:
When purchasing a PC monitor, you should consider its size first. For gaming, a monitor screen size of 27″ – 32″ is ideal. Pixel density also plays a huge role in the quality of the monitor, so you should pay close attention to it. However, the best-suited monitor size for a screen with 1440 pixel resolution is 27 inches, this is the adequate screen size for 1440p resolution.
Panel Type:
Monitor prices are affected by the type of panel you choose. TN monitors deliver the fastest experience, but IPS monitors provide better response times. When you're looking for the best contrast, VA panels are also a good choice. Overall the best panel is IPS, and you should look for it most of the time.
Refresh Time and Response Rate:
To enjoy the best gaming experience, you need shorter response times. Playing fast-paced video games will prevent motion blur. The larger the refresh rate, the smoother and higher the quality of the image.
Frequently Asked Questions
What is the appropriate Monitor Size for a 1440p resolution?
The 27-inch monitors are ideal for the WQHD resolution (2560*1440). You'll get 108 PPI, which is the perfect balance between image clarity and the amount of screen real estate available since you won't have to scale.
What Is 2K Resolution?
Commonly, displays have a resolution of 2K. Rather than describing how many pixels a screen has, its resolution is a way to consider how sharp an image is (the more pixels, the sharper the image). Displays and monitors that are in the 2,000-pixel range are considered 2K displays.
The most common 2K display resolution is 2560 x 1440. That resolution, however, is called Quad HD (QHD). Therefore, many gaming laptops and monitors claim to be 2K/QHD.
What is the best monitor 1440p monitor?
It completely depends on your preference of what features you need in a monitor, how much your budget is, what is your purpose behind buying a monitor. Where are you going to use your monitor, etc.
After figuring out what features are required, you can go through the list of products mentioned above. You can also go through the buying guide mentioned in this article for a better understanding of concepts like "refresh rate" if you are confused about which feature will fulfill what need.
CONCLUSION
To summarize the overall article, It is easy that we know we want a 1440p monitor, but what we don't know is which screen size is perfect for a 2k resolution monitor. Which Panel type? How much Refresh rate Or response time? We have covered all your questions in this article, so it will be easy for you to be acknowledged and make the right purchasing decision.
Moreover, we have picked 2 monitors that we think are the best to help you in making your decisions easier.
ViewSonic VX3276: This is the best-known monitor for doing office work, and it has a big screen size.
BenQ EX2780Q: it is the fastest gaming monitor, which will give you extraordinary gaming performance.